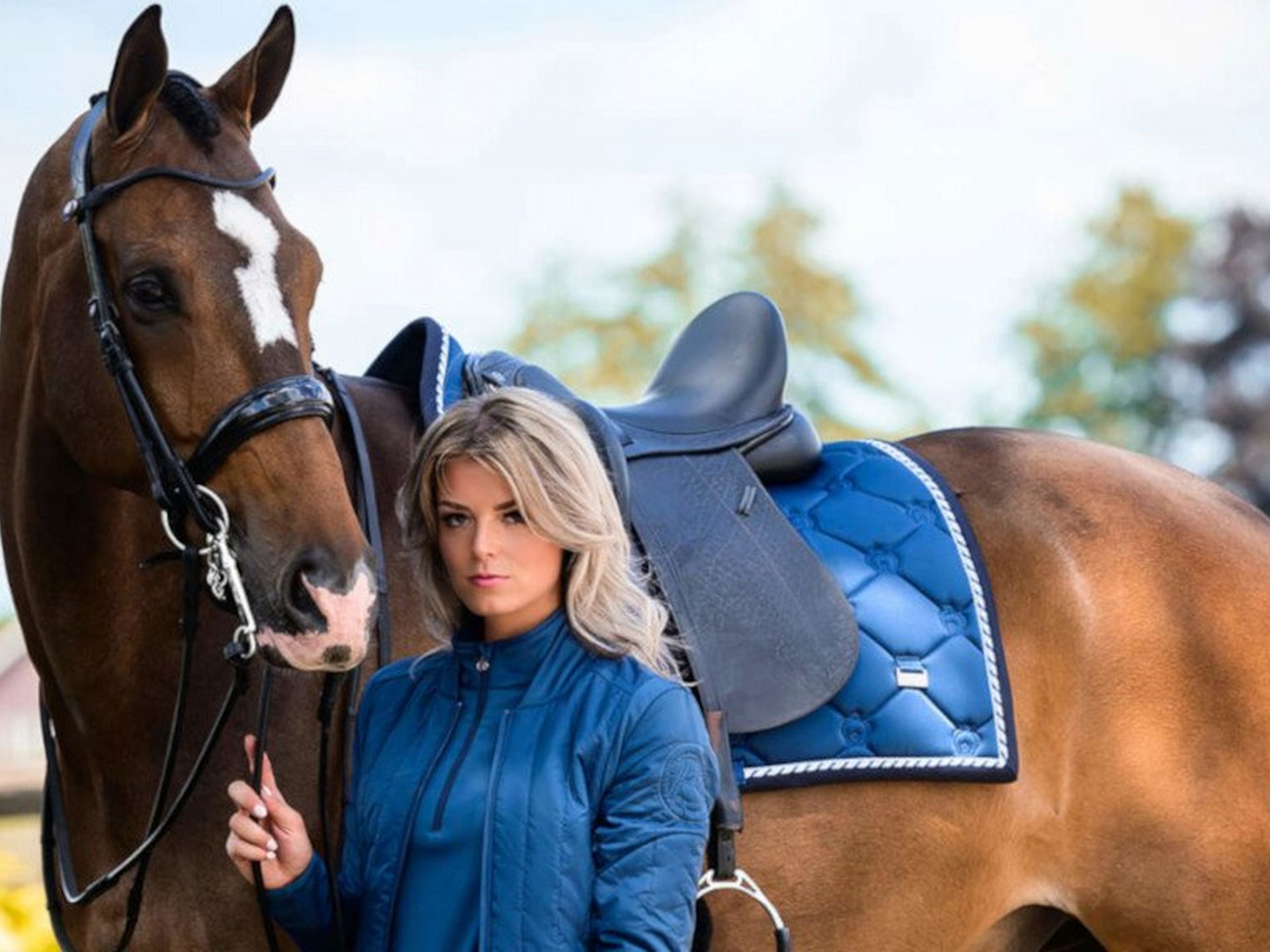 Let's be honest, who doesn't love a matchy matchy set?! Every equestrian knows there's something deeply satisfying about kitting our horses out in a colour co-ordinating fly veil, pad and leg wear. But it can't be just any set, it's got to perfectly compliment their coat colour too, right? If you're with us, then this season we've got just what you need. Whether your horse is bright bay, gorgeous grey, perfect piebald or brilliant black, we're here to help you find the set your collection has been missing!
WeatherBeeta Ombre
We're all about ombre! Stand out this season with something just a little different. Featuring complimentary colours blended to perfection this collection is both bold and brilliant!
With Saddle Pads available in Dressage, Jump and All Purpose styles there's one for every discipline. Created to serve hard working horses, they're manufactured using a durable cotton outer with a wick-easy lining. That's not all, their mesh spine allows extra airflow while the high wither cut prevents pressure points and rubbing. More than just a saddle pad, this clever kit is a true tack room staple, enabling your horse to perform at his best.
Will you be completing the collection with a matching pair of ears? Offering style and substance, WeatherBeeta Prime Ombre Fly Veils feature a classic crochet headpiece combined with high density cotton ears. Not only will they keep pesky flies away, they'll help to reduce background noise to keep your horse focused.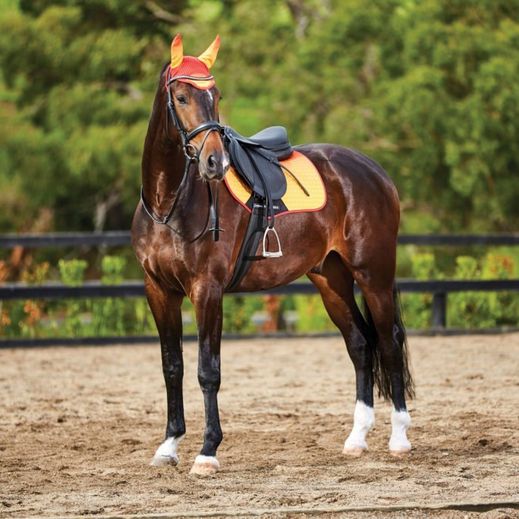 WeatherBeeta Prime Ombre Autumn Glow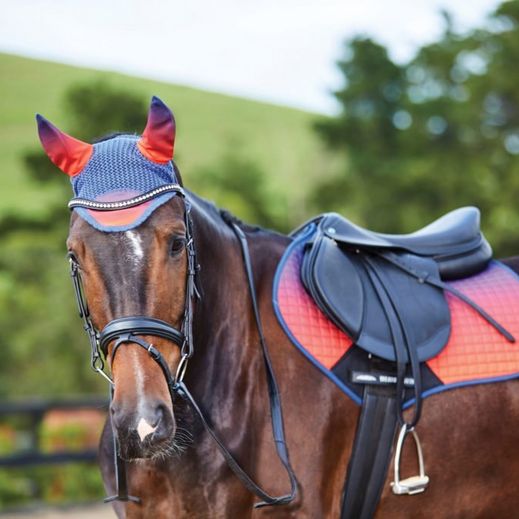 WeatherBeeta Prime Ombre Stormy Sky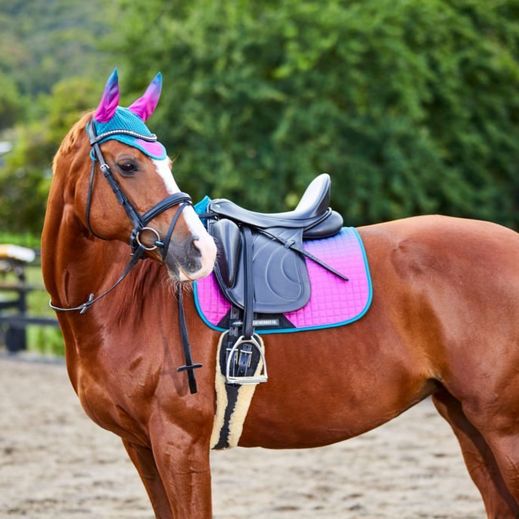 WeatherBeeta Prime Ombre Midnight Aurora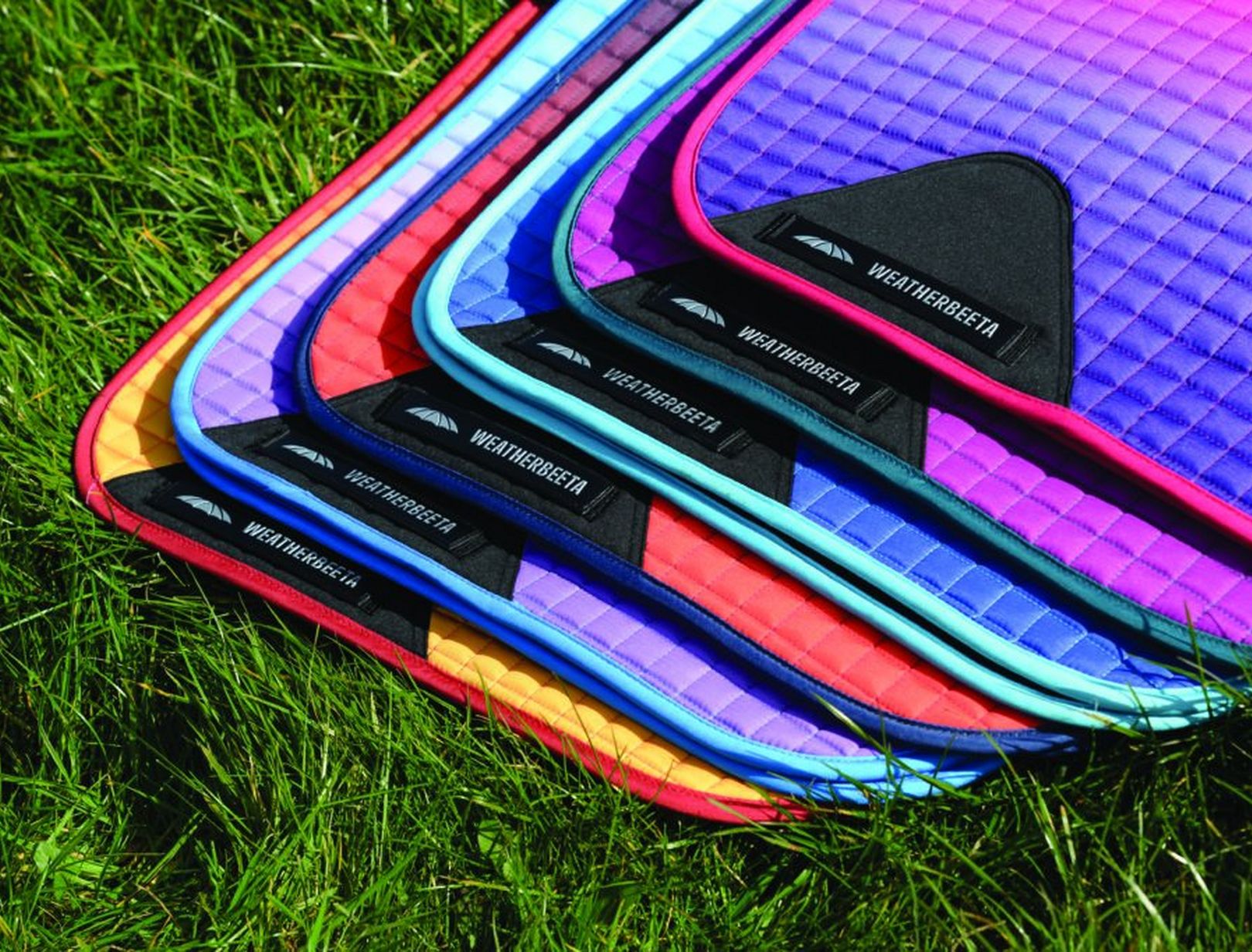 WeatherBeeta Prime Ombre
Woof Wear Vision
Would your horse look a vision in one of these fantastic Woof Wear sets? With a Southern European influence they're all about adding a touch of luxury to your horses wardrobe. Colourful and cultured in equal measure, the Portuguese artisan inspired designs are manufactured using top quality satin.
Perfect for any purpose, Vision Saddle Pads are available in Close Contact and Dressage. Style over substance? Not this pad! Designed to keep your horse feeling his best, it features a cooling mesh lining and a freeing high wither cut.
No set is complete without an ear veil! Elegant and ergonomic, the Vision Fly Veil offers generous cut behind the ears to provide security without pressure points over the poll.
There's something for you too! Treat yourself to a matching Woof Wear Performance Riding Shirt. Lightweight and breathable the iFlex fabric ensures you'll stay cool and comfortable. That's not all, finish your look with a Woof Wear Hat Cover for the ultimate collection.
Now for the difficult bit... Choosing between Shiraz, Rose Gold, Ocean, Brushed Steel and Champagne!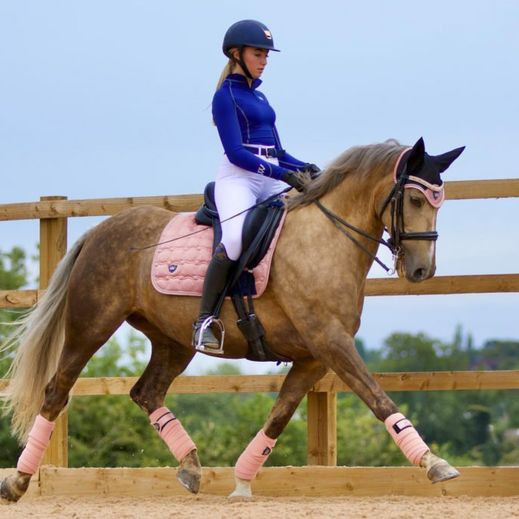 WoofWear Vision Rose Gold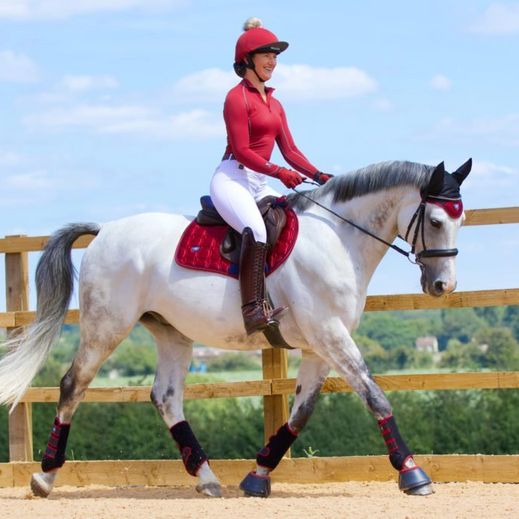 WoofWear Vision Shiraz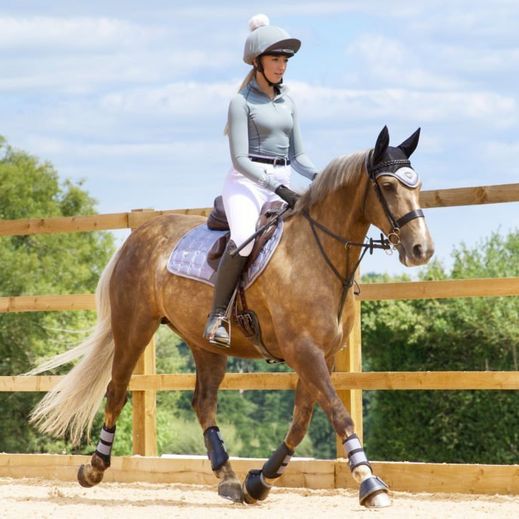 WoofWear Vision Brushed Steel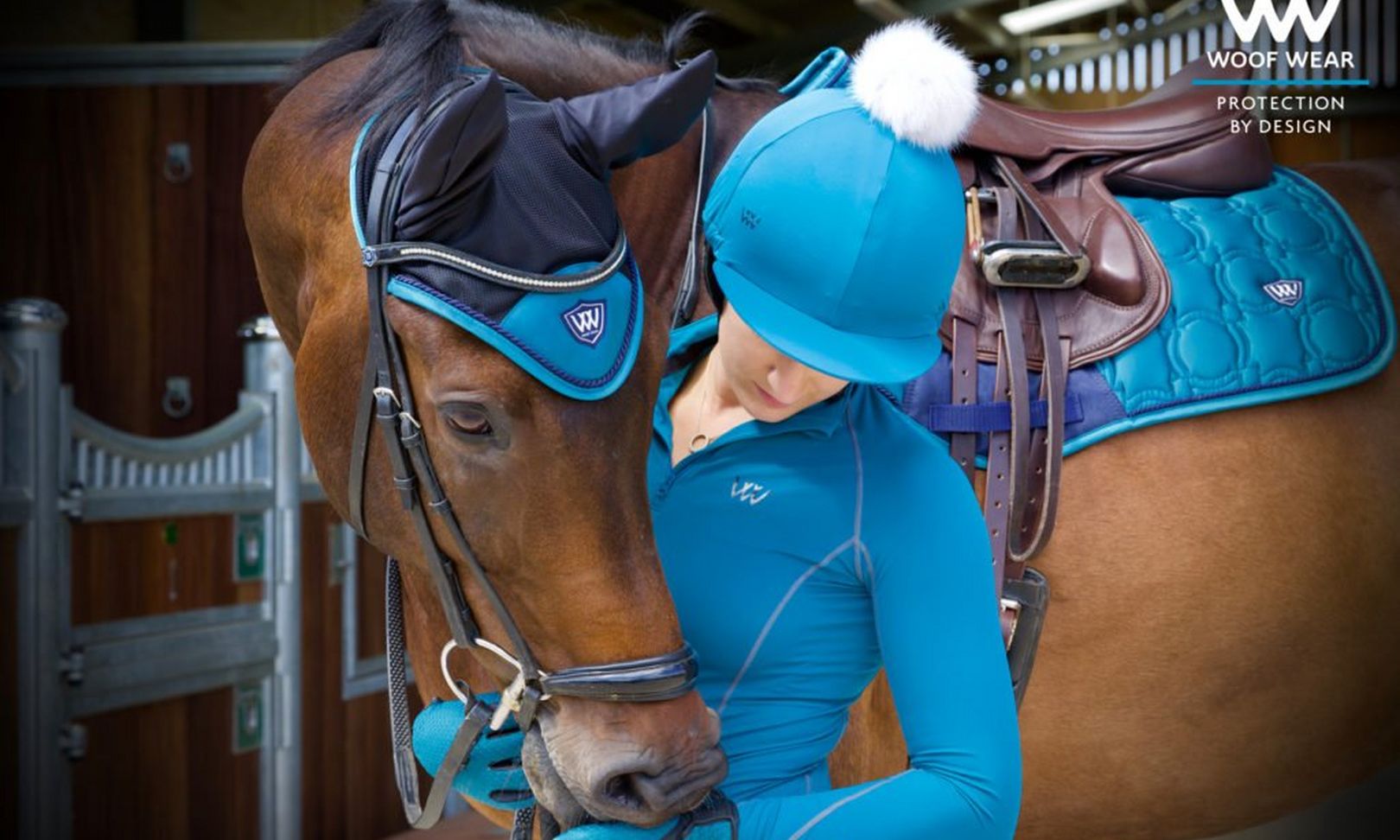 WoofWear Vision Ocean
Ps Of Sweden
Classy. Comfortable. Co-ordinating! The brand new PS Of Sweden matchy matchy sets in Neptuna and Scarlet are everything we'd dreamed they would be and so much more!
As practical as they are pretty, PS Of Sweden Dressage and Jump Saddle Pads feature stop cushions to prevent your saddle slipping and are anatomically shaped to allow your horse complete freedom of movement through thier back and withers. Manufactured using a dirt repellent outer and a quick-dry, wicking underside they're perfect for everyday use.
Whether your horse is easily distracted or you're wanting to complete the look, don't forget a PS Of Sweden Fly Hat! Designed to enable your horse to stay calm and collected, they reduce noise and keep flies away from their ears. Produced with comfort in mind they're made using a breathable, antimicrobial and quick-drying material. Capable of stretching, they offer the perfect fit, while preventing heat retention to avoid excess sweating.
No set is complete without leg wear! Made from 380g of anti-pilling fleece PS Of Sweden Polo Bandages offer the optimum level of support to your horses legs, protecting the delicate tendons and ligaments.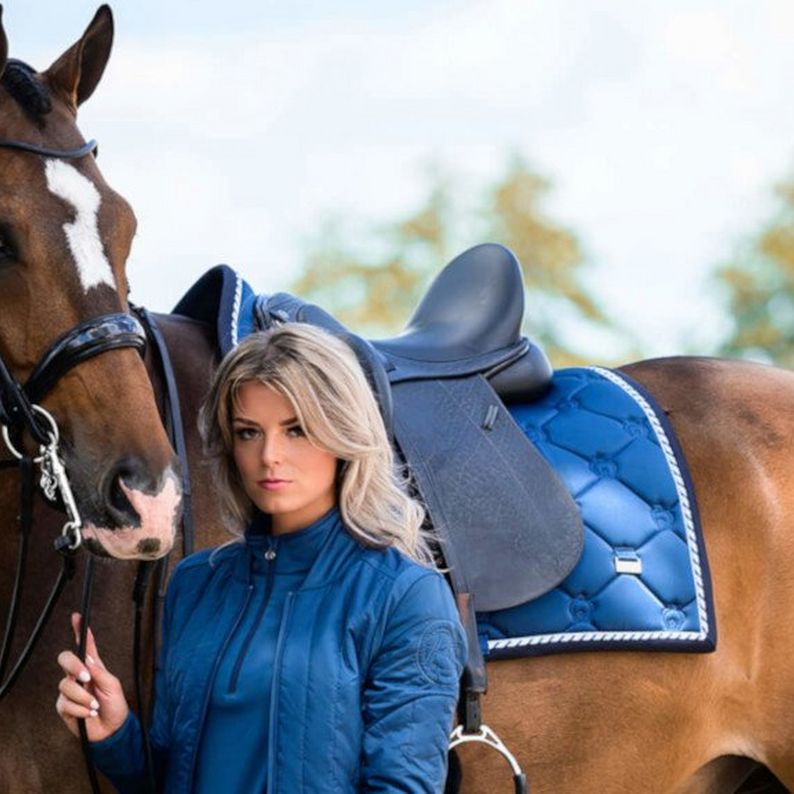 PS of Sweden Neptuna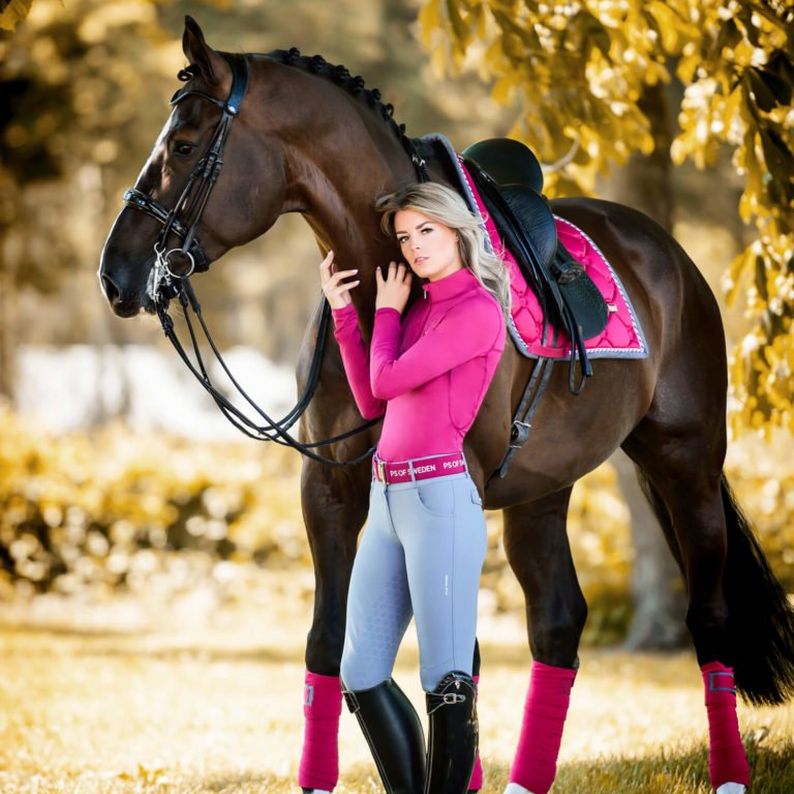 PS of Sweden Scarlet
Eskadron
One of the most prestigious matchy matchy brands, Eskadron is a firm favorite of equestrians everywhere! Stable, saddle, show... There's something for every occasion! Understated and subtle this seasons colours Black and Deep Berry are truly timeless additions to your tack room.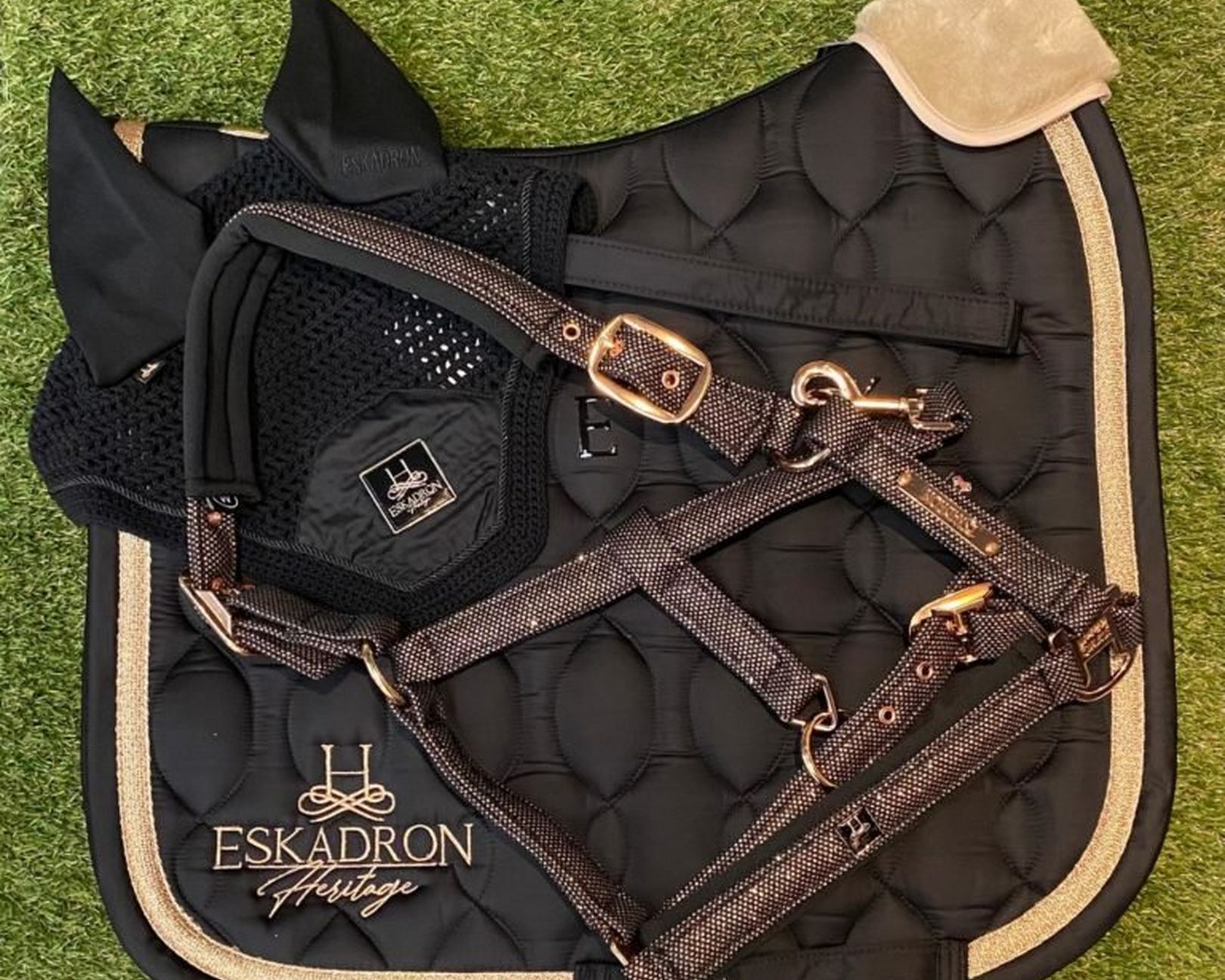 Eskadron Black Collection
Whether your at home or out competing a smart and sporty Eskadron Heritage Fly Veil is just what your horse needs. Offering a crocheted cotton design with soft elastic ears and a lurex cord trim it's an elegant and effective way to minimise noise and deter annoying insects.
Ready to shine? The Eskadron Heritage Dressage Big Square Glitter Saddle Pad is about to jump to the top of your wish list! The durable, breathable cotton outer offers just the right amount of sparkle while the generous quilting and soft wicking underside will keep your horse cool and comfortable as they work.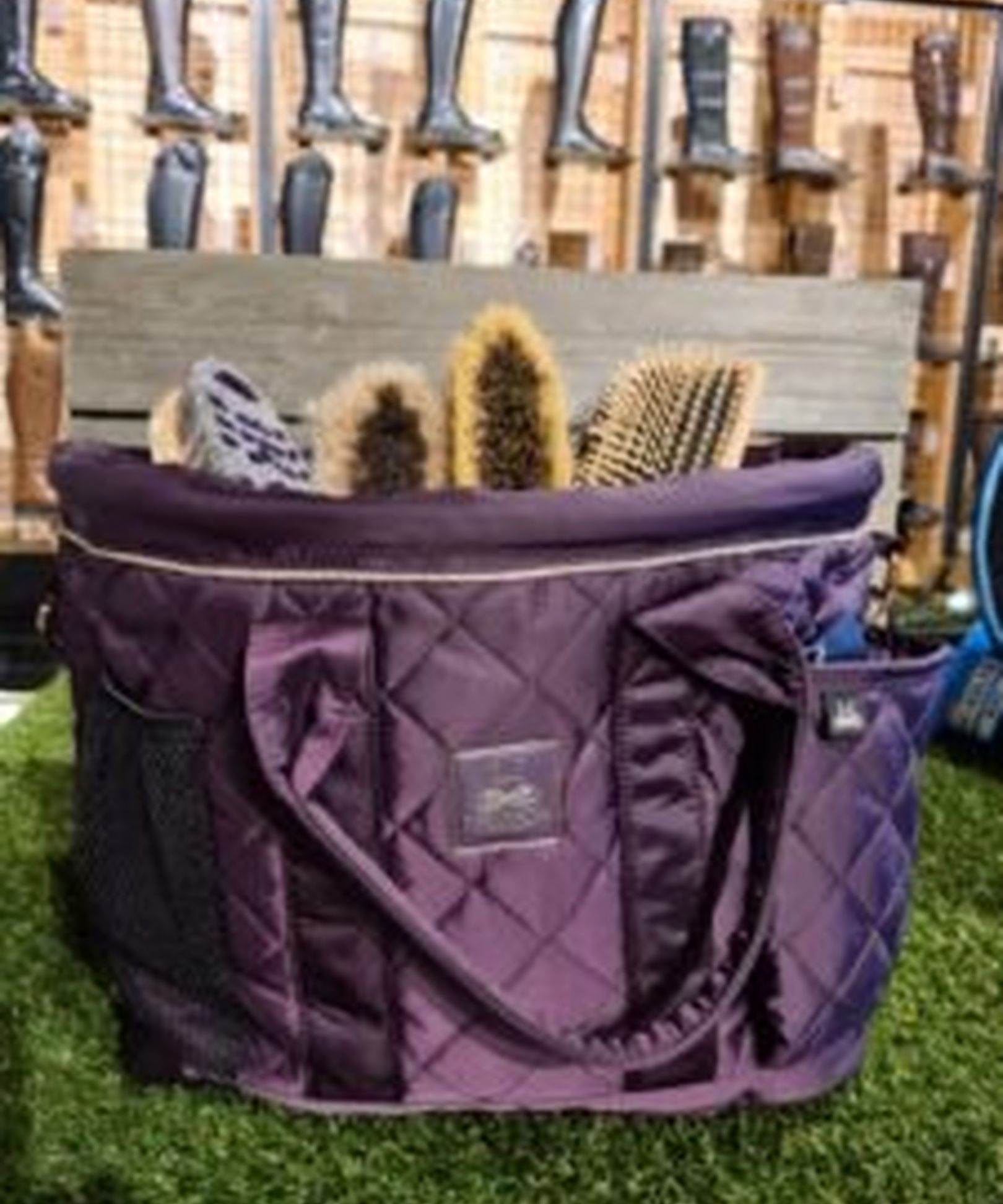 Eskadron Grooming Bag