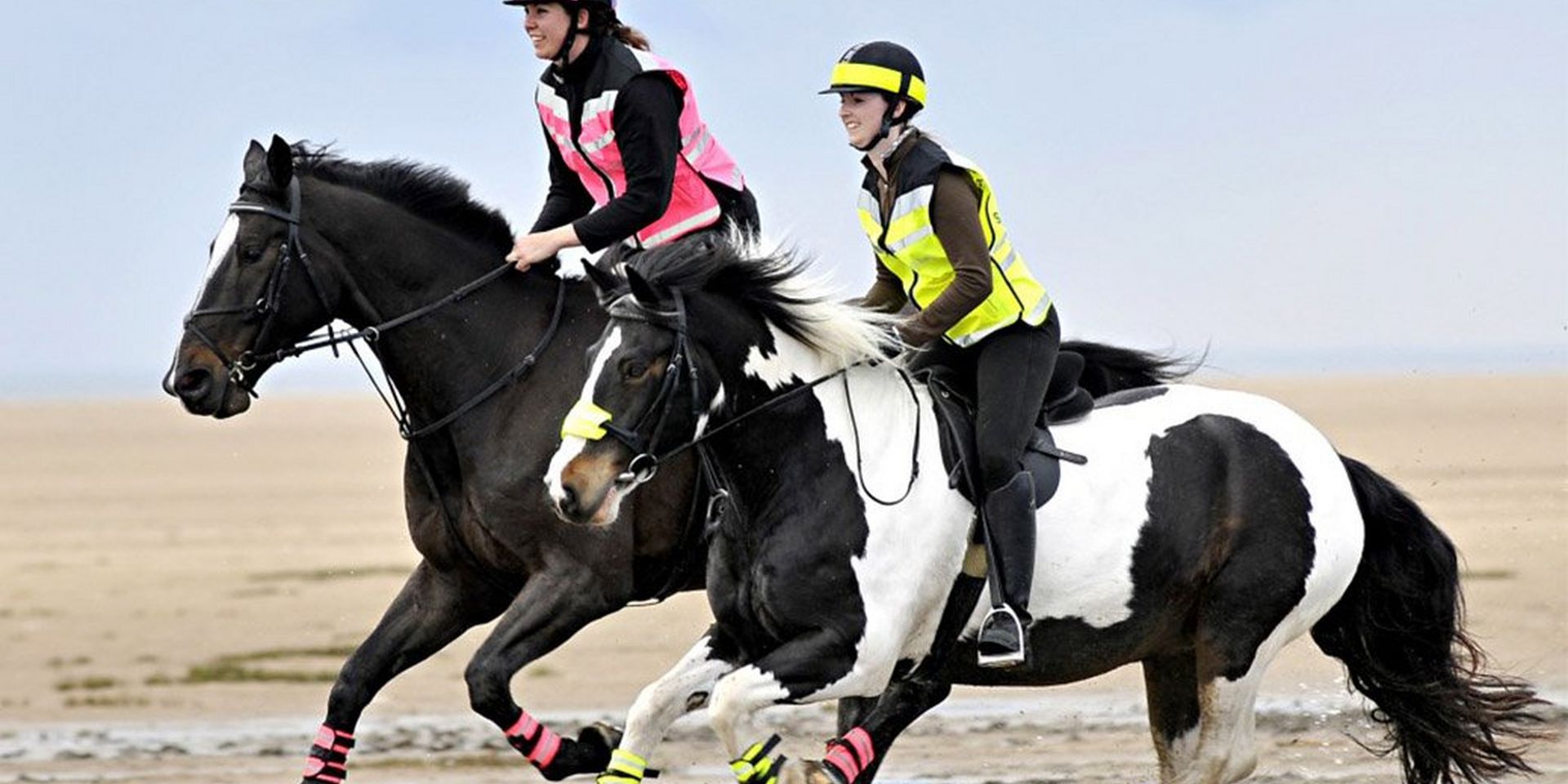 As the darkness of winter grows closer many horse riders begin to dig out the hi-vis and reflective wear ready for those rides out in the dark and miserable weather. Why is hi-vis so important and when should we ride in hi-vis gear?
Hi-vis plays a vital role in rider safety and, love it or hate it, it is a necessary accessory for equestrians when riding out both on the roads and on bridleways. Hi-vis will ensure you are seen by motorists and other road users whatever the weather, conditions and time of day. Hi-vis can give drivers 3 seconds extra reaction time, that is about the length of a standard sized dressage arena for a car travelling at 30mph!
There are many types of reflective and hi-vis clothing that can be worn, from hi-vis coats and LED flashing leg and arm bands for riders to exercise sheets and reflective boots for horses.
There is no law to say that horse riders must wear hi-vis clothing but after extensive research it is clear that it not only increases your visibility but could also save your life. The BHS recommends a minimum of a hi-vis jacket or tabard for the rider and leg bands for the horse but of course the more the better. A hi-vis exercise sheet for your horse and lights are key pieces of kit if you ride in the dark or failing light and in all weather conditions.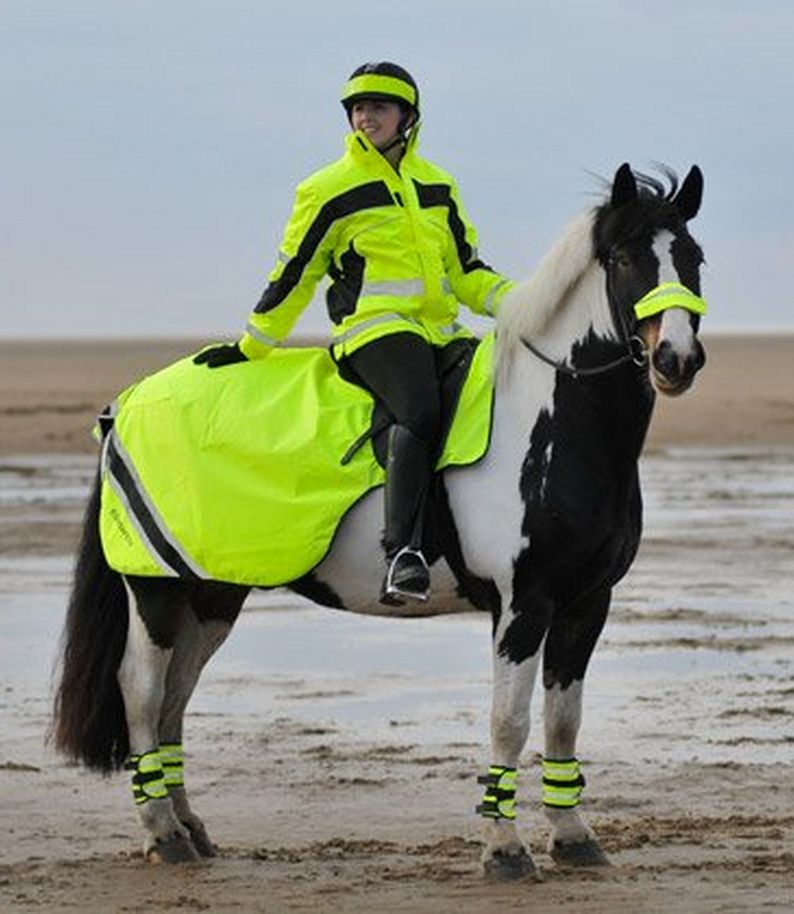 Image courtesy of Equisafety
Exercise sheets are available in a variety of styles and colours to suit your budget, preferences and requirements. Wrap around/competition sheets fit around the saddle and can be removed without the need to remove the saddle, whereas exercise sheets sit underneath the saddle. Wrap around sheets often have a chest section that fastens across the horse's chest and offers 360 degree visibility.
Boots/Leg Bands offer excellent visibility as they are constantly moving both up and down and side to side when the horse is moving. If your horse wears brushing boots to prevent injury why not swap to reflective brushing boots when out hacking to maximise your visibility without compromising your horse's protection. Leg bands are ideal for horses that do not require extra protection as they are thin and lightweight yet offer maximum visibility.
Bridle Sets easily attach to the horse's bridle and help to increase visibility from the front and side. Remember when stood at a road junction or coming round a bend often the first thing a driver will see is your horse's head.
Tail Sleeves offer excellent visibility from the rear and are easily attached to the top of the horse's tail. Many tail sleeves allow for the attachment of lights for extra visibility.
Neck Bands fit over the horse's neck and chest similar to a breast plate to offer head on visibility.
Ear veils/Caps will help increase your horse's visibility particularly when riding along roads with high hedgerows or fences. The hi-vis cap will help catch the attention of drivers as it will often show over hedgerows.
Coats/Jackets are available in many flattering and practical designs and offer 360 degree visibility. Hi-vis jackets are ideal for winter riding as they keep you warm and dry without compromising on visibility.
Tabards/Vests are available in a variety of different designs. Tabards can be plain or have slogans like "Please pass wide and slow" or "Caution" across the back and are often lightweight and adjustable meaning they can be worn all year round over different items of clothing depending upon the weather. A tabard with reflective strips will offer more visibility.
Hat Covers/Bands easily fit over most standard hats and help to increase visibility particularly over hedges and fences.
Arm/Leg Bands usually fasten with Velcro and attach to both arms and legs. Arm bands are particularly useful when signalling to turn on a road.
Lights
Lights should show white lights to the front and red lights to the rear to indicate to drivers which direction you are travelling. LED lights are highly visible at all times of day and will help to increase visibility in bad weather and dark conditions. Lights are available in many different styles and can easily be attached to the saddle, tail sleeves, exercise sheets, bridles etc.
A Rainbow of Hi-Vis
Hi-vis is available in variety of different colours to suit every taste. The most popular and traditional colour is yellow but orange, pink and green hi-vis is also readily available. With this choice of colours it is worth taking into consideration your surroundings when selecting hi-vis. If you regularly ride past fields of Rape, yellow will not stand out as well as pink and orange may blend into autumn leaves if you often ride through forests or along hedge lined lanes.
Did you know? Fluorescent colours are used for hi-vis clothing because they react with the ultraviolet rays of the sun and appear to 'glow'. They are exceptionally bright because of the way they absorb and emit light. This 'glowing' of fluorescent colours is particularly effective in low light conditions like dusk, dawn and in misty or foggy weather.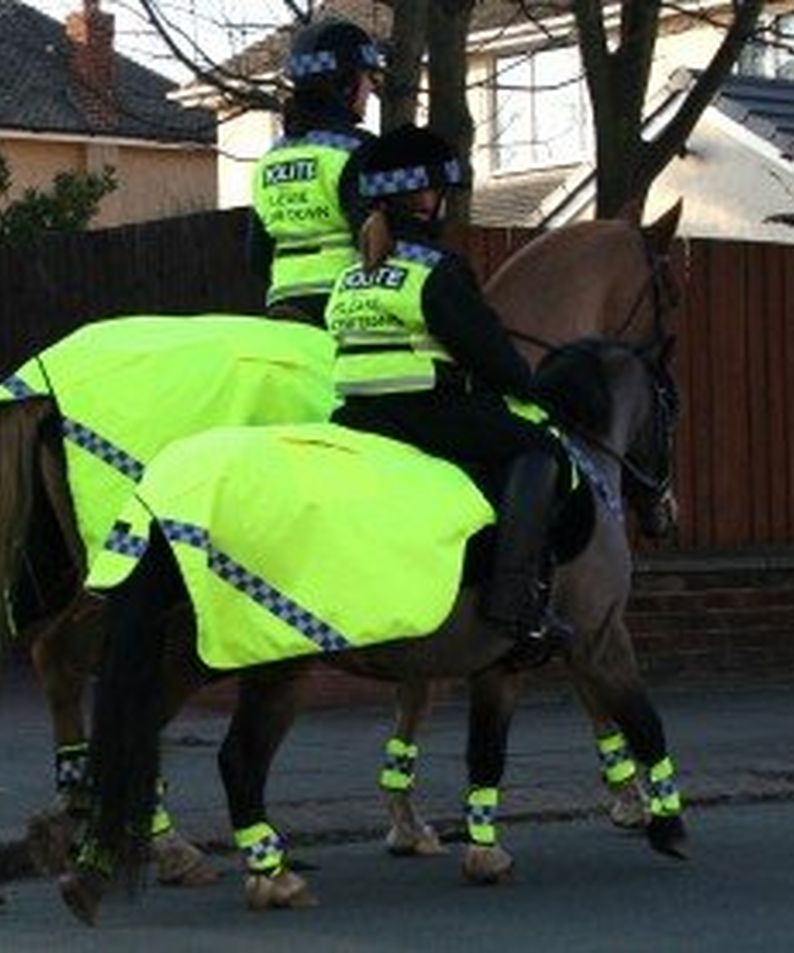 Note how the fluorescent yellow 'glows' in the lower light conditions.
Time to Reflect
Although fluorescent clothing is brilliant in the daylight and half light it does not 'glow' in the dark as is often believed. To be seen in the dark you must wear clothing with retro-reflective bands. Retro-reflective tape reflects light back to its source with minimum scattering, meaning when the light from a car headlights hits the retro-reflective tape it is reflected back to the driver. Hi-vis items that meet the BETA safety standards will feature true retro-reflective bands that will do the job intended. Cheaper alternatives and items that do not carry the BETA safety standards may feature silver/grey strips of what looks like reflective material but that does not mean they are retro-reflective, they may in fact offer no reflective properties at all.
When to Wear
Hi-vis should be worn at all times of day when out riding regardless of the weather or conditions. Horses tend to blend into a background of hedges, bushes or fields and so can be very difficult to spot even on the brightest of days. Wearing hi-vis not only gives drivers 3 extra seconds in which to react but will also ensure you are seen when riding off road and on bridleways. The BHS new "Don't be a dark horse…" campaign highlights the importance of hi-vis. Check out the poster here.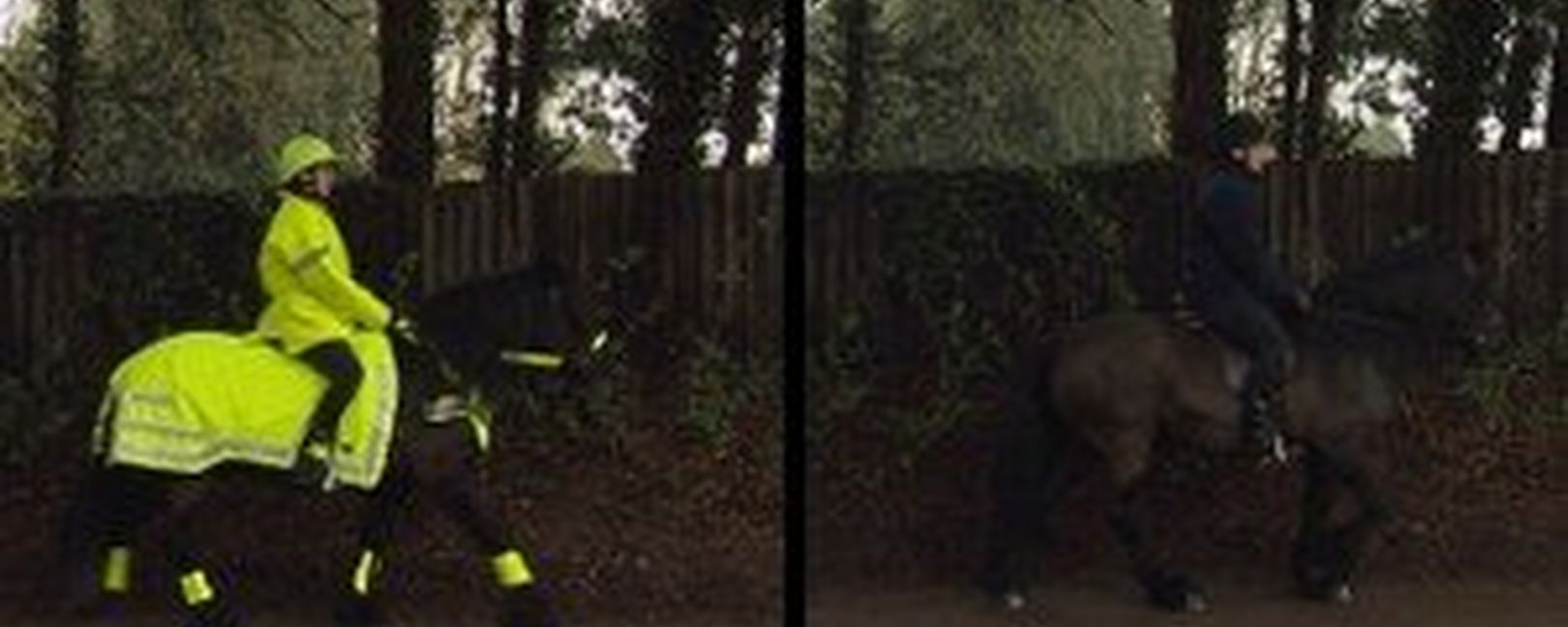 Image from the new BHS Autumn 2014 Hi-Vis campaign
Research by the Ministry of Defence has shown that helicopter pilots can see a rider wearing hi-vis up to half a mile sooner. The Royal Air Force and the MoD were presented with an award by the BHS for taking the most action towards promoting equestrian safety. During "Operation Bright Eyes" a RAF Benson helicopter flew over horse riders' heads and established that those wearing hi-vis could be seen significantly sooner compared to those who were not wearing any hi-vis items. The BHS Be Seen…Be Safe campaign highlights the importance of hi-vis clothing regardless of the time of day or weather conditions.
Wearing hi-vis not only enhances horse and rider visibility when on the roads but also when riding in the countryside. Hi-vis enables drivers on the road, helicopter pilots and low flying jets to see you sooner and so take measures to avoid you. Hi-vis also means the air ambulance will spot you and your horse sooner in the event of an emergency.
Standards
There are many varieties of hi-vis clothing and accessories available but which ones should you buy? Hi-vis can be purchased from many places like builders merchants, equestrian tack shops and even the local supermarket but not all are certified to BSI standards. After extensive collaboration between BETA and hi-vis specialist the BETA High Visibility Certification Scheme was launched to help riders buy hi-vis clothing with confidence.
Hi-vis clothing should reach the standard BSEN1150 or EN1150 to ensure that it has been tested and approved for use. Hi-vis accessories should reach the standard EN13356.
Why do we need standards?
Although all types of hi-vis clothing and accessories will perform to a certain extent only BETA certified items are guaranteed. Hi-vis clothing that meets safety standards and carries BSEN1150 or EN1150 has been tested and approved to ensure that you are clearly visible to motorists against the background in ALL weather and lighting conditions, and will have a combination of fluorescent material for daytime visibility with reflective material for night time and low light conditions. Hi-vis that does not conform to these standards does not carry the minimum safe levels of visibility and may fade, crack or fail to reflect light effectively, and if you are involved in a road accident, you may find your insurance reduced or invalidated. BETA offers a very insightful free leaflet explaining the safety schemes behind hi-vis clothing.
Hi-vis accessories like hat bands and body harnesses should comply to EN13356. There is currently no recognised standard for horse accessories.
Hi-ly Important or Hi-ly Ridiculous?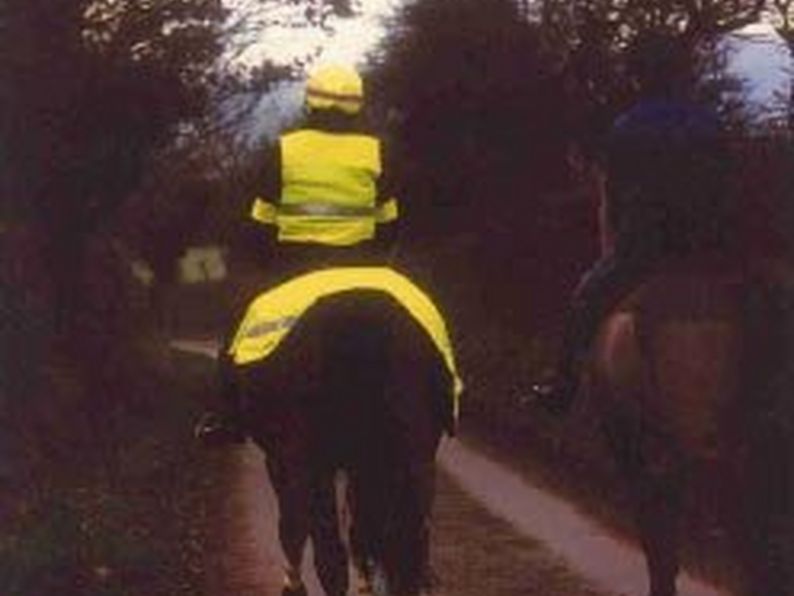 How long did it take you to spot the horse and rider on the right?!
The above image is pretty startling and really brings the debate of hi-vis into context. There are no laws to say that horse riders have to wear hi-vis clothing when riding but it is definitely in their best interests. With the huge array of hi-vis clothing and accessories available surely there is something to suit everybody's tastes. What are your thoughts on hi-vis clothing? Do you ride out like a flashing Christmas tree or would you never be seen wearing it?