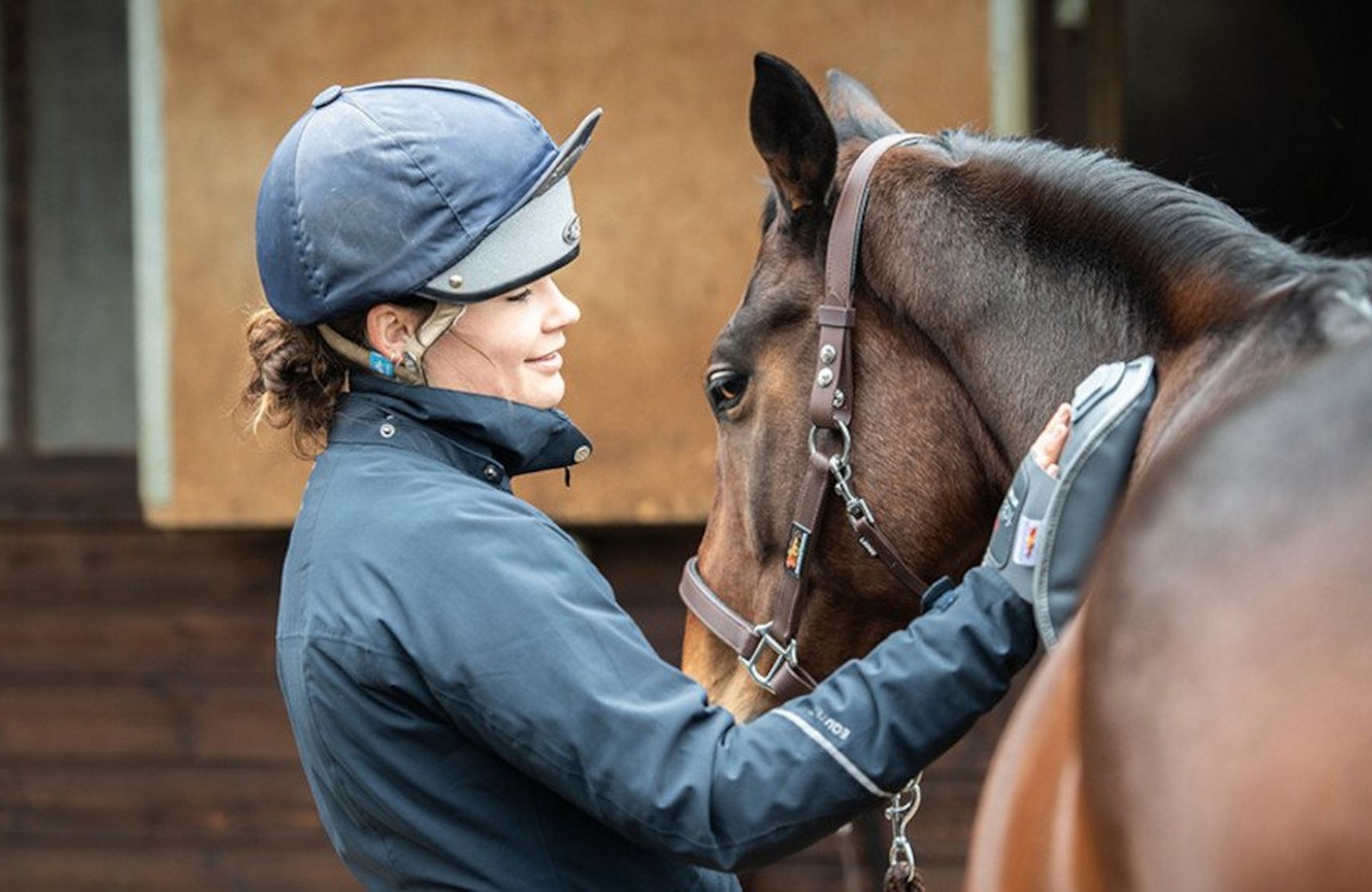 We all love a good spa day from time to time, right? Sometimes, there's really nothing nicer than feeling all our troubles disappear and the tension from our muscles simply melt away! Great for our minds and even better for our bodies, the combination of luxurious heat treatments and massages can leave us feeling refreshed and rejuvenated. This got us thinking… Wouldn't it be nice if we could offer our horses the same?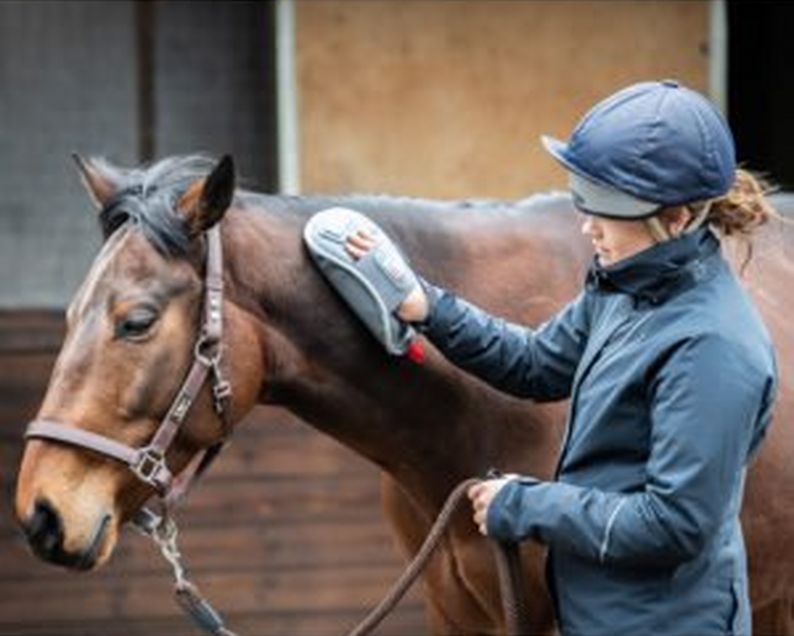 Obviously, we can't be taking them with us, so it begs the question, is it possible to help them feel a million dollars without having to leave the yard? The quick answer.. Yes! And with the revolutionary new Equilibrium Massage Mitt Hotspot it's quicker, cheaper and easier than you might think.
Shop Now
How To Use The Hotspot
Say hello to the star of the spa. A total game changer, it won't be long until you wonder what on earth you did before the Hotspot!
Designed to provide a tailored massage, heat or combined session, it has 13 different settings to soothe and relax your horses hardworking muscles. Providing a treatment specifically to suit your horse and their individual needs, choose from 3 intensities and 2 types of massage (continuous or cyclical), then select whether you'd like to add heat or not.
Low
Medium
High

After exercise.
On a day of rest.
For a sensitive horse.
When introducing the Hotspot for the first time.

For a pre-exercise warm up.
General maintenance massage.

For horses who prefer a more intense massage.
Those with thicker coats.
Horses who are overweight.
Programmed to provide a fast and effective 10 minute session, it easily fits in to your horses daily routine, so it's never been easier!
The Science Behind The Magic
Heat
Heat works by encouraging vasodilation. This sounds super complicated but really, it's simple. Heat relaxes the muscles found in the walls of large artery's and veins, which widens the blood vessels. This allows them to carry more oxygen rich blood to the muscles and skin. Less invasive and gentler than massage, it can be a preferred option for sensitive types.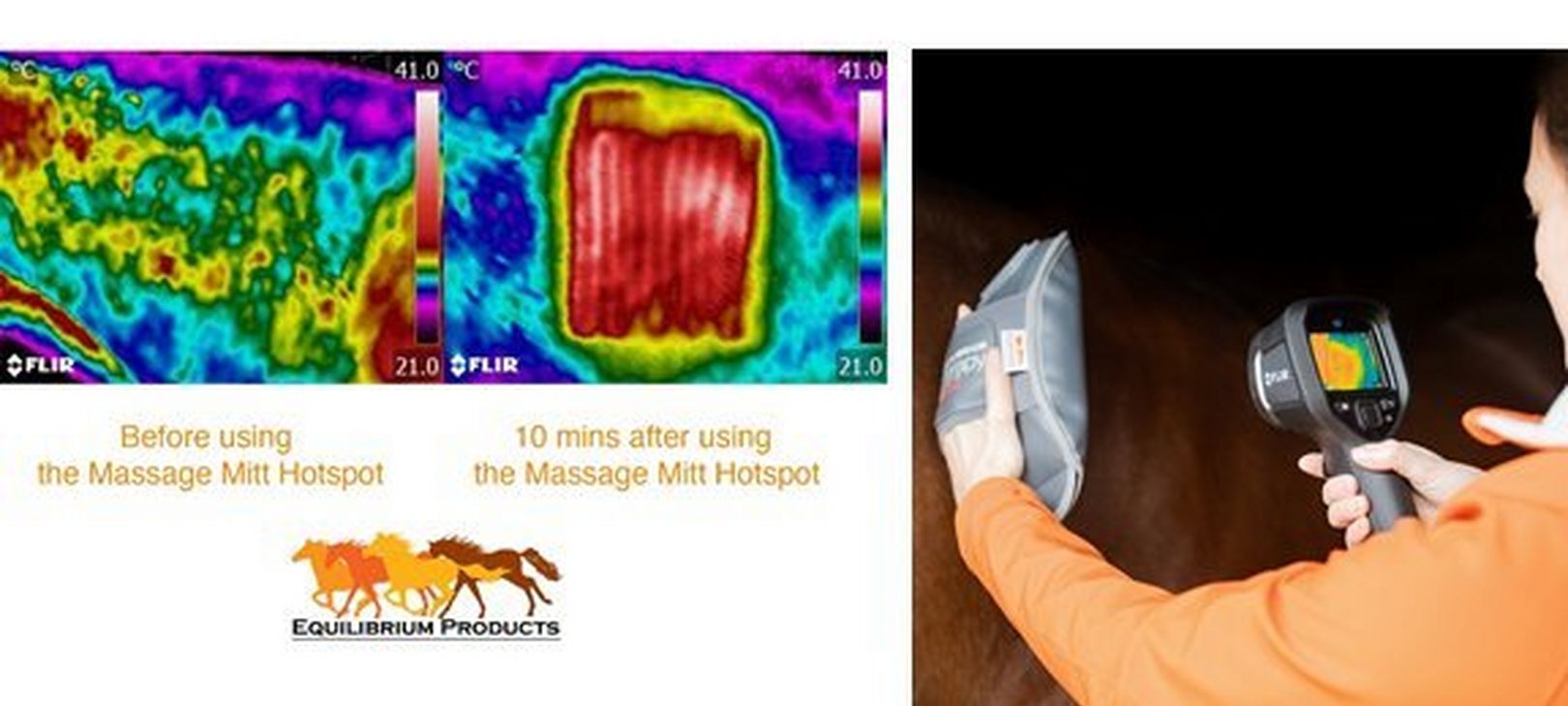 In order to be effective, research suggests that the tissue temperature must increase by at least 3°C. Created to provide the optimum level of heat, on average, use of the Massage Mitt Hotspot increases the skin temperature by 8.7°C. The benefits of heat can include:
Encouraging good blood circulation.
Driving oxygen to the muscles.
Providing relief from mild pain or discomfort.
Increasing flexibility of the tendons and ligaments.
Relaxing stiff muscles.
Massage
Massage works by stimulating good circulation, helping to get oxygen moving around the body and to the muscles. The benefits of massage can include:
Encouraging good blood circulation.
Driving oxygen to the muscles.
Promoting the release of endorphins.
Aiding the removal of toxins.
Reduced fluid retention and swelling.
Increase range of motion and flexibility.
Improving muscle tone and definition.
Aiding recovery after exercise.
The massage option can be used in a sweeping motion following the direction of your horses hair, providing an all over treatment session. For best results, focus on each muscle group for approximately two minutes and repeat on both sides.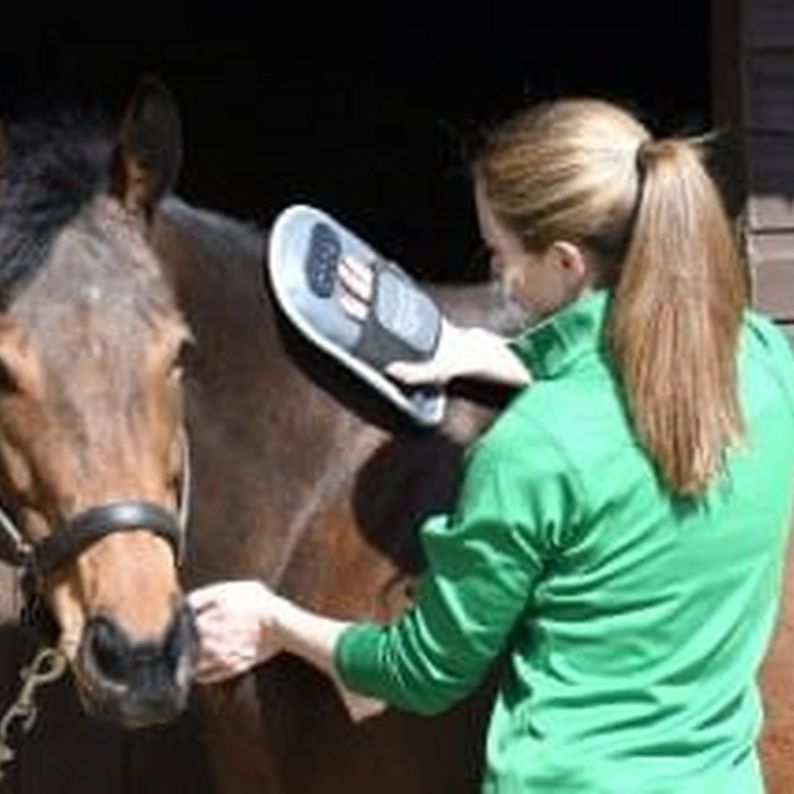 Neck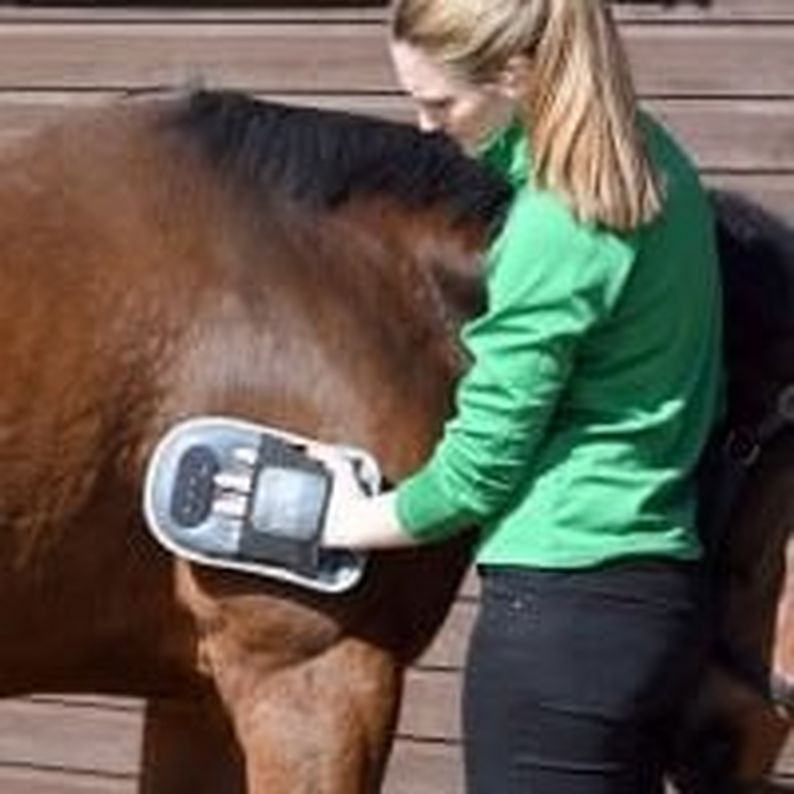 Shoulder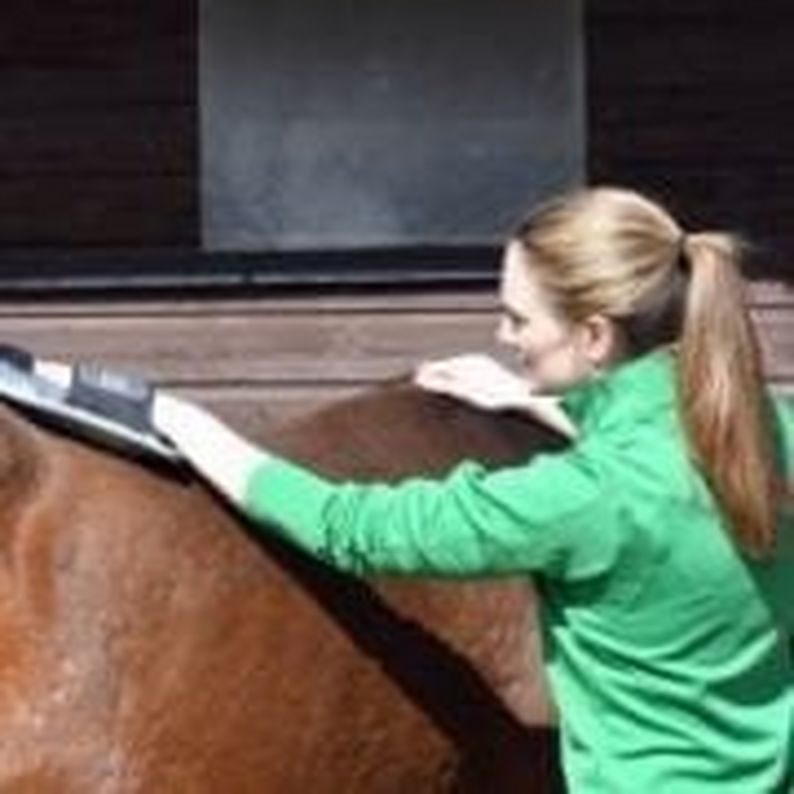 Back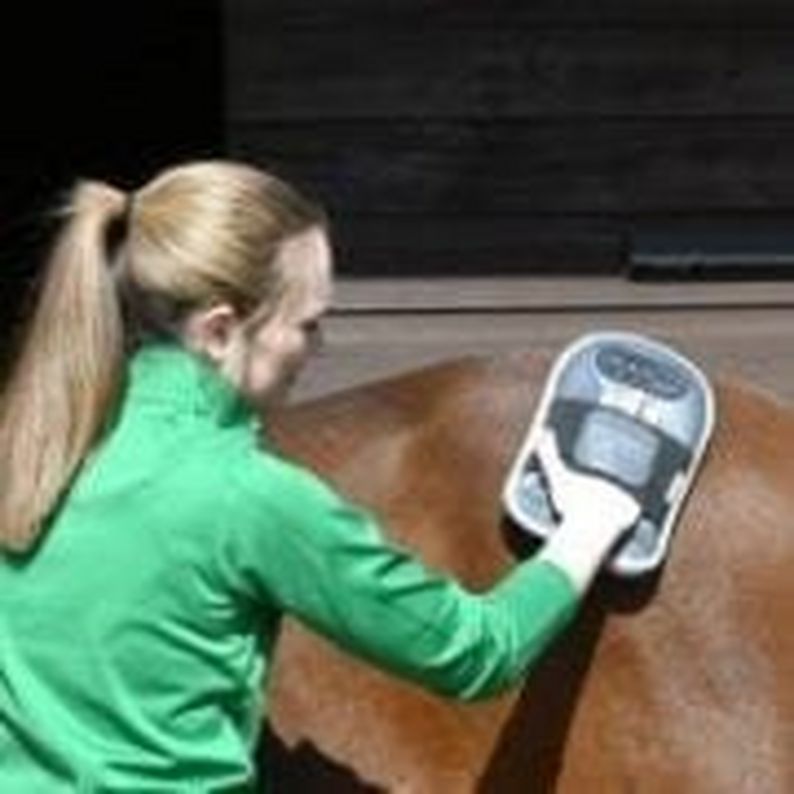 Quarters
Alternatively, you can spend longer focusing on specific muscle groups based on your horses discipline, knots and stiffness or the recommendation of a professional.
Read More – How to use the Equilibrium Therapy Massage Mitt
Who is the Hotspot for?
Horses & Ponies
Add a combination heat and massage to your horse's day to:
Support soft tissue and healthy muscles.
Maintain lymphatic function.
Warm up muscles or joints before working.
There's no area you can't reach! The Equilibrium Massage Mitt Hotspot can benefit any horse, regardless of their age, type or use. It can be particularly useful for those that are…
Older.
Slow to warm up.
In work.
Competing.
Young and learning new things.
Undergoing retraining.
Returning to work after time off.
Riders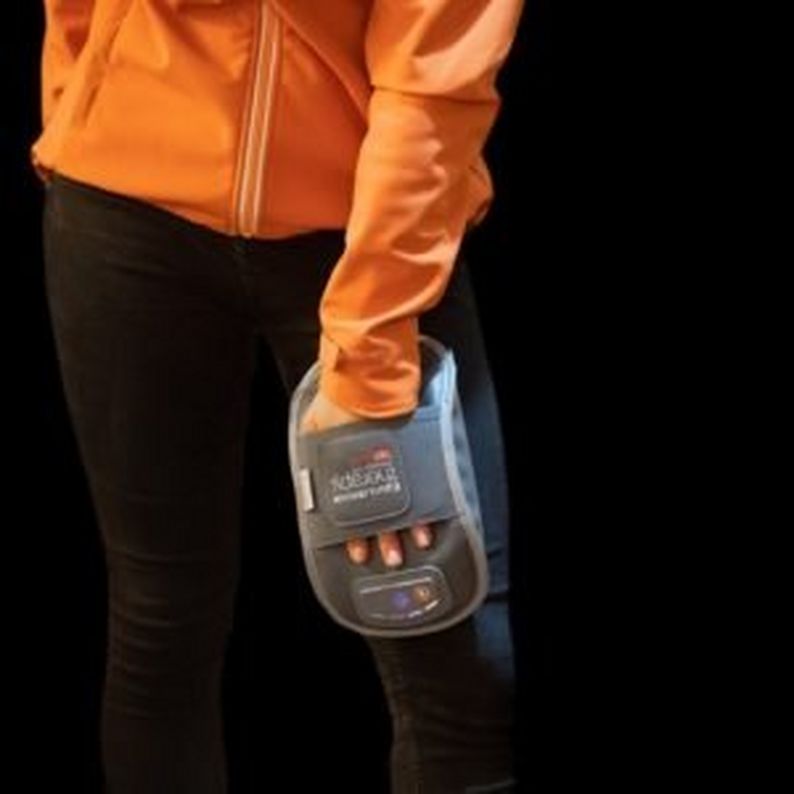 Top Tip: Don't let your horse have all the fun! At the end of a long day make sure you don't miss out.
Massage has been used by therapists all over the world, for thousands of years, so why not use the Massage Mitt Hotspot on yourself too? Evidence from scientific research suggests it can be beneficial for a whole host of musculoskeletal and health concerns such as back pain, shoulder pain, hip pain and headaches. And let's face it, as equestrians, we've got the full house!
| Heat Setting | Cyclical Massage | Continuous Massage |
| --- | --- | --- |
| Can be used to target muscle spasms, muscle fatigue or muscle soreness post exercise. Heat is also perfect to use prior to stretches, such as yoga or pilates. | Can be used when holding the mitt still to target a specific area or concern such as back pain or sore shoulders. | Can be used to treat large areas. This ensures that each muscle group receives the same level of massage. |
Why choose the Hotspot?
It's easy to talk ourselves out of buying something because the alternatives cost less. But the truth is, cost and value aren't the same thing! Worth every penny, this methodically researched and relentlessly tested product is a much more effective, reliable option than the traditional methods of delivering heat and massage to horses:
| Wheat Bag/ Hot Water Bottle | Massage Mitt Hotspot |
| --- | --- |
| Unpredictable, unstable temperatures. | Set to reach the optimum temperature with a cut off to prevent overheating. |
| Can shock the skin, starting out very hot. | Starts at ambient temperature and gradually increases to pre-determined maximum temperature. |
| Cools down quickly. | Set to maintain correct temperature, can be switched back on after 10 minutes (only 2 x 10minute sessions to be used on one localised area). |
| Heat lost is to the atmosphere and administrators hand. | The back of the heat element is insulated to prevent heat escaping into the atmosphere and onto the administrators hand. |
| Access to hot water/microwave needed. | Battery operated, designed to deliver 10 x 10 minute heat sessions. |
| Covers need to be washed – not straightforward with a wheat bag. | Quick and easy to wipe clean and keep sanitary. |
Don't take our word for it…
Take a look at what the professionals are saying!
Jess Jones – Veterinary Physiotherapist
"I have been really impressed with the Hotspot. It is easy to use and keep clean, and it heats up really fast. I have been using it on my own back as well on horses and find it to be very effective. I would definitely recommend this to clients."
Claudia Howard – Equine and Animal Physiotherapist
"I love the Hotspot. I have had some super, super results with it. It's really straightforward to use and the heat element is just right, also only had to charge the battery once so far – it's lasting well. I've used it on several horses, as well as myself and my husband. I would certainly recommend it."
Cassie Hall – Veterinary Physiotherapist
"I am really impressed with the Hotspot. It is light, easy to use and the battery lasts well. I like that my hand doesn't get hot when using it. I have used it on a lot of horses and they have all responded to it very well. The heat function is my favourite for the lumbar area and I have found that it really helps to soften this area before I commence physio treatment. For the neck and shoulders, I have been using the combined heat and massage which again has been really helpful to help loosen the area before I do any manual work. I also like how small and quiet the mitt is as horses have even accepted the use of it around their poll and tight groins."
"For me it is now a definite asset to my treatment process. I have used it on myself especially when driving in between clients for my lower back and I love it! The added heat would make this product my preference over a hot water bottle for safety reasons and ease of use. I will definitely be recommending this product to my clients and other physios."
We're sold! Will you be treating yourself and your horse to this magnificent Mitt? Share your photos in the comments or include #NaylorsSnapAndShare on your social posts. Shop online at Naylors.com 24/7 or visit one of our stores in Rochdale, Cannock or Nantwich.