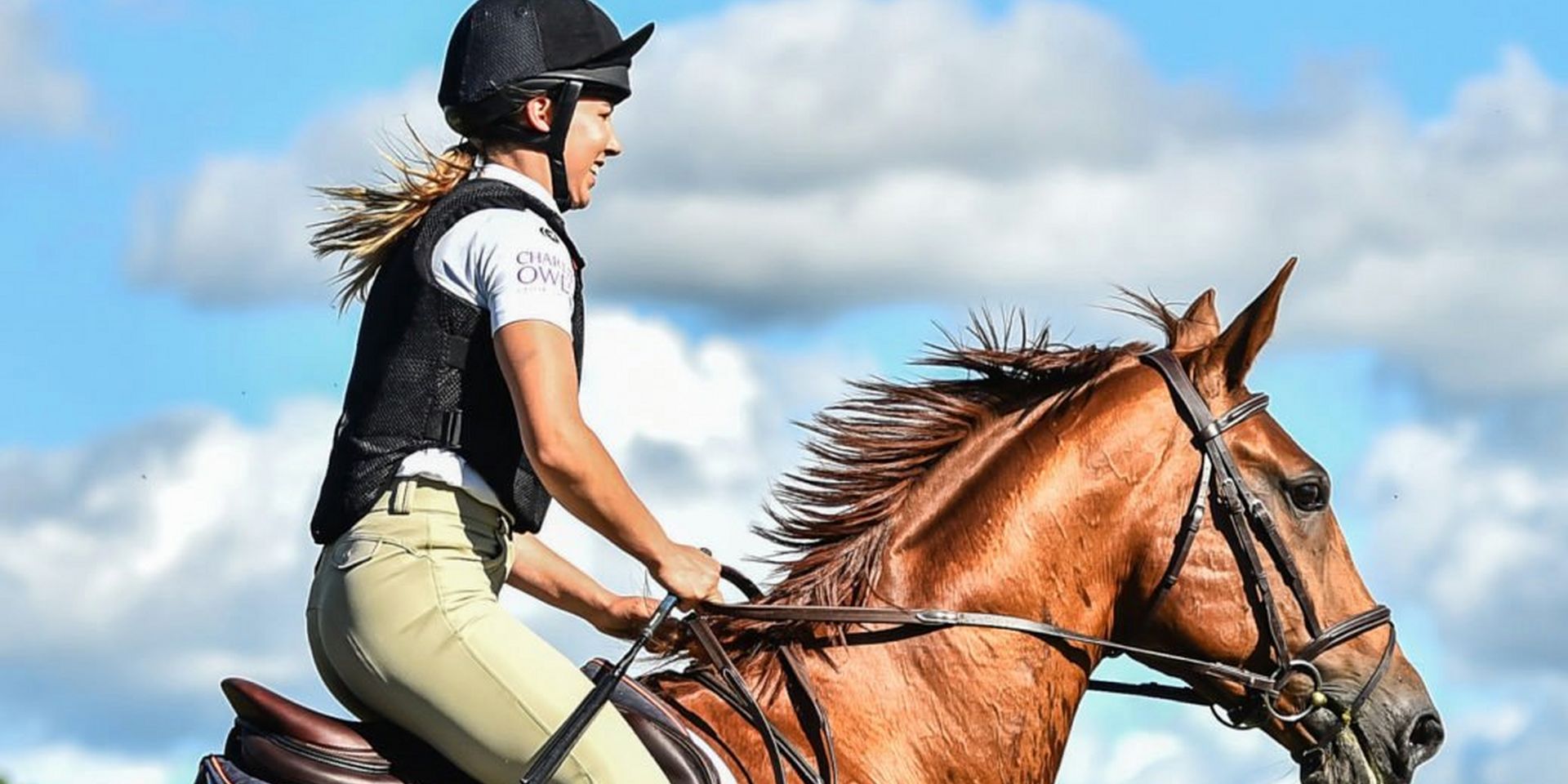 Hands down the most important piece of kit we own, our riding hat is what keeps us safe in the saddle and at the stables! World famous for raising the bar in equestrian safety, Charles Owen are a leading manufacturer of helmets. Loved by riders and handlers alike, they produce over 180,000 skull caps and peaked riding hats a year. Was yours one of them? Find out why so many riders choose Charles!
4 Reasons to choose Charles Owen!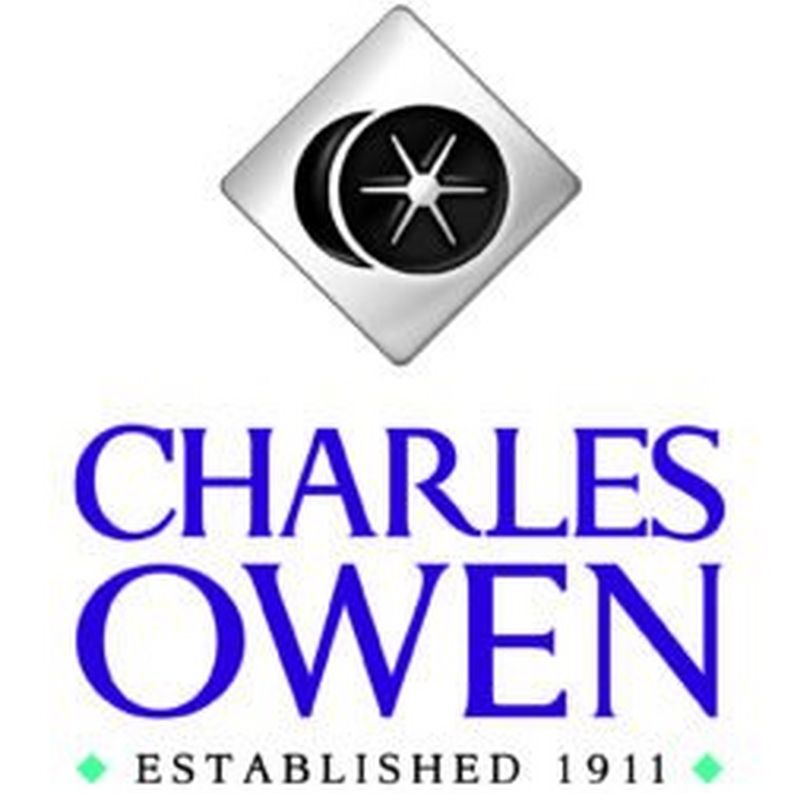 1. Age Before Beauty
Saving lives for over 100 years, Charles Owen founded the company in 1911. His aim was to make the world a safer place for horse riders. For 17 years they manufactured hats for the British Army, before producing skull caps for jockeys. They quickly established themselves as the gold standard for safety, thanks to their involvement in creating the very first equestrian helmet safety standard.
2. Royal Warrant & Olympian Approved

"I trust Charles Owen to take care of me with safety and style."
Recognised as an industry leader, in 1984 Her Majesty Queen Elizabeth II awarded Charles Owen the Royal Warrant as protective headgear supplier to the Royal Mews at Buckingham Palace. Ellen Whitaker, Joe Stockdale, Jack Whitaker, Harry Meade, Charlotte Dujardin, AP McCoy, Nick Skelton, Boyd Martin…. What do they all have in common (beyond being legends in equestrian sport)? They all use Charles Owen hats!
3. Handmade In The UK

Every Charles Owen helmet is handmade at an award winning, state of the art, purpose-built factory in Wrexham, North Wales. Highly skilled technicians use the top quality materials to make each hat, ensuring they offer the very best levels of protection.

Let's face it, riding hat standards are a complicated affair. What you need to know is that all riding helmet manufacturers have to produce helmets to meet at least one international equestrian safety standard or mark. The more standards your hat meets, the more extensively it's been tested! Charles Owen hats are designed to meet the highest standards. Take a look…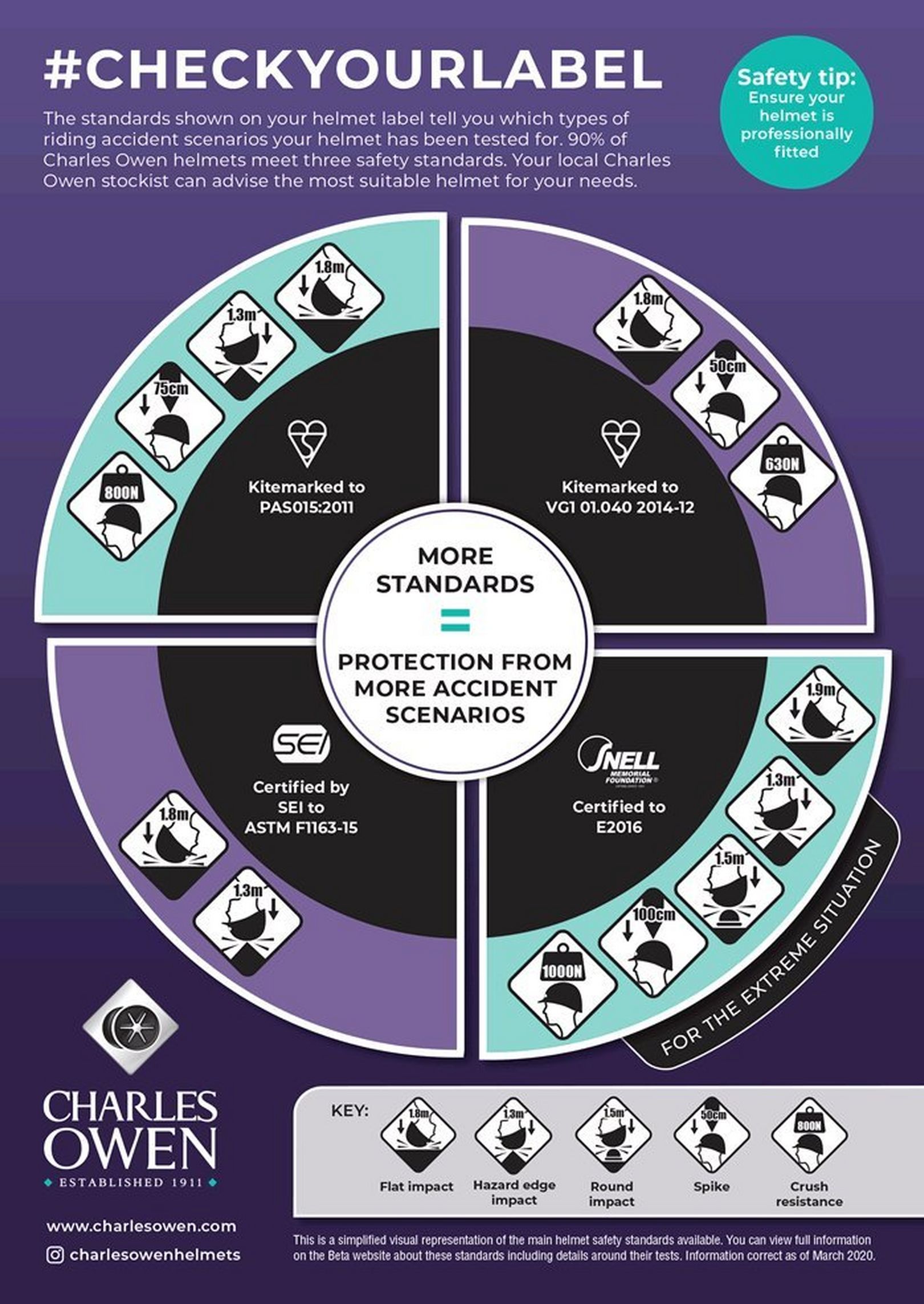 The BSI Kitemark checks 1 of every 200 helmets before they will issue an approval label. If the helmet did not pass the tests, the entire batch would be destroyed.
SEI test 1 batch every 12 months to ensure quality.
The CE mark is tested for approval, however does not require any further testing unless the helmet is modified from the approved design.
Nearly all Charles Owen hats are triple standard. For riders, this means they're able to provide protection against even the most extreme situations.
It's What's Inside That Counts
Charles Owen riding hats are composed of four specialist layers; the outermost layer, fibreglass/plastic shell, expanded polystyrene (EPS) and the headband.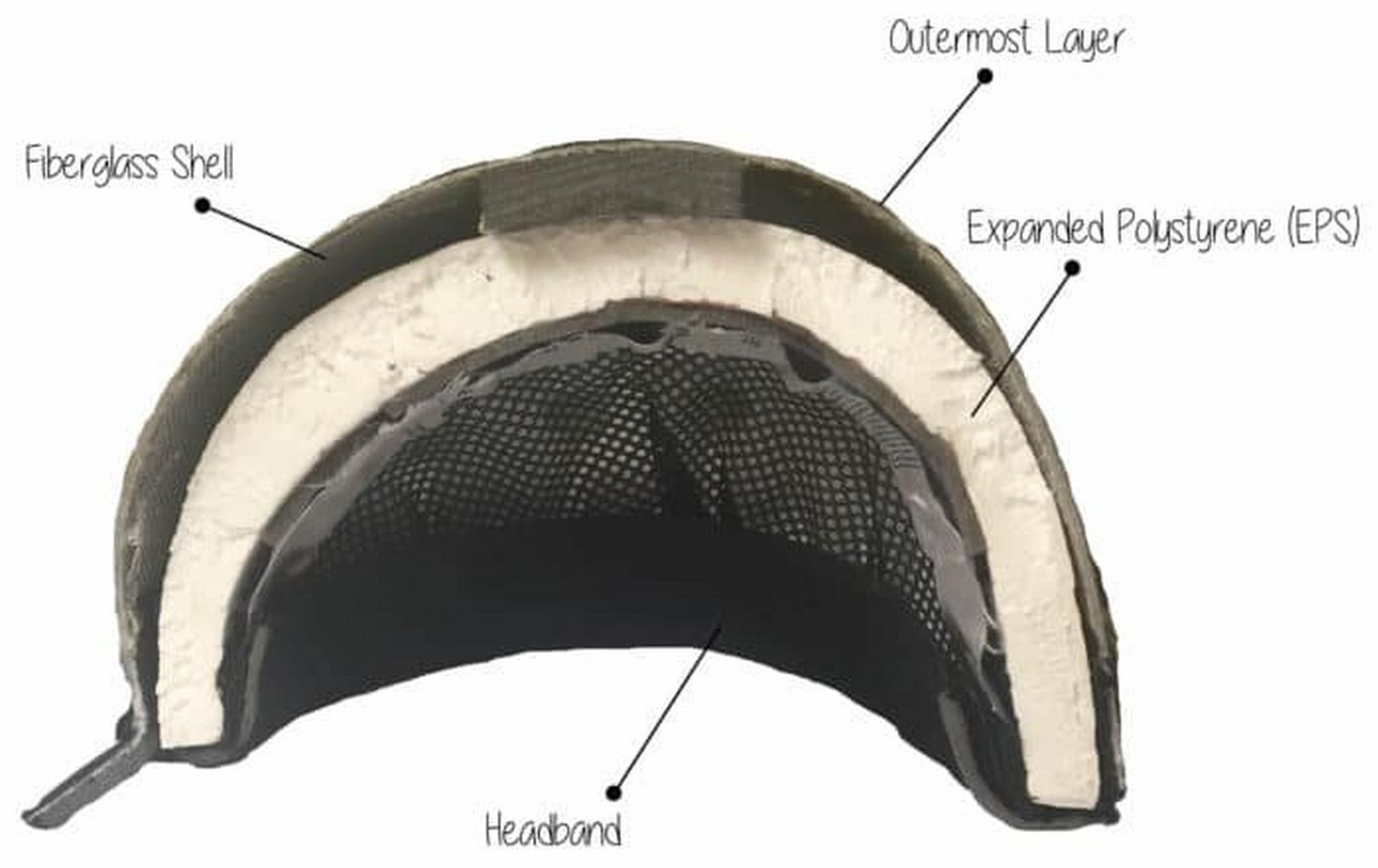 Charles Owen Hat Cross Section
Outermost Layer
Also known as the finish, the outermost layer is the visible covering on the surface of your hat. Depending on the type of riding hat that you choose, this could be a sand painted finish, velvet, leather-look synthetic fabric or microfibre suede. You could be forgiven for thinking this is all about fashion, but it's not! It's got a function too, specially designed it ensures that in the event of a fall your head is able to move across the ground with minimal resistance. This helps to disperse energy from an impact away from your brain.
Fibre Glass/ Plastic Shell
Just below the outermost layer is the shell. This hard coating provides protection, to prevent skull fractures. Curved in shape, it spreads the force of an impact over a wider area before it reaches the EPS beneath.
Expanded polystyrene (EPS)
We've all joked about being wrapped in bubble wrap, right? Well essentially, EPS acts as bubble wrap for the brain! The purpose of the EPS layer is to prevent bruising and concussion. Comprised of tiny beads that burst when struck, they absorb and dissipate energy from an impact. Once those energy-absorbing bubbles of air have burst they can no longer offer the same level of protection. This is why it's so important to replace your hat if it's dropped.
Headband
Moulding to your head as you wear your hat, this pliable padding improves fit and comfort. Interwoven silver ions in the material ensure that any bacteria is killed, improving hygiene and reducing unpleasant odours.
How Charles Owen hats made?
Design and Testing – Each new hat type takes up to 12 months of work before it hits the shelves. In-house designers and engineers create a concept and prototypes, these are then tested in accordance with safety standards.
EPS – State of the art machinery creates the expanded polystyrene layer. Every mould is then weight checked to ensure it offers maximum protection.
Shell – To make your new hat the fibreglass material is cut to size using a template. It is then set hard and trimmed by hand. Next, the shells are drilled with ventilation slots and holes for the harness.
Painting – The shells are then painted, this is done by a specialist.
Covering – The outermost layer of the helmet needs to be cut to size and stitched. Paying close attention to detail, the maximum variance of the seams is just 1/32 of an inch!
Glue – Super strong adhesive is applied to the surface of the shell, so that it can be covered with mesh or material. Not only is it glued, the cover is stitched through the outer shell to ensure it can never shrink, move or come away.
Harness – The harness is attached by rivets to the shell.
Finishing Touches – The hat is then cleaned and checked, before being passed through independent quality control.
How To Measure
We recommended that you should always get your riding hats checked by a qualified fitter. We offer this service for free in all of our stores!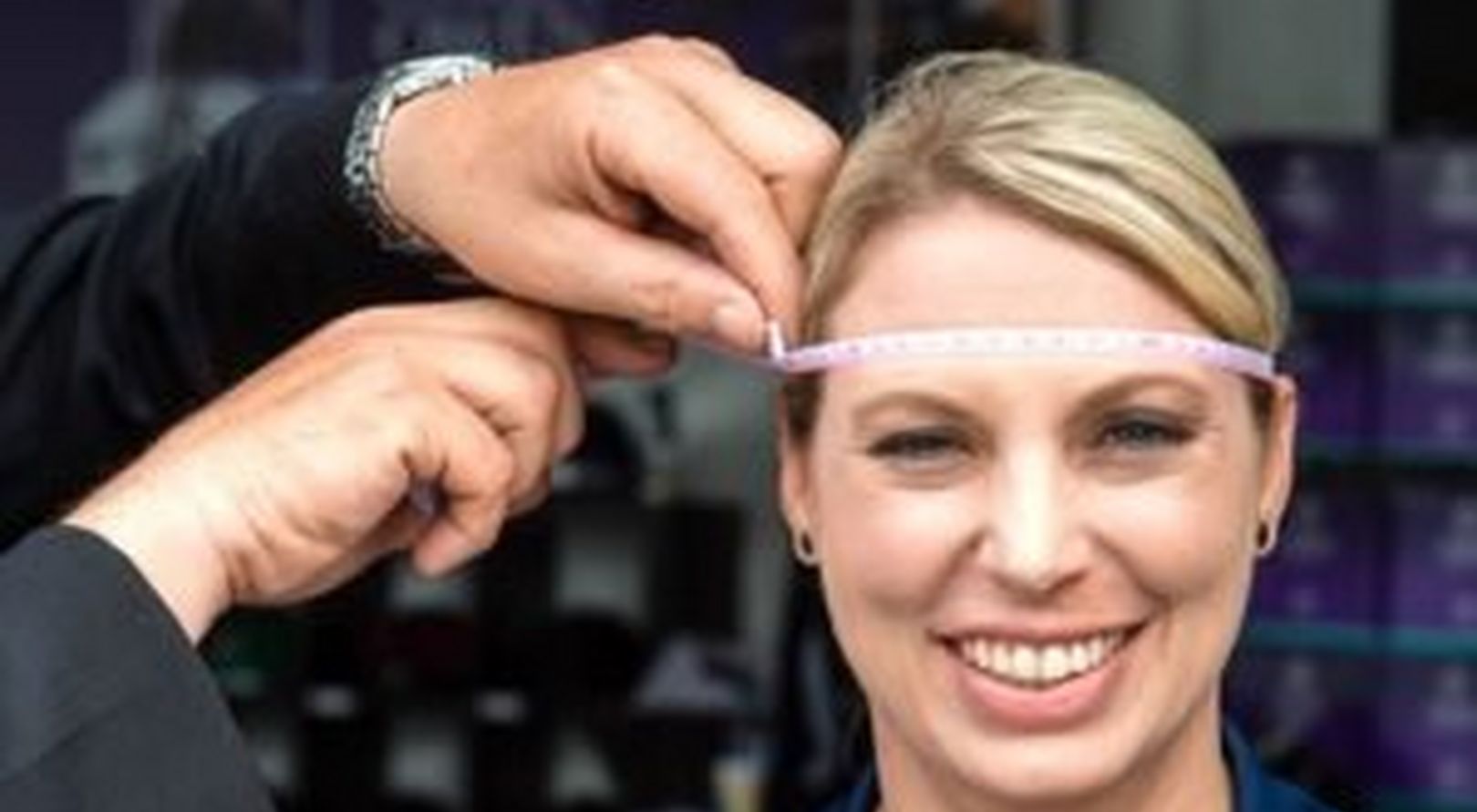 Use a fabric measuring tape, wrap it around the widest part of your head (over your hair). It should follow a line about 3/4 inch above your eyebrows, just above the ear line and around the bump at the back of your head. Take the measurement in centimetres. To be sure you've measured accurately, repeat the process a couple of times.
Use the size chart table below to convert your head size into a standard riding hat or jockey skull cap size.
| Head Size (CM) | Helmet Size | Skull Cap Size |
| --- | --- | --- |
| 49 | 6 | 000 |
| 50 | 6 1/8 | 000 1/2 |
| 51 | 6 1/4 | 00 |
| 52 | 6 3/8 | 00 1/2 |
| 53 | 6 1/2 | 0 |
| 54 | 6 5/8 | 0 1/2 |
| 55 | 6 3/4 | 1 |
| 56 | 6 7/8 | 1 1/2 |
| 57 | 7 | 2 |
| 58 | 7 1/8 | 2 1/2 |
| 59 | 7 1/4 | 3 |
| 60 | 7 3/8 | 3 1/2 |
| 61 | 7 1/2 | 4 |
| 62 | 7 5/8 | 4 1/2 |
| 63 | 7 3/4 | 5 |
| 64 | 7 7/8 | 5 1/2 |
| 65 | 8 | 6 |
Putting You Hat On Properly
When putting a helmet on, you should feel a sensation known as 'the lock'. Your hat should latch on and grip the back of your head.
Tie your hair up a in low pony tail (if applicable)
Place your forehead in to the front of the hat
Using a rolling motion, push backwards to feel the helmet lock into the base of the skull (listen for a suction sound)
Run your finger around the rim to check for gaps or loose points. If you find any you may need to try a different size, style or fit.
Adjust the chin strap, then tie the back laces with a knot and bow (if applicable).
Checking Your Charles Owen Hat Fits
Wear the helmet for at least 5 minutes to give it time to mould to your head and reveal any pressure points. If your hat fits properly, you should feel;
A snug fit with even, firm pressure around your entire head.
No specific pressure points or gaps.
Helmet locks onto the back of your skull.
Helmet sits level on your head, covering the forehead leaving about an inch above your eyebrows.
With the harness unfastened, your helmet should not rock forwards or backwards.
The chinstrap should sit just under your chin and gently touch the bottom of your ear lobes, avoiding your throat.
You should be able to put a finger between the strap and your chin.
The harness laces at the back of your helmet should be secured tightly.
For more information or advice when choosing a new riding hat do not hesitate to take a trip down to our Superstore or contact Customer Services on 01706 507 555 for expert advice.