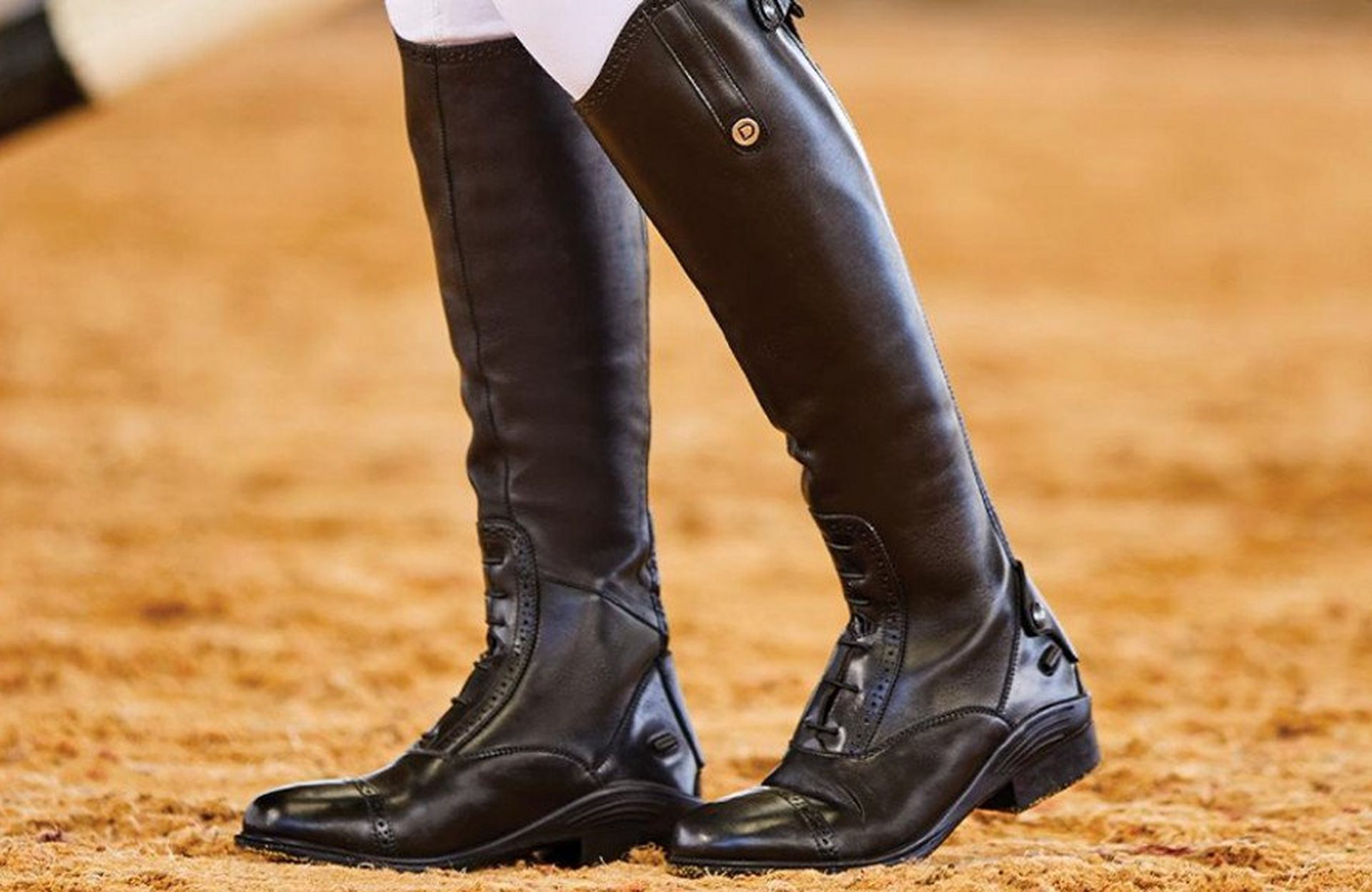 Struggling to decide whether you need short or long riding boots for the brand new year? Although it is all down to  personal preference, your style and intended purpose; we at Naylors want to provide you with all the information you could possibly need.
Footwear plays a big part in the equestrian world. And is a big factor in your feet's safety and protection, comfort and foot-care and of course your riding; whether you're a rookie, a riding professional, an infrequent rider or a competitor.
There are many factors when it comes to choosing which footwear is right for you. And that means considering not only if they are short or long, but also the colour, material, brand, price, longevity, purpose and practicality. So here we have provided a little more information on short boots vs long boots to hopefully make your decision a little easier...
What Is The Difference?
Although you may think the only difference between short and long riding boots is their length, (although this is of course a very distinct difference, yes), there are more elements of each style boot that set them apart that you should consider.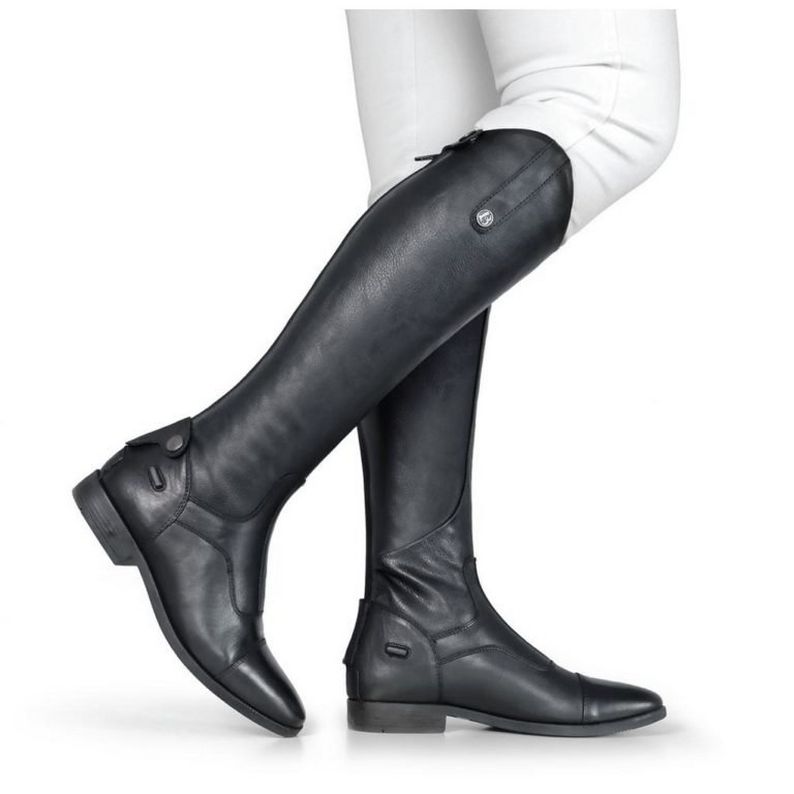 Long Riding Boots
Long or 'Tall' Riding Boots are very quintessential of British horse riding. Designed to extend the leg to make a rider look taller and traditionally very regal, they are a more formal style boot designed to sit a couple of inches just below the knee.
Although long riding boots are a more traditional style of riding boots and are very much a 'competition' style boot; they are widely loved by equestrians for everyday riding. too.
Long Riding boots are believed to offer more protection when riding and on the ground as apposed to short riding boots, and help prevent chafing and pinching from stirrup leathers. They are also perceived to be a better choice of footwear to encourage better riding and leg position as they restrict the ability to move and wiggle your feet and ankles when riding.
Although long riding boots are profoundly great for their qualities when riding, they are less loved for on-foot yard duties as they can limit movement and flexibility. However, these can be better during the winter months to keep your legs warmer and dry!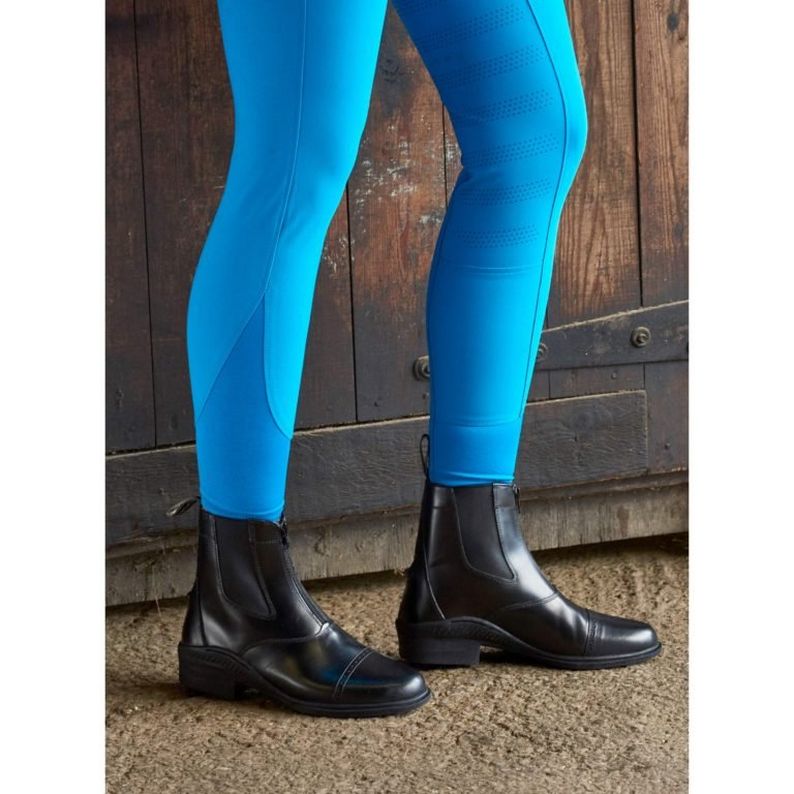 Short Riding Boots
Short Riding Boots are particularly more popular for younger riders, as they are accepted for young competitors in the show-ring. They also tend to offer more freedom of leg and ankle movement, which typically make it easier for young riders or beginners to learn to ride and kick their horse.
Short Riding Boots are a great option for riding and for around the yard, however these may provide less support and protection when in the saddle. And so, short riding boots are best to be worn with chaps/gaitors for riding to provide that support and protection if needed.
Although short riding boots are great for yard work, they may not be the most practical during the winter months for keeping your legs warm and your feet dry. However, are a great option during summer to keep your legs much cooler.
Finding Your Feet - Choosing A Style Of Boot
When it comes to choosing the style of boot this primarily comes down to personal style, preference and intended purpose/discipline. But what both long and short riding boots should provide is:
A heel to help prevent your feet from slipping straight through the stirrup.
Ankle protection for walking and riding
Aid foot and leg support for riding
Quality material to help prevent injuries and bruises
A thicker-sole for outdoor use and for sole comfort
Field Boots
These are favoured by experienced riders who's discipline is around jumping - whether that's show jumping, hunting or cross-country. Field boots are designed with a lower lace fastening. The purpose of the lace is to allow freedom and breathability by allowing a customised fit for each rider. The material of field boots are typically constructed from a high-quality, supple leather to allow maximum movement when in the jumping position.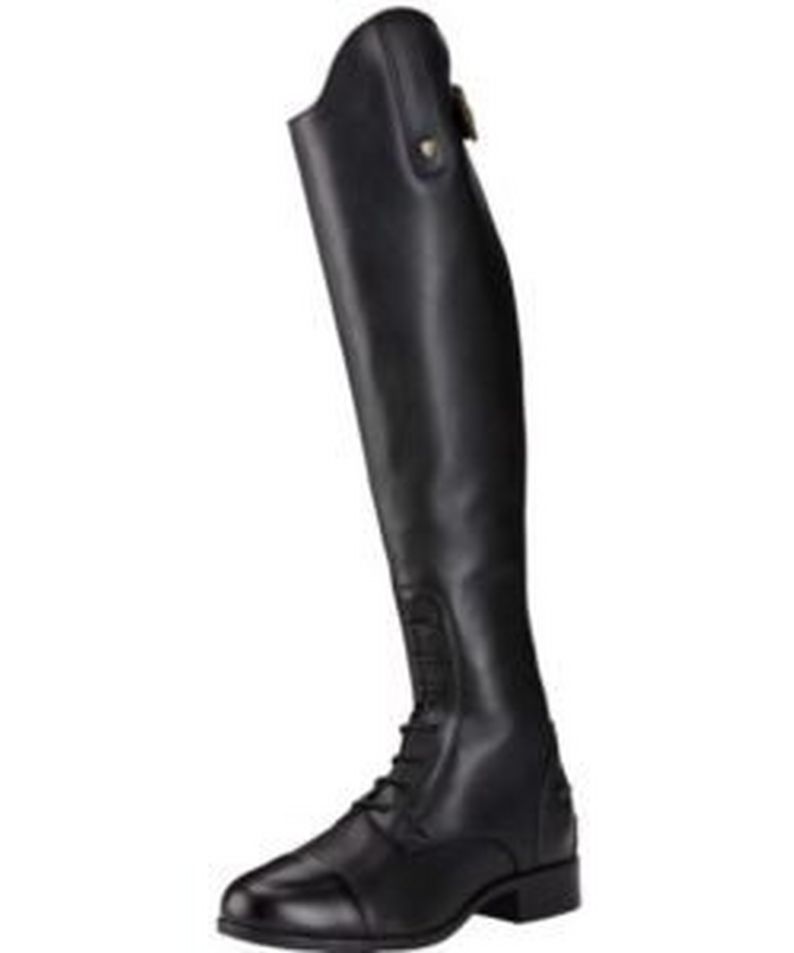 A great field boot option are the Ariat® Ladies Heritage Contour II Field Zip Riding Boots Black RRP £269.99.  The Contour boot offers a contoured fit through the ankle, a full length back zip system and elasticated laces to the front of the boot. The boots feature a high Spanish cut topline, antique brass logo on the swagger tab and also features a moisture wicking sock liner to help the wearer remain comfortable when wearing the boots.
Dress Boots
Dress Boots are favoured by dressage riders and ridden showing competitors due to the very polished appearance of dress boots. These are also popular for the equestrians who produce and bring on horse's on the flat-work.
These are the most tradition style of a long boot, offering a sleek and elegant appearance with its narrow fit and smooth material. The material of dress boots can vary depending on the brand and quality; however, these are typically a little more firmer in material to aid the leg to stay straight and supported. You'll typically find the high quality dress boots offer a zip application and the more affordable dress boots will have a pull-on application.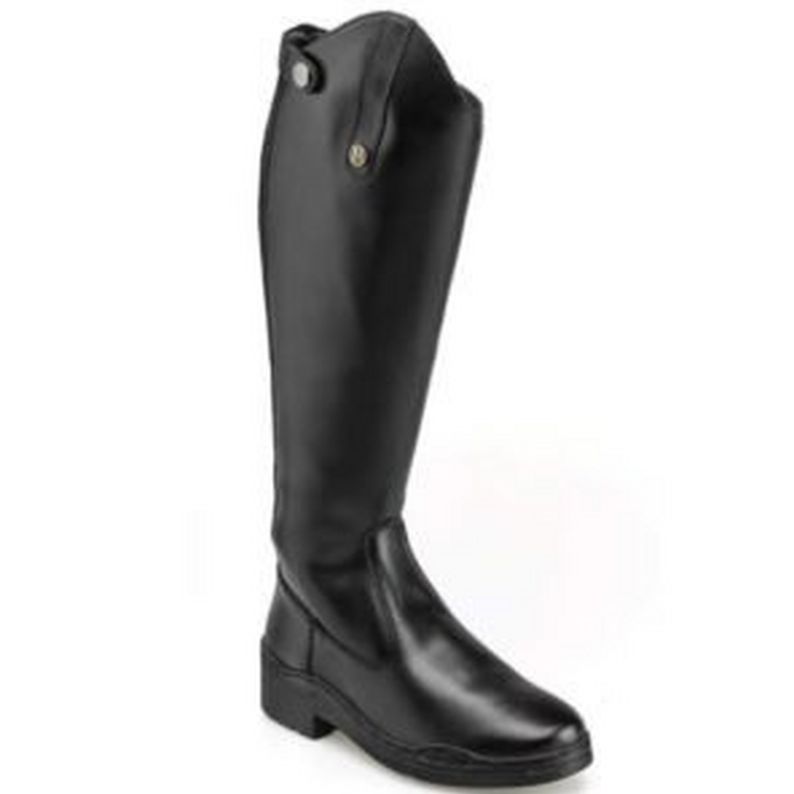 A great option of dress boots are the Brogini Ladies Modena Synthetic Dress Riding Boots Black RRP £65.00. The Modena Boots feature a durable anti slip, flexi comfort rubber sole that offers excellent grip and great durability against the wear and tear from the friction of the stirrups. The Modena Boots feature a full length stretch panel along the zip for a flexible fit, a full length rear zip and Brogini branding.
Paddock Boots
Paddock boots are a popular choice for many riders. From the beginners to the professionals. Paddock boots typically come up just above the ankle of a rider and traditionally have lace-up application on the front; although many now also have a zip alternative. These are loved for their freedom of movement around the yard and whilst riding. Paddock Boots are less favoured for adult competitors and more for junior competitors.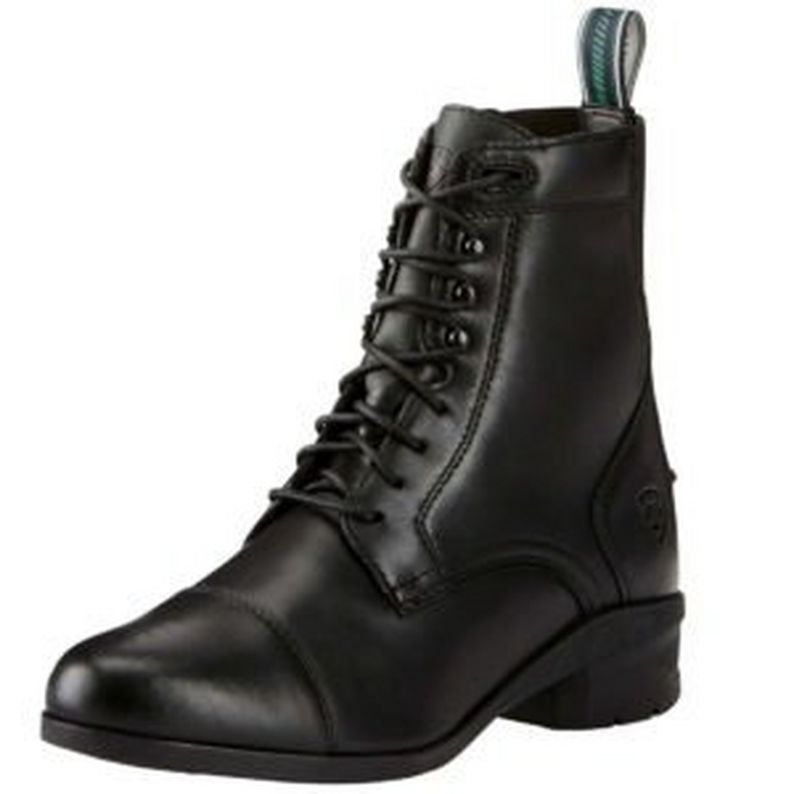 A great example of Paddock Boots are the Ariat® Ladies Heritage IV Lace Paddock Boots Black RRP £129.95. The Ariat® Ladies Heritage IV Paddock Boots offer a moisture wicking and breathable lining, making them perfect for short or long distance riding. The Ariat® Ladies Heritage IV Boots feature a Duratread™ out sole with rider-tested traction zones for maximum wear resistance.
Yard Boots
Yard boots are a great option for everyday wear. These are great for around the stables and can be used for riding. However, these are a little less giving when it comes to leg and ankle movement when riding; so are favoured more for everyday stable duties. These are a less traditional style boot and are not permitted for competitions. When browsing yard boots, you'll want to look for sole comfort, protection and durability for all weathers.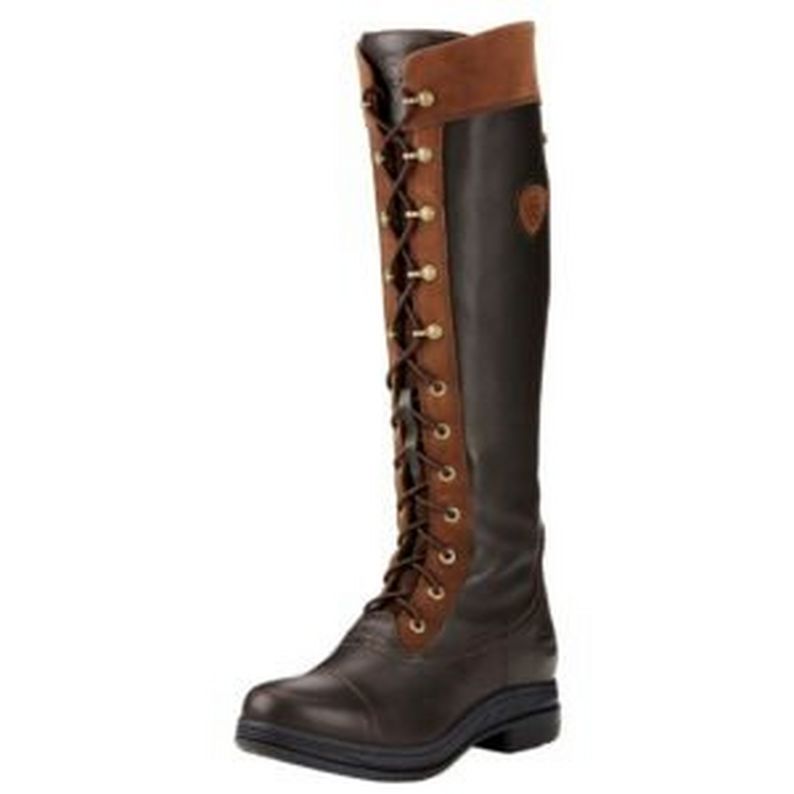 An example of Long Yard Boots are the Ariat® Ladies Coniston Pro GTX® Insulated Boots Ebony Brown RRP £359.95. The Ariat® Ladies Coniston Pro GTX® Insulated Boots are ideal for riding and around the yard or as a fashion boot for leisure/country wear.
Made from a premium waterproof full grain leather the Coniston Pro GTX® feature a GORE-TEX® waterproof and breathable membrane construction and 200g of 3M™ Thinsulate™ Insulation both keeping feet warm and protected from the elements.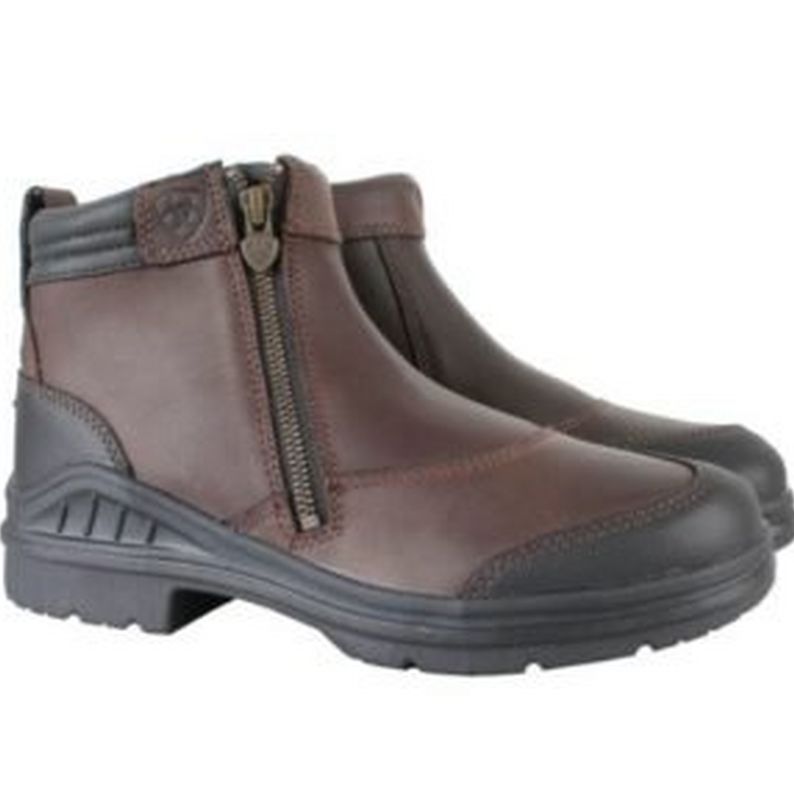 An example of Short Yard Boots are the Ariat® Ladies Barnyard Side Zip Riding Boots Dark Brown £110.00.
The Ariat® Ladies Barnyard Side Zip Boot is a practical and comfortable boot ideal for wearing around the yard. The Barnyard Side Zip Boot is made from full grain leather and features the Ariat® ATS® technology. This helps support and cushion the foot and provide optimum stability for all day comfort and performance.
Jodhpur Boots
Jodhpur boots are favoured for junior competitors, riders and beginners. These allow a lot more freedom of movement for the leg and ankle; although it is advised to wear with chaps. These are typically pull-on style boots offering pull-tabs. However, it is also now very common for many jodhpur boots to offer a zip for longevity of the boot.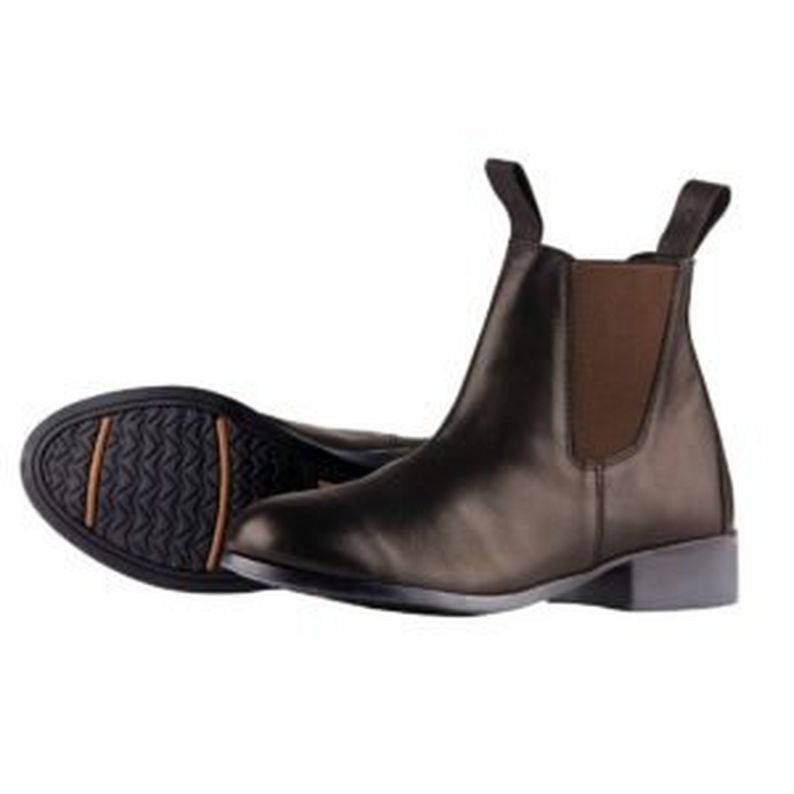 A great option for Jodhpur boots are the Dublin Ladies Elevation Jodhpur Boots II Brown £44.99.
The Dublin Ladies Elevation Jodhpur Boots II are a classic style boot perfect for everyday wear or for competition. The Elevation Boots offer a soft full grain leather boot with leather branded pull up tabs for easy access. The boots are complete with a RCS PU footbed and an outsole for increased grip.
Price Point
Like anything, price points will typically vary depending on the brand, quality and chosen purpose. Typically, long riding boots are more expensive to their equivalent brand/type/quality short riding boot, but that is not to say you cannot find a fantastic pair of long (or short) riding boots for great prices! Prices can vary drastically from boot to boot, so it's best to assess your options and requirements before making a decision.
Save
If you're a horse riding newbie, a novice or a less frequent rider, we recommend choosing everyday riding boots offered at a lower price point. Although these will typically be less durable with slightly lower quality; these are great first-boots offered at incredibly affordable prices.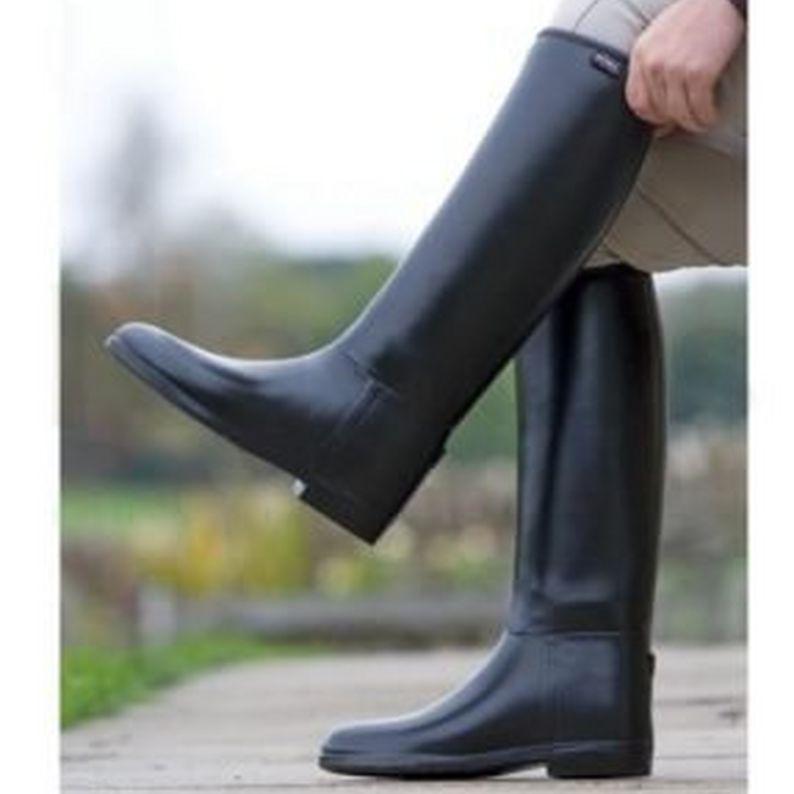 Long Riding Boots: The Shires Ladies Long Rubber Boots RRP £37.99 are practical and durable rubber boots ideal for everyday use; and have an easy pull-on application. The Rubber Boots are high quality rubber boots with a cushioned lining and feature read spur stops and a pull on design.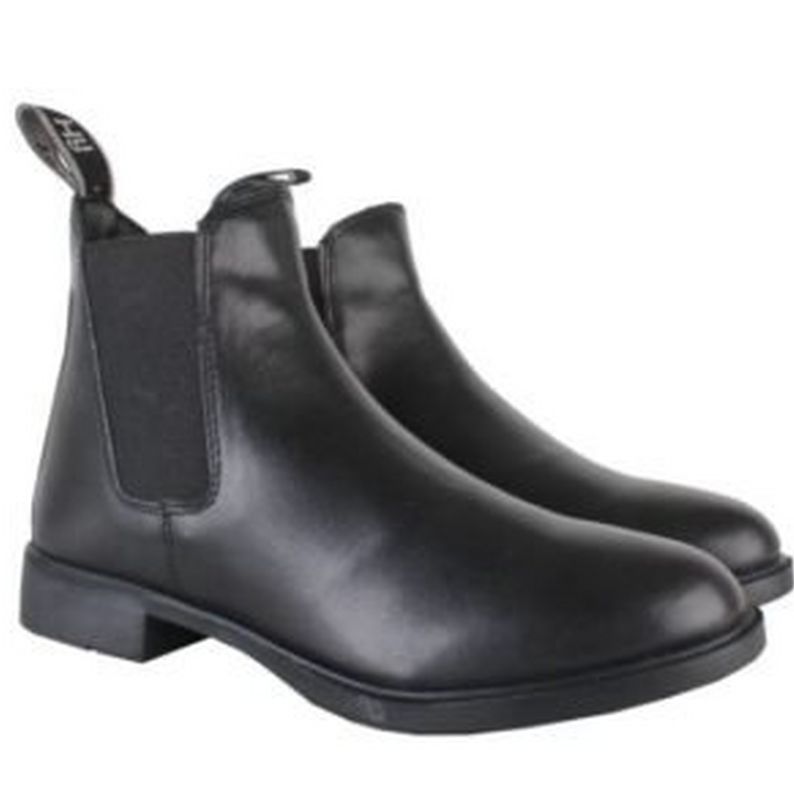 Short Riding Boots: Hy HyLAND Adults Beverly Synthetic Leather Jodhpur Boots rrp £32.50 Black. Constructed from high quality synthetic leather, these boots are both lightweight and durable. Offering elasticated side gussets to ensure the ultimate comfort and accessibility, along with branded pull-loops for an easy aid of pulling the boots on.
Spend
For the more experienced riders or competitors, investing in a quality pair of riding boots is a good move! The higher the price point typically means better technology, durability, quality and longevity. If you look after your riding boots correctly they will look after you in return...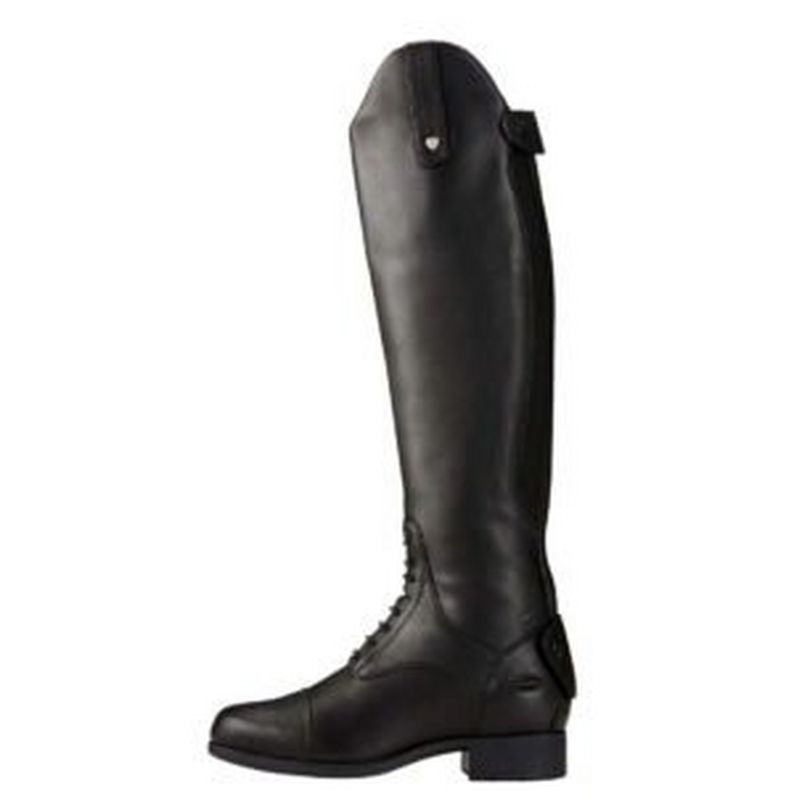 Long Riding Boots: Ariat® Ladies Bromont Pro Tall Insulated Riding Boots in Black RRP £325.00. The Ariat® Ladies Bromont Pro Tall Insulated Riding Boots are a durable boot made with a waterproof full grain leather and suede inner leg panel upper. The Bromont is a versatile boot suitable for a variety of disciplines - everyday or for competitions - perhaps for the more expert riders.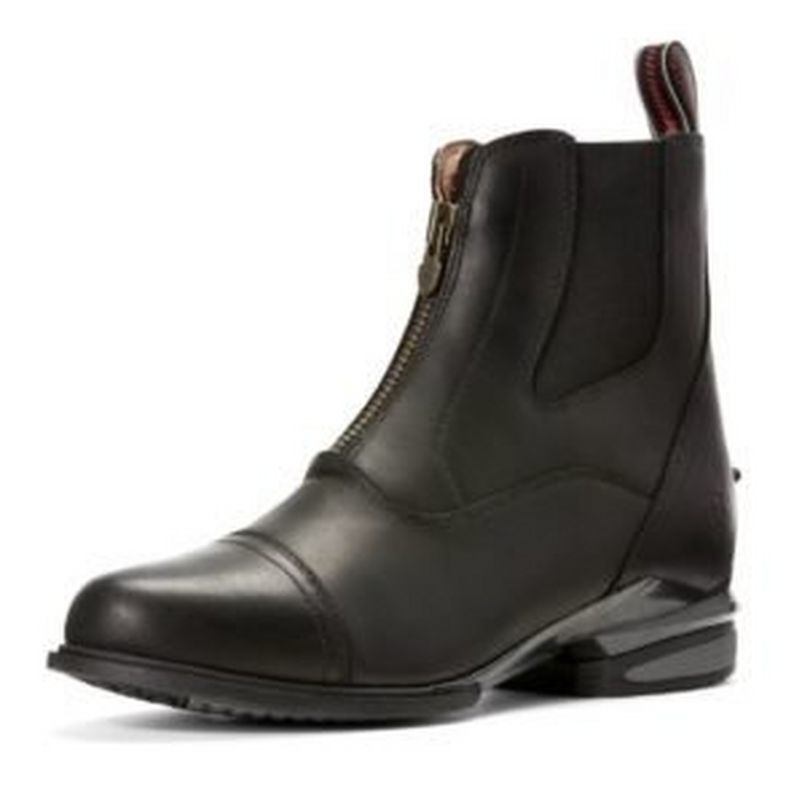 Short Riding Boots: Whether you're off to a show, riding for pleasure or out for a hack, the Ariat® Ladies Devon Nitro™ Paddock Boots RRP £200.00 makes the perfect addition for any keen rider.
Made with superior craftsmanship and advanced technology for peak performance. The Devon Nitro™ Paddock Boots offers a waterproof, premium full-grain leather upper and leather lining for superior comfort.
Choosing Your Fit - Size Guide
Before ordering your perfect pair of boots, it is best to check the size chart of that brand beforehand. Each brand, type and style of boot may differ in their fit. Nowadays, many boots offer not only a standard fit, but also a wide and slim fit for varied calf sizes.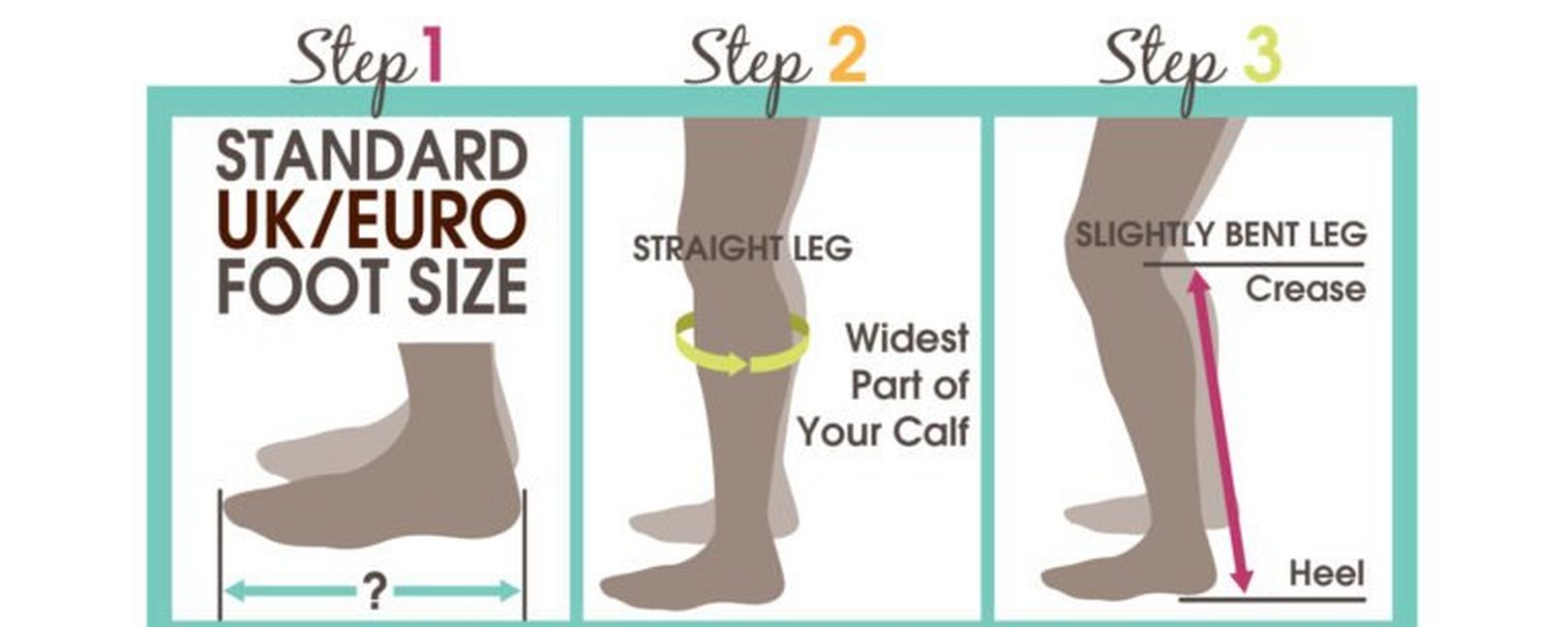 https://www.brogini.com/how-to-measure
We hope you have found this article has made your decision much easier! If you're still struggling, we advise visiting on our stores to speak to someone from our team for more guidance. Alternatively, please comment below and we will try our best to guide you in the right direction!