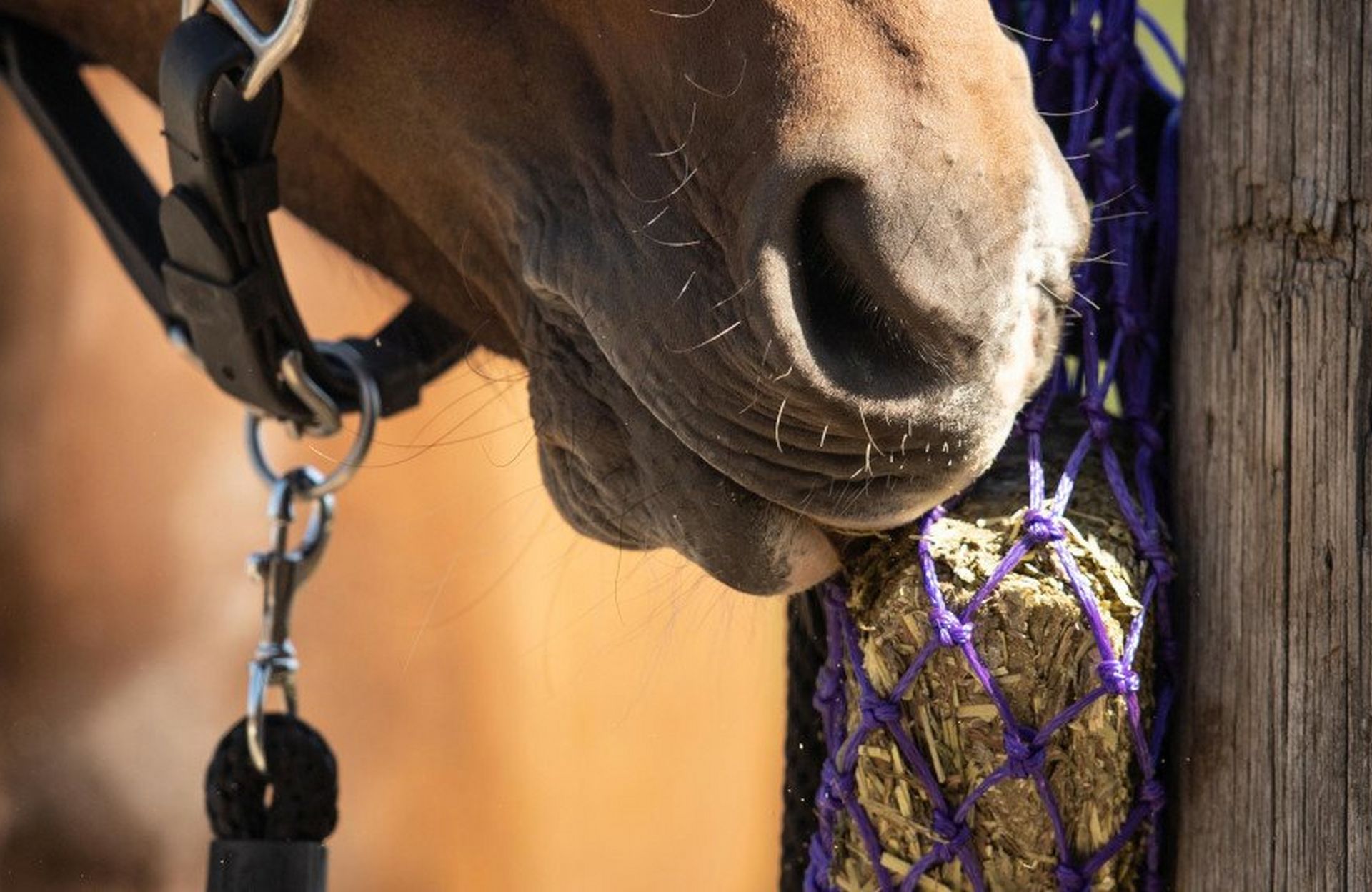 We all like to give our horses something different to snack on, right? The problem is, all too often treats and licks are packed with hidden nasties. From sugar and artificial flavours to cereals and fillers, they're a total minefield. But what's the alternative? Designed to compliment your horses diet (rather than ruining it), more and more of us are turning to Equilibrium Vitamunch blocks. Keep reading to find out why they're becoming such a popular choice...
Why use a Vitamunch Block?
By nature, horses are grazers. In the wild, they'd spend up to 75% of their time eating. That's a whopping 18 hours every single day. As owners, we strive to replicate this when our horses are stabled by providing access to hay or haylage. Sadly though, this hardly ever lasts them all the way through to their next feed. This means they're left with an empty net, and more worryingly an empty tummy.
A great snack to be fed alongside their usual diet, Vitamunch blocks are a boredom busting challenge, well worth putting in the work. Highly compressed into a small bale, they're impossible to eat at speed. This helps to eek out their food intake to last throughout the day. Not only does this ensure we're not left feeling guilty, it's really important for their digestive health. By encouraging chewing, promoting saliva and releasing food slowly, they can help to prevent gastric ulcers. These sometimes occur when horses go too long without food, as unused acid irritates their stomach lining.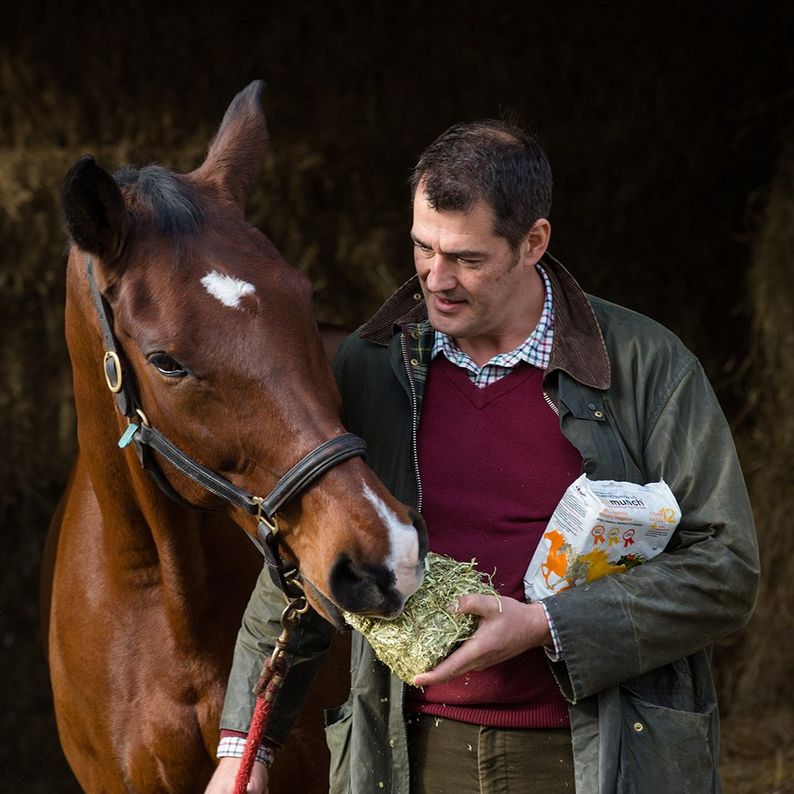 What's inside a Vitamunch block?
Unlike the other options out there, there's no surprises to be found here! 95% of a Vitamunch block is slow dried Timothy grass, with 3.25% alfalfa. Offering an enriched formula, quality vitamins and minerals have been added for improved nutritional value, meeting around 50% of their daily requirements with just 1 block. The remaining ingredients are flavourings, with each block containing a unique blend of tasty natural plants and herbs for palatability. So, it's no wonder that nine out of ten horses prefer a Vitamunch block to their usual hay or haylage!
£0.00
Designed to promote a calm and relaxed outlook, Calmmunch is great for nervous and anxious types. Taking an all natural approach, the formula is fortified with magnesium, B vitamins, camomile, hops and vervain.
Shop now
£0.00
Ever wondered if horses have a favourite 'flavour'? They do! In the wild, they're known to seek out naturally occurring hedgerow herbs, including Rosehips, Hawthorn Leaf and Cleavers. All packed inside this one little block, even the fussiest eaters are sure to love Vitamunch Heavenly Hedgerow.
Shop now
£0.00
As owners, there's no thought nicer than being able to turn our horses out in huge wild meadows, packed with palatable plants. Designed to simulate this natural wonder, Vitamunch Marvellous Meadow contains tasty Dandelion, Red Clover and Nettles.
Shop now
Who is Vitamunch for?
Designed to be a suitable snack for all equines, Vitamunch is high in fibre, low in calories, low in sugar and cereal free. So, it's even safe for those who are overweight or prone to laminitis. Something we bet you didn't know, it's not just for horses and ponies! It can also be given to donkeys, cows, pigs, rabbits and guinea pigs. Due to the high levels of nutrients, it's recommended Vitamunch is not given to sheep or goats.
How and When To Feed
Vitamunch is versatile, so the options are endless. Dependant upon your horse and their indervidual needs, it can be fed dry or soaked, in either a Vitamunch net or a bucket. Not just for in the stable, they're a great addition to paddocks with limited grazing, and even to trailers or boxes for traveling and competition.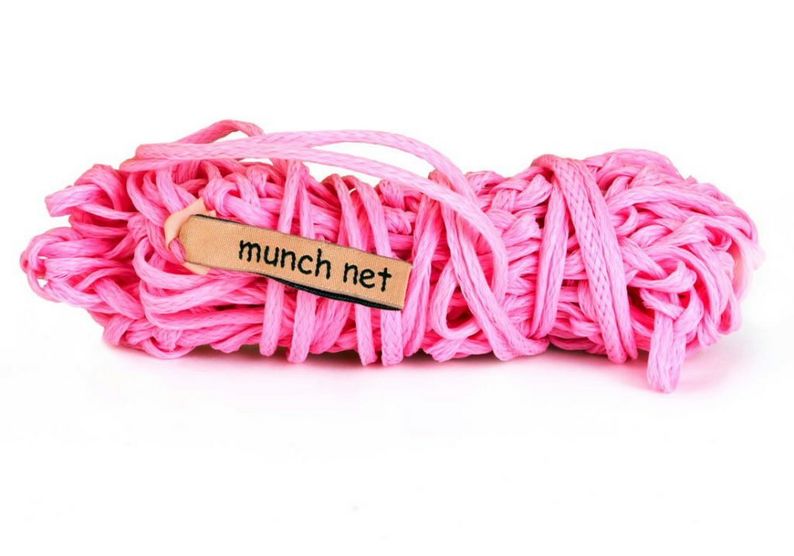 Equilibrium Vitamunch Net
RRP £3.99
Shop Now
Will your horse be vita-munching? You can shop all of the products in this blog and many more at www.naylors.com or in-store. Don't forget, if you make a purchase share your pictures with us in the comments or include #NaylorsSnapAndShare on your social posts for the chance to win a Naylors gift card!