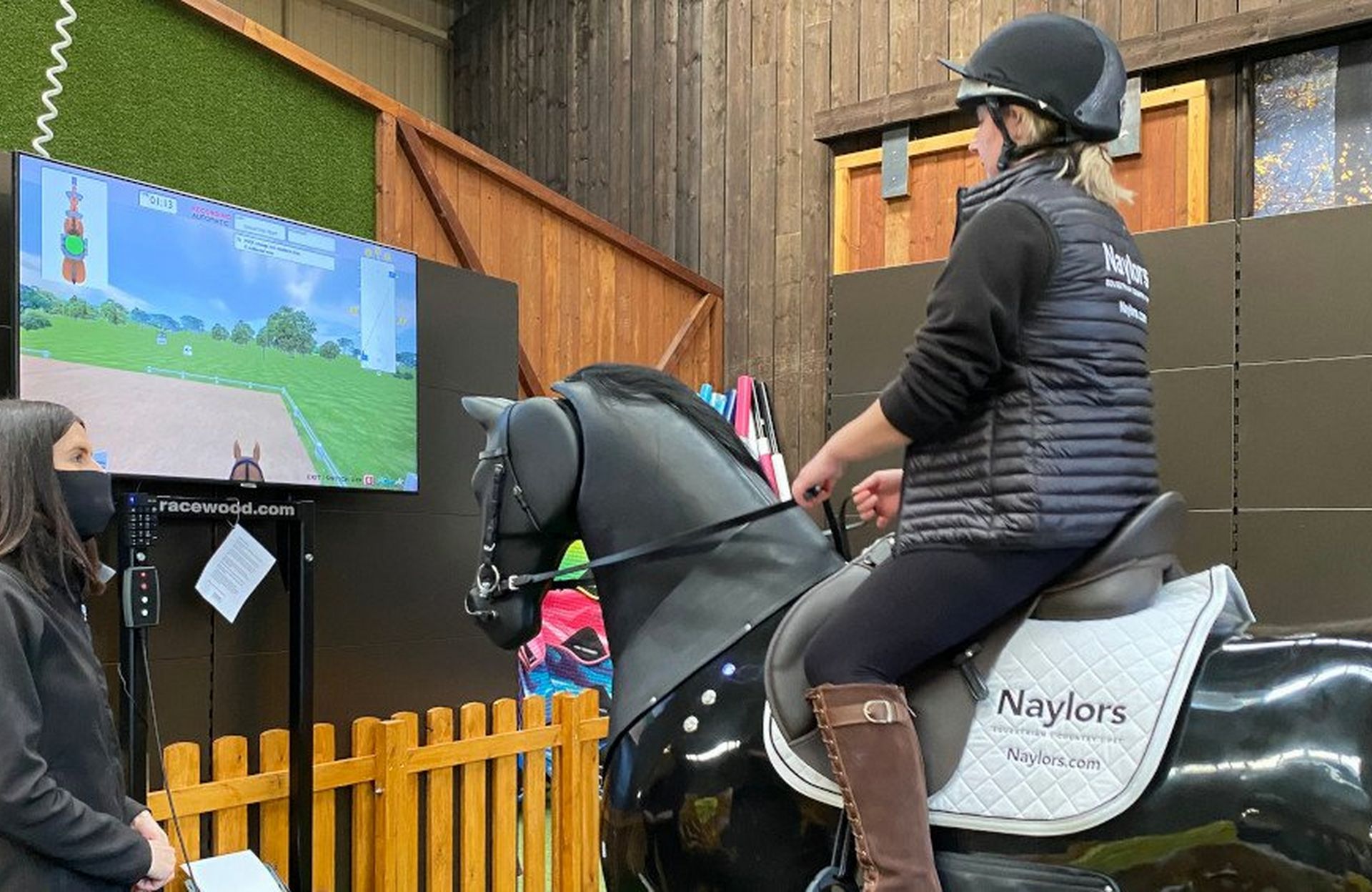 We've got very exciting news to share with you all... Naylors Rochdale Superstore is now home to a state of the art Racewood Horse Simulator! That's right, when you visit us in-store you can now combine two of your favourite equestrian pastimes - Shopping and riding! Keep reading to find out more about the simulator; how it works, what it can do for your riding and of course how to book your go!
Why ride a simulator?
So, why would you want to ride a simulator, when you could book a lesson on the real thing? When you really think about it, equestrian sports are made up of three elements: The horse, the rider and the partnership. It comes as no surprise then; we can only be as good as the weakest of these. The thing is, when we're riding, focusing on just one element is essentially impossible. So, we target the overall picture. Unfortunately though, it can be hard to improve while dividing our attention between our own performance and our horse. The question is, what can be done about it?
Allowing you to work on yourself in a way that's never been possible before, the incredible technological advances made by the team at Racewood Equestrian Simulators are a complete game changer. But simulators aren't for every day riders like you and I, right? Wrong! You can now come and have a go yourself by booking a ride at our Rochdale Superstore!
How does the simulator work?
A clever piece of kit, information is collected from rein, leg and seat sensors. This data is used to provide immediate visual feedback on screen, all in real-time. Responding exactly as you've asked it to, every single time, it offers a learning experience unlike any other! So, you can focus your attention on your riding, without the need to worry about making mistakes, falling off, teaching bad habits, hurting your horse, naughty behaviour or even over exertion.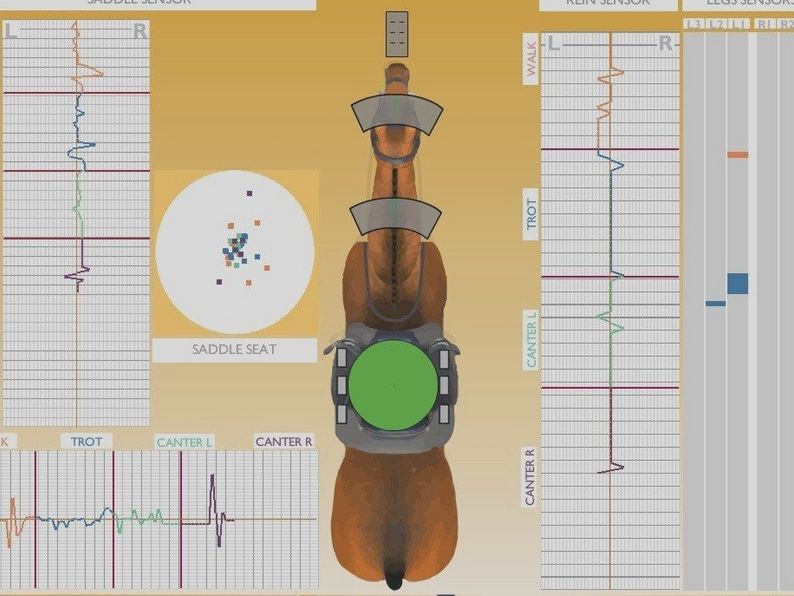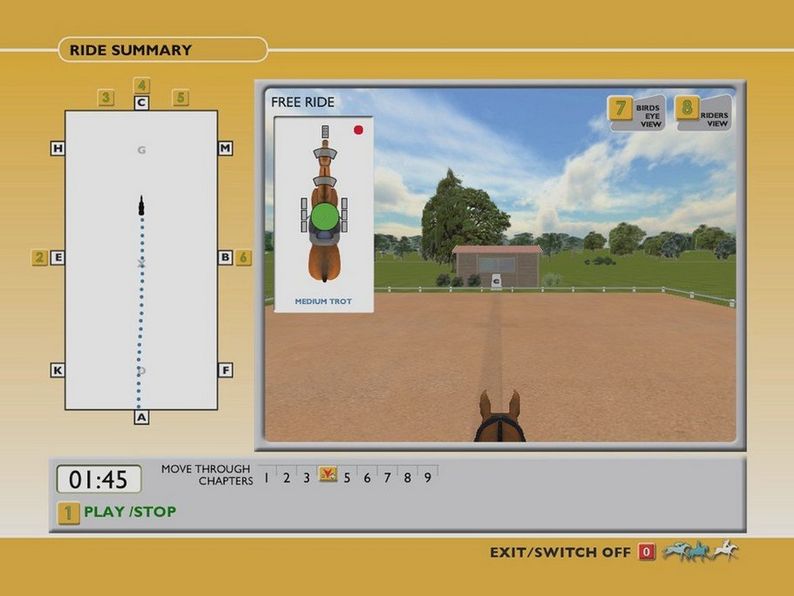 Who is it for?
Unlike most horses, our simulator can be used by riders of all levels from beginners all the way up to advanced. An important training tool used by professionals worldwide, they're a great way to focus on your skills, balance and even emotional regulation. So, whether you're just getting into riding and want to practice the basics, you're returning from a fall and looking to build confidence or you've got a big competition coming up and need to brush up on your piaffe, come and have a go!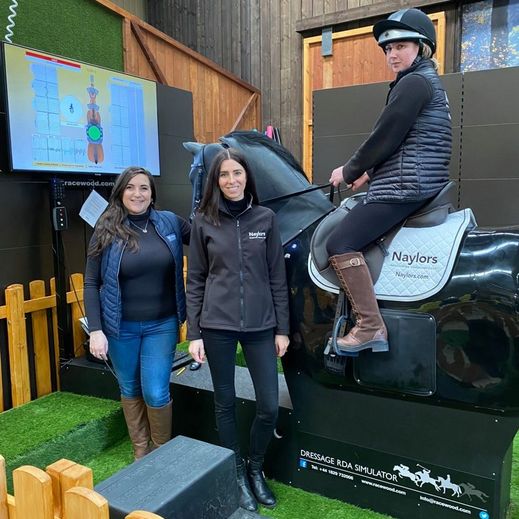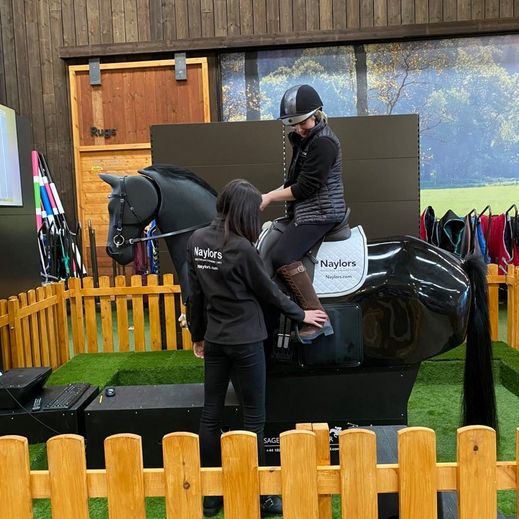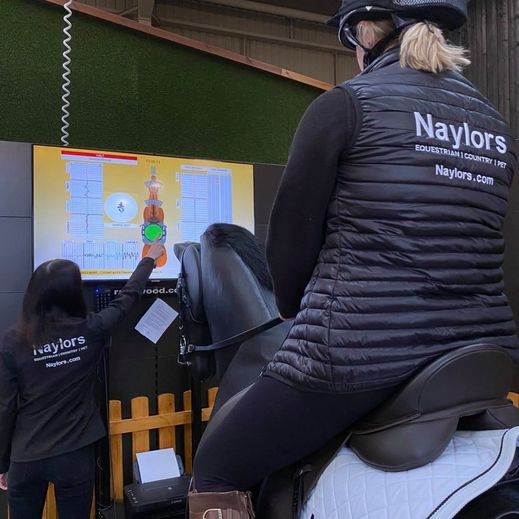 Developed working with the RDA, our dressage horse simulator also offers a digital landscape created based on the countryside challenge. With over 4,000 acres of woodland, beaches, villages and farms to explore, it offers a safe and controlled learning and therapy environment for those with mental and physical disabilities.
What can I do on the simulator?
Take a 2-minute riding assessment for immediate visual feedback and receive a printout report to take home.
Free ride in the arena, put the horse through its paces, whilst you work on your position, balance, seat and transitions.
Ride a dressage test in the arena. The simulator will talk you through each movement from start to finish.
RDA free ride around your choice of a zoo, farm, beach or field of shapes. Either ride yourself or let our staff support with the horse's pace.
Planning Your Simulator Ride
Here at Naylors, we believe that top class training tools should be available to everyone! Booking a ride on our horse simulator is completely free. To ensure that everyone can have a go, sessions are restricted to a 30 minute slot. During this time you'll receive a safety briefing, then you're free free to enjoy any of the amazing programmes available.
Providing you book ahead of time (or it isn't in use already), you can also use our simulator to test out safety equipment such as hats and body protectors. This is a great way to ensure that not only is the fit correct, but that the style is right for you!
Simulator Safety
The safety of both yourself and others is of paramount importance. When using the simulator, you'll always be accompanied by a trained member of staff, on-hand to help get you set up for your ride and answer any questions. Some restrictions are in place and we will ask that you follow the below:
Under 18's will need parental consent and to be supervised by an adult.
Regardless of age, you will be required to bring and wear a correctly fitting riding hat that meets current standards.
To keep you safe and prevent damage, you must wear clean riding footwear and clothing.
We'd recommend you wear appropriate leg wear such as jodphurs, breeches or riding tights.
You will be required to complete a consent form before using the horse simulator.
Riders must be 16 stone or less.
Booking Your Ride
If you'd like to come and have a go, you can book a ride on our horse simulator online below! We cant wait to see you in-store very soon.