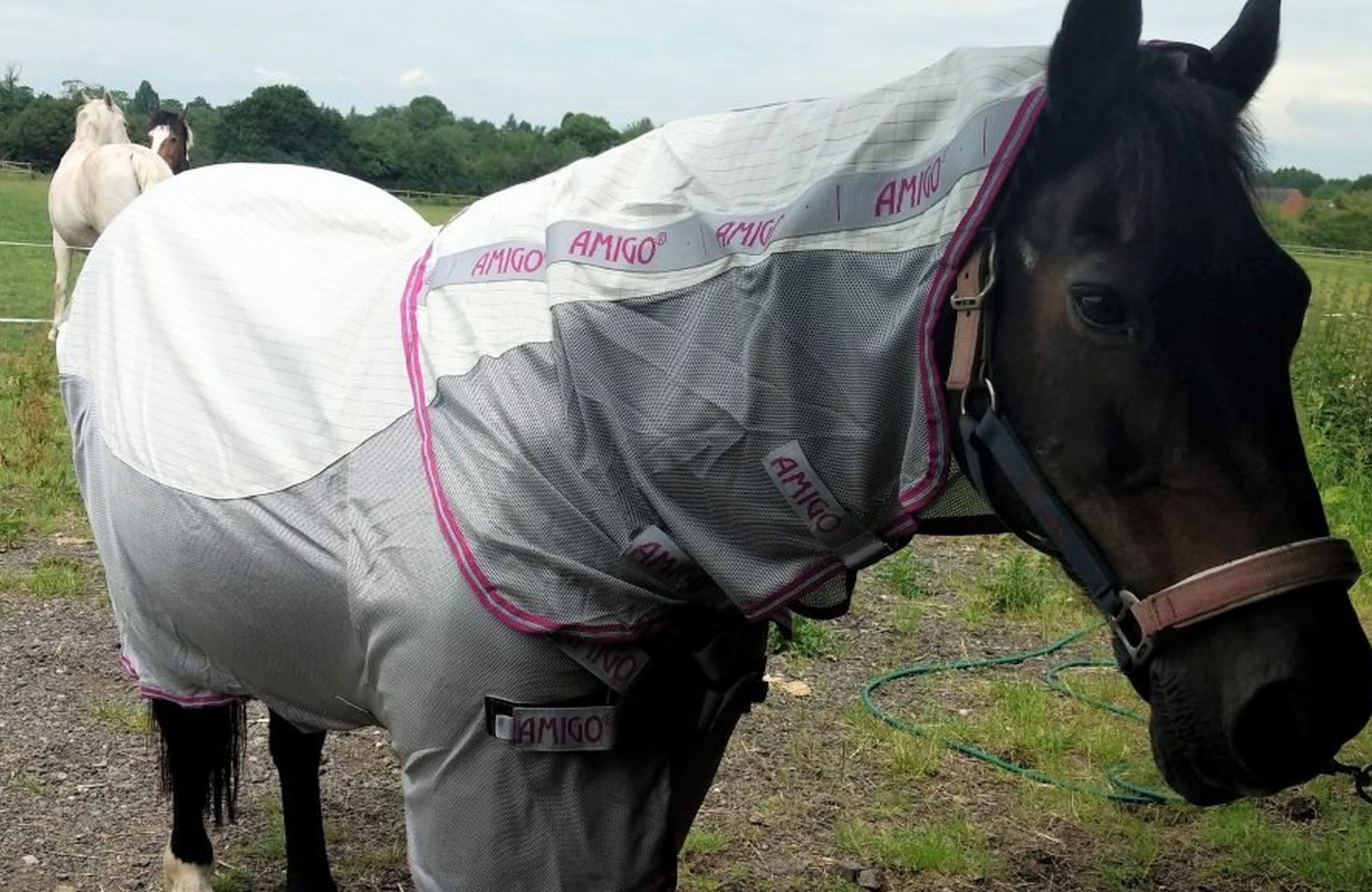 A Tried & Tested Review Of The Horseware Amigo Aussie Airflow Fly Rug
Are you after a versatile fly rug that offers both protection from bugs but also harmful sun rays? One of our Naylors team members has been putting the Horseware Amigo Aussie Airflow fly rug to the test to tell you all about it's features.
Our Testers:
Kelly is the store manager of our Naylors store in Cannock. She has tested the Horseware Amigo Aussie Airflow on her two geldings who we'll meet below. Kelly chose to try this rug as she likes to keep her horses protected while they're turned out.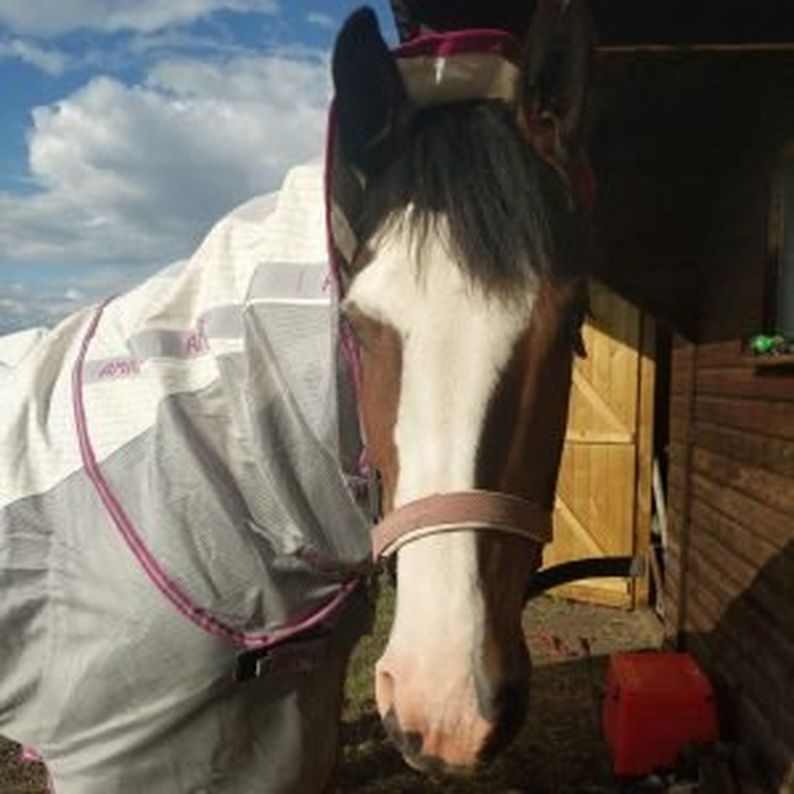 Name: Arney
Age: 6 years old
Height: 15.2hh
Breed: Thoroughbred X Cob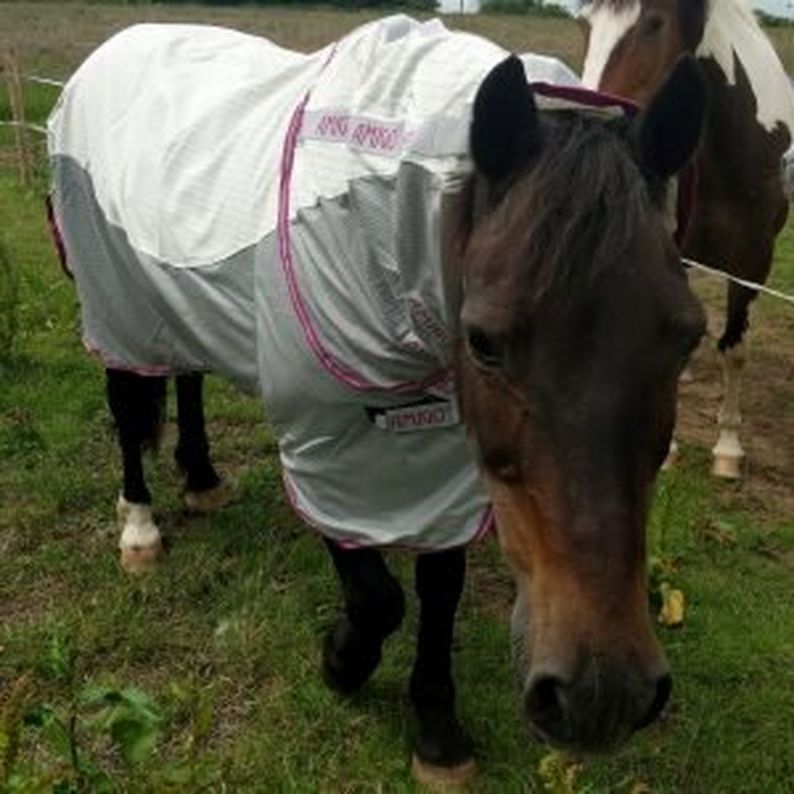 Name: Kenny
Age: 31 years old
Height: 14.1hh
Breed: New Forest Pony
About The Product:
The Horseware Amigo Aussie Airflow fly rug is designed to keep your horse comfortable during the warmer months. The cotton and polyester mix upper helps to protect your horse from the sun's harmful rays. That being said it is also showerproof so will keep the rain off your horse's back in light showers. That's why this rug is so versatile and a great rug for the unpredictable British weather. The polyester mesh sides offer fantastic airflow to help keep your horse cool whilst still protecting against flies and bugs.
The Horseware Amigo Aussie Airflow has a detachable neck cover so you can choose to use it as and when needed. The rug also features a lining around the mane and shoulders to help prevent rubbing. The disc closure is a clever design that allows you to fasten the rug in a secure and safe way. It is lightweight and lies flat, contoured to the shape of the horse. This means there are no buckles protruding on the rug that could get caught or snapped.
So what did Kelly and her boys think?
What were your first impressions of the Horseware Amigo Aussie Airflow Fly Rug?
I love the colour of the rug and the style seemed practical with the combination of mesh and cotton. I love the idea of the design offering uv protection for my horses and the disc closure looks smart and is a great idea for added safety and security when out in the field.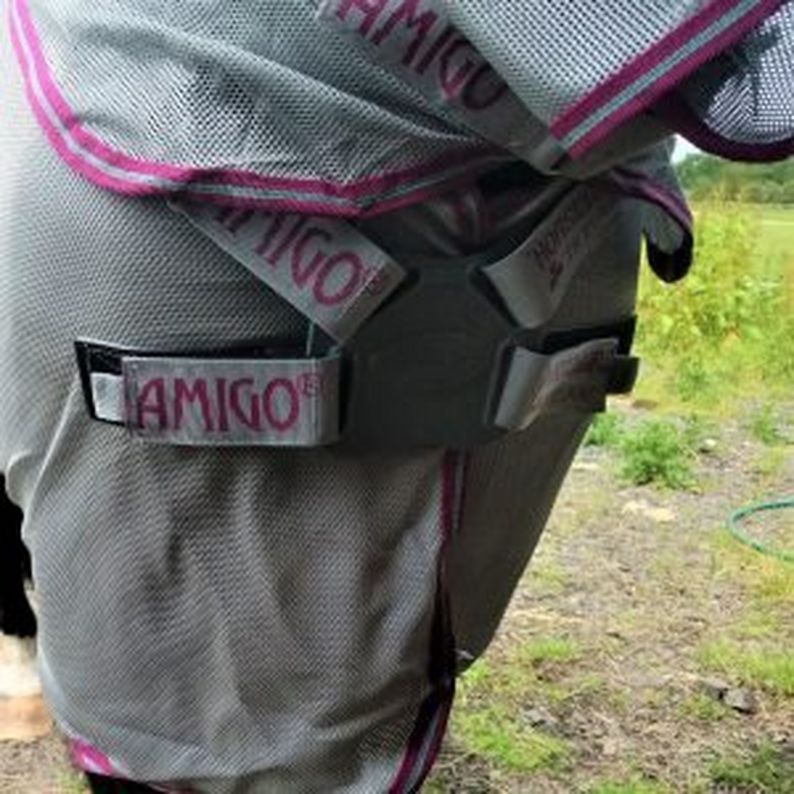 What is your favourite thing about the rug?
The protection from the sun's rays, it's really important to protect my horses when they are turned out. Their skin needs protecting just like us humans, especially if they are outside in the sun for long periods. So I really like the extra protection that the cotton top offers. This layer also helps keep rain off their backs in any light showers better than a fully mesh fly rug but just note it's not waterproof.
I also love the disc closure, that's the fastening at the front of the rug. It's easy to use and seems nice and secure. It lies flat against the chest so it means I can leave them knowing they won't be getting buckles caught in any fencing or haynets.
Is there anything you would change about the Horseware Amigo Aussie Airflow Fly Rug?
The neck wasn't a good fit for Arnie's shape, it is too long so I ended up folding it back which isn't ideal. I also found that the rug sat a bit snug around his shoulders. Thankfully the rug is a better fit on Kenny as he's a different build. You always want to remember that horse's body shapes are all different. This rug is great for horses that aren't too chunky at the shoulders, the disc closure does offer some adjustability around this area.
How would you rate the rug's value for money?
This rug isn't the cheapest on the market but it has some great features. It is very lightweight which is great for summer but we'll have to try it out for the whole summer to see how durable it is against rips. The cotton top is showerproof for light rain but it would be fantastic if it was fully waterproof for heavier downpours. As a fly rug you can't really fault it for keeping flies at bay as it is a physical barrier and the extra large tail flap definitely keeps the hind end covered!
If it sounds like the Horseware Amigo Aussie Airflow could be the perfect fly rug for your horse, why not take a closer look on our website using the button below.