The countdown to HOYS is officially on! Taking place from 5th - 9th October 2022, there's not long left for this year's qualifying riders to get ready for their time to shine under the spotlights! Join us as we meet the teams preparing to take part in this year's Naylors Pony Club Mounted Games…
Oakley Hunt West Pony Club
Drum roll please… The next HOYS qualifying branch we'd like to introduce you to is Oakley Hunt West Pony Club. Founded in 1931, they're based on the boarders of Bedfordshire, Buckinghamshire and Northamptonshire. Open to riders from 3 to 25 years old, every young equestrian is welcome to join and try their hand at a whole host of disciplines. Oakley Hunt West branch is actually one of the smaller clubs, with around 70 members. Don't let this fool you though, while they may not be the biggest, they've certainly got one of the best track records when it comes to Pony Club mounted games at HOYS! Ready to be impressed?
Oakley Hunt West Pony Club HOYS Mounted Games Team
Oakley Hunt West Pony Club Branch have qualified for HOYS not just a couple, or even a handful of times, but a massive 27 times! On 9 of these occasions they've even gone on to win the Prince Phillip Cup, the last time being only a few years ago in 2017.
"Although we have been a few times before, the feeling of qualifying never changes. It's magical. These children and their families will make memories that will last a lifetime."
Steve and Glenda Garrett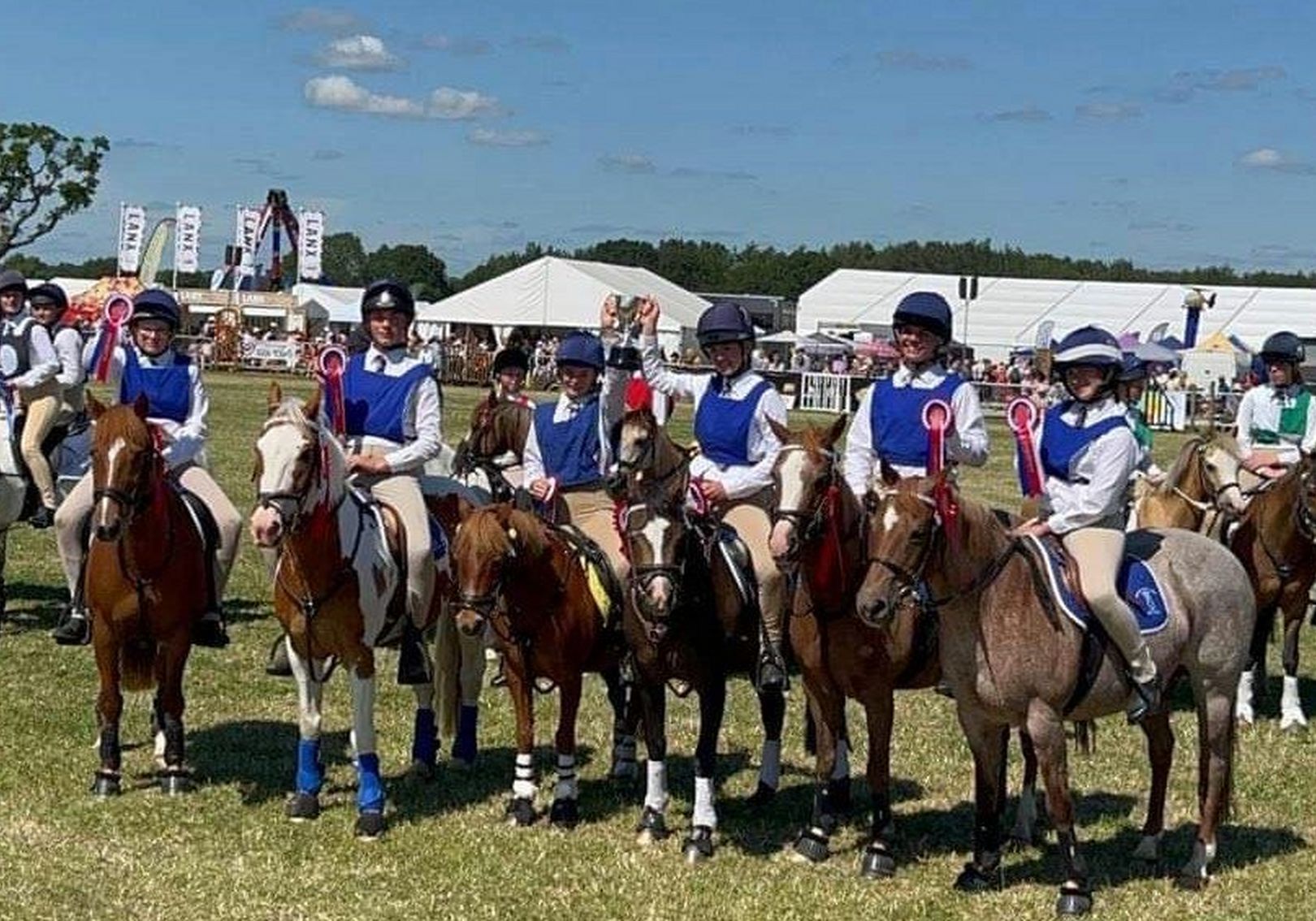 If you'll be supporting Oakley Hunt West Pony Club at HOYS 2022, look out for them in their assigned HOYS team colour: Black.
Do the other teams stand a chance? Of course they do! While their reputation is beyond impressive, this team is brand new! None of the riders have been to HOYS before, and with only two of the members riding on last years team, it's their first season out competing together. Winning their qualifying round in style, we can't wait to see the team in action at HOYS. Join us as we find out a little bit more about the riders and their ponies…
Chase and Eleanor will be riding Miracle and Autumn, ponies bred by their Grandmother. For both ponies and their riders, this will be their first visit to HOYS. The next pony however, is somewhat of a seasoned pro. Lucy Locket is on her 9th trip, used by many of the club's riders throughout their mounted games careers, taking them right up to the very highest level. Next up is Jack, riding Indian Jones. Very well known on the mounted games circuit, Indi's had a super successful career, but will he be adding another win to his impressive record? This combination is a new partnership, formed after Jacks pony was sadly injured earlier in the year. Last up is Bouncer, he's been with Oakley Hunt since 2017, kindly leant to the riders of the branch by his super supportive owner.
What would it mean to win at HOYS?
"Winning would be the icing on the cake. However, riding into the horse show arena through those curtains is like winning at HOYS."
Steve and Glenda Garrett
Have you got your tickets for HOYS 2022? Join us at the NEC in Birmingham this October to support Oakley Hunt West Pony Club, they'll be the team in black! See you there soon.