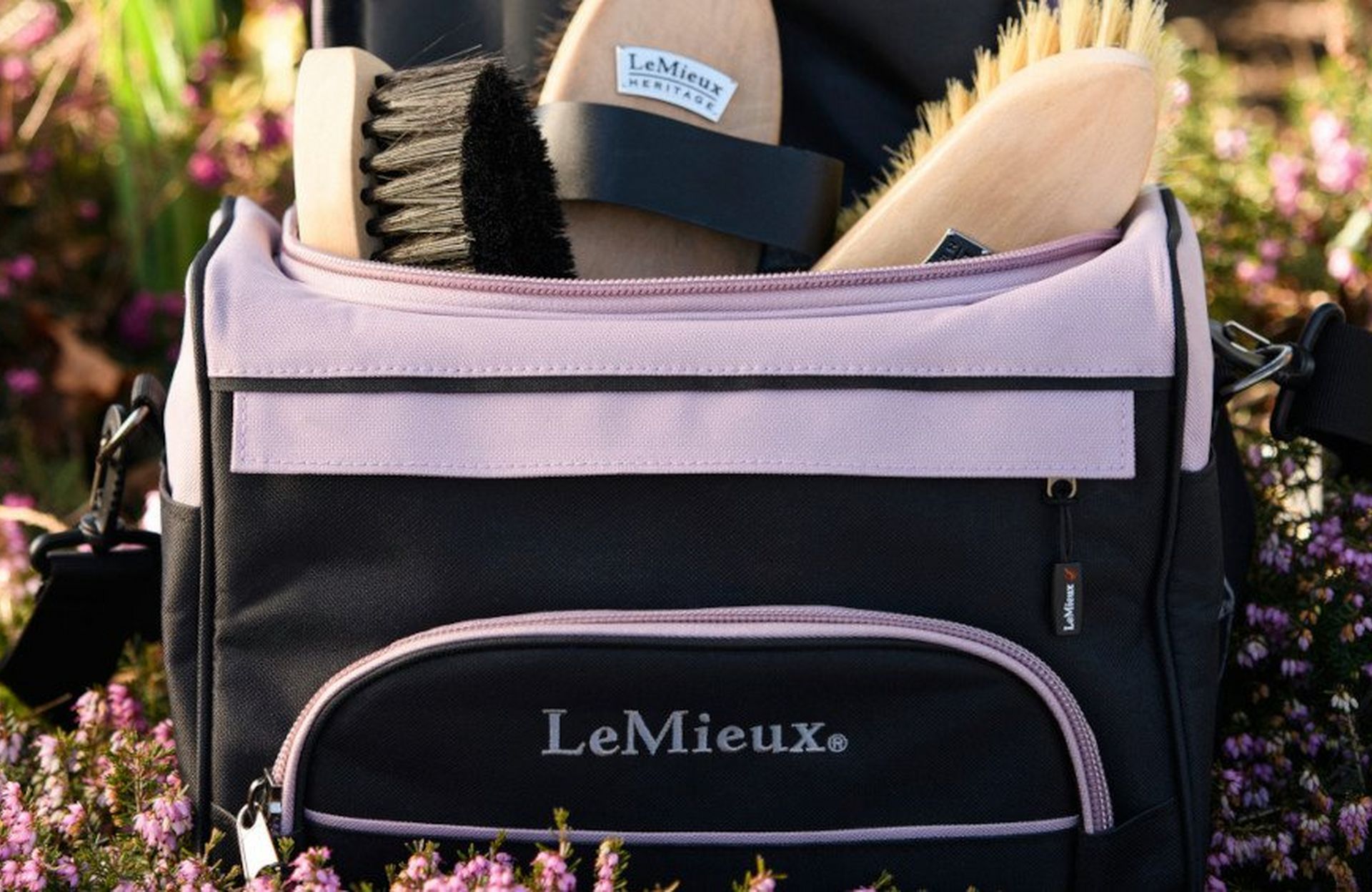 Ever wondered how pro grooms get their horses so shiny? The truth is, it doesn't come down to using shed loads of products. It's not even about spending hours on end brushing. After all, there's no where near enough hours in the day for that! More often than not, less is more! Put simply, great results are achieved by using the right brushes for your horse, in the right order.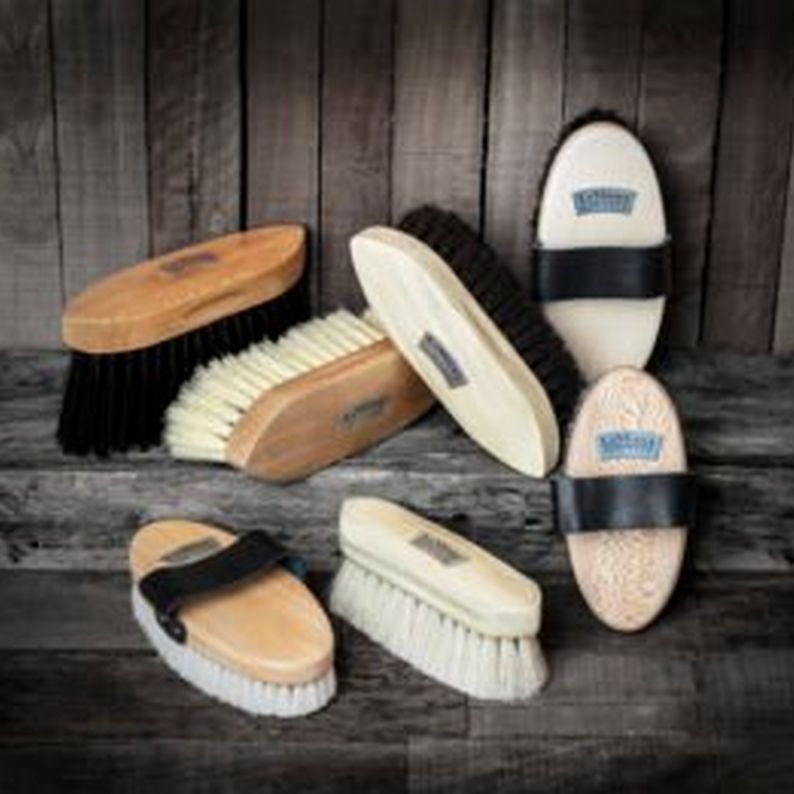 Hear us out... While spending £10+ on a single brush may seen a little difficult to justify, when we really think about it, it's not long before they'll be saving us money! Good quality brushes can not only make grooming faster and easier, but they can eliminate the need for countless lotions and potions. Not to mention, they won't need replacing every 5 minutes. So, here we're going to share with you our favourites from top luxury brands like HAAS, Supreme Products and LeMieux.
HAAS
Over recent years we've all heard the hype about HAAS, but why exactly have their brushes shot to fame? As a brand, HAAS pride themselves on their tradition, quality and dedication. While they've only recently become known to many of us, they were actually founded in 1919 in Germany. To this day, their products are still manufactured in the Black Forrest, using processes that take inspiration from the age old techniques and quality brush craftsmanship that the area is known for. While today many of their brushes are machine made, people are very much still a part of the process. Many tactile and precise steps are done by skilled workers, ensuring perfection is always achieved. All of their products are made using high quality materials, carefully selected and processed for the best results. Take a look at our top HAAS picks….
£0.00
Designed for use on all coat colours and skin types, the HAAS Lipizzaner Brush is a fantastic addition to any grooming kit. Oozing quality, it features a solid wooden back, leather strap and a unique blend of black, bay and grey horsehair bristles. The centre of the brush uses short, grey hair. This offers deep cleaning, right down to the skin. The outer rim features longer bay and black hair. This removes dust, leaving a shiny and glossy finish. Measuring 200 x 85 mm, it's designed to fit comfortably in the palm of your hand.
Shop now
£0.00
Perfect for everyday use, the HAAS Amazone brush uses a unique blend of specially selected horsehair with their signature Borstenfeld strands. This promotes good blood circulation to the skin, while cleaning and shining the coat for superior results every time. Manufactured to the very highest standards, it offers a solid wooden back and leather strap for longevity and durability.
Shop now
£0.00
Add a little glitz and glamor to your grooming kit with the HAAS Diamond Gloss Brush. Features include the signature HAAS solid back, leather hand strap and soft, dense horsehair bristles, finished off with a sprinkle of sparkle! As functional as it is fabulous, the natural bristles, clean and massage to improve circulation and promote a healthy coat.
Shop now
Supreme Products
There's a good chance you've got Supreme Products in your tack box already. From Deluxe Coat Gloss and High Shine Shampoo to Moisture & Condition and Leg & Body Whitener they've created so many sensational staples! Established in 1993, they've got over 25 years of experience in developing, testing and supplying grooming equipment designed to deliver when presentation matters. Using only the very best materials and ingredients, they help us to achieve that all important wow-factor in the show ring. Don't just take our word for it, their products come highly recommended by top riders and producers like Emily King, Hollie Swain, Hayley Watson Greaves and Vicky Smith. The question is, did you know they make grooming brushes too? Take a look at the range.
£0.00
Do your horses thoughtfully give themselves mud baths while they're out in the field? The Supreme Products Perfection Flick Brush features long bristles for removing mud, sweat and dirt. Quick and convenient, use it when your in a rush or add it to the start of your grooming routine to leave the coat ready for buffing and polishing.
Shop now
£0.00
Pining after perfection? This is the body brush for you! Made using short, soft and dense horsehair bristles, it's designed to remove those frustrating fine particles of dust from the surface of the coat for a sensational shine. Lavish and luxurious, it's finished with a genuine leather handle and a branded gold plaque.
Shop now
£0.00
Now that your horse's coat is clean, you're ready to add the finishing touches with the Supreme Products Perfection Goat Hair Brush. Manufactured using silky soft goat hair bristles, it buffs and polishes the coat for an outstanding shine. This is also a fantastic alternative to harsh bristled brushes, perfect for clipped horses and those with fine coats.
Shop now
LeMieux
We all know and love LeMieux for their marvellous matchy matchy sets. The truth is though, we really don't want to be turning heads if our horses are looking anything less than their best, right? Thankfully for us, it's not just stunning saddlery they make, but brilliant brushes too! A newer addition to their product range, the LeMieux Heritage Grooming Collection is a must-have.
£0.00
Featuring strong anti-static natural bristles, the LeMieux Heritage Deep Clean Dandy Brush offers 2-in-1 action, stimulating the skin and coat while removing any dirt and dust. Designed to be enjoyable to use, it features a solid grained wood handle with grip improving grooves for ease of use.
Shop now
£0.00
A more durable alternative to goat hair brushes, the LeMieux Heritage Soft Finishing Brush is designed to buff and shine your horse's coat, while removing any remaining dirt or loose hair. Features include soft anti-static natural bristles, a grained wooden handle and a solid metal logo badge.
Shop now
£0.00
The go-to for professional grooms, the LeMieux Heritage Dapple Body Brush features horsehair bristles. Providing the optimum level of resistance, this offers a deep and therapeutic clean, while naturally enhancing coat shine and condition. Comfortable to use, it features a solid wood back with a genuine leather strap.
Shop now
We hope you've found this helpful. You can shop all of the products featured in this blog at Naylors.com or why not visit one of our stores? Don't forget, if you make a purchase with us share your photos on social media. Be sure to include the #NaylorsSnapAndShare to be in with a chance of winning a gift card.