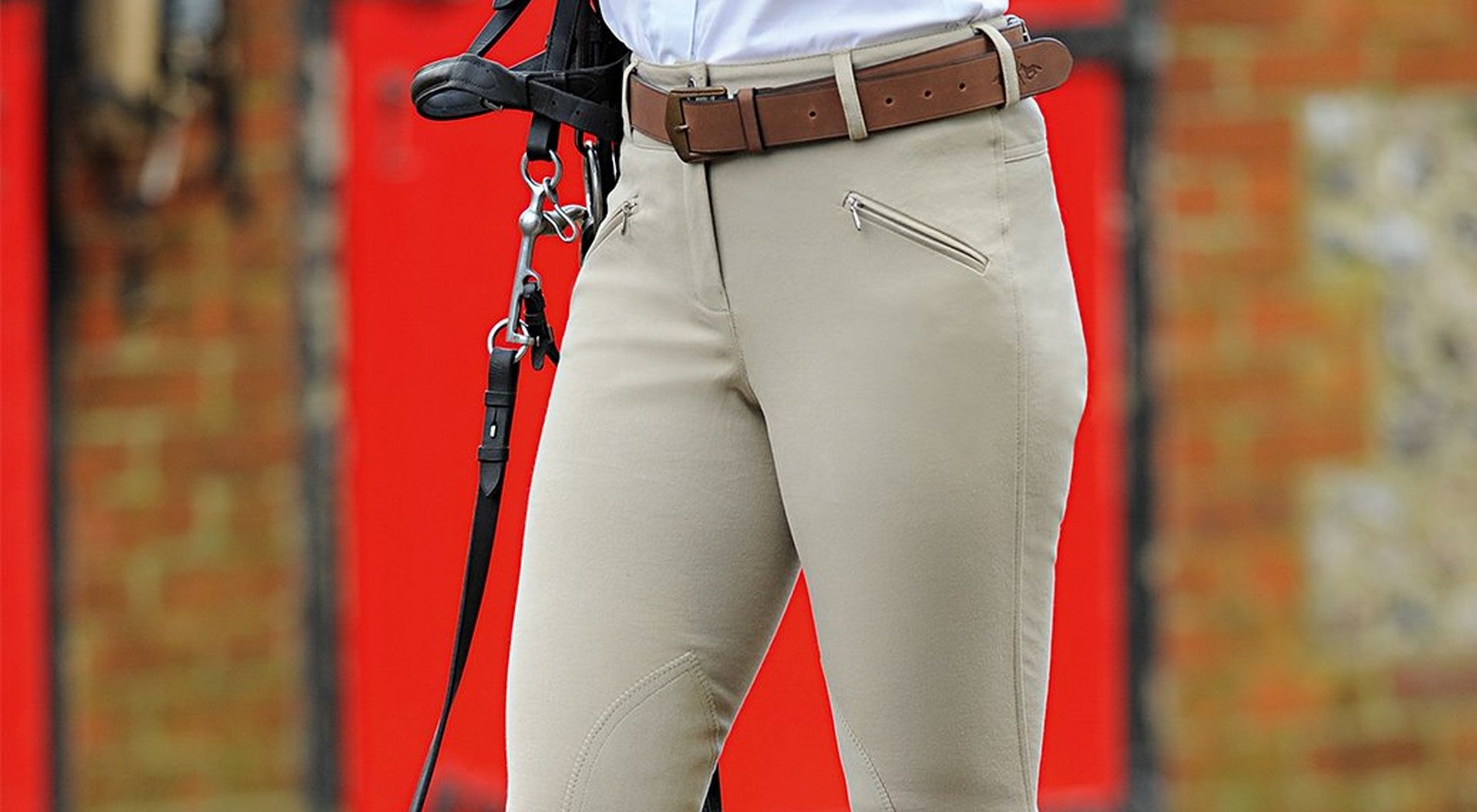 Naylors Equestrian offers a wide range of jodhpurs and breeches to suit many budgets and disciplines.
So whether you are looking for an everyday pair, a competition pair or a cheap as chips pair, look no further than Naylors Equestrian!
Jodhpurs / Breeches for Everyday Comfort
If you want a reasonable price and comfort for everyday wear down at the yard then there are a number of brands available at Naylors Equestrian that can guarantee just that:
Have a look at these Bridleway Banbury Contrast Jodhpurs available in three colours, they have been a real favourite due to the price, style and fit. They offer a Euro Seat, knee patches and trendy contrast stitching…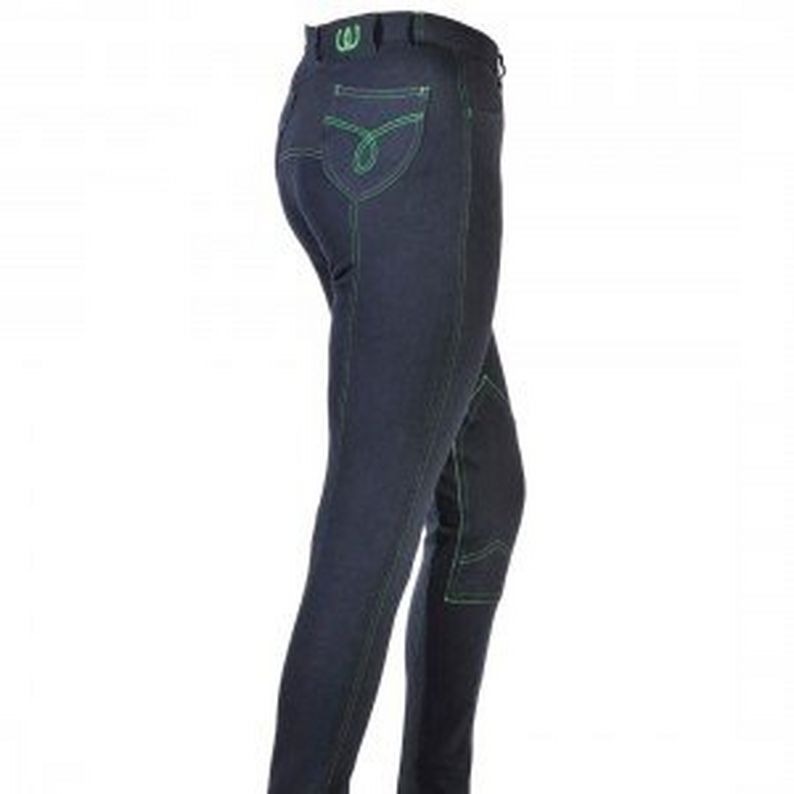 Best Value Jodhpurs and Breeches
If you want a pair of jodhpurs that are bright and cheerful but cheap as chips at £20, then the Shires Wessex Jodhpurs are excellent value for money, comfortable and they look great too.
These jodhpurs have fantastic shape retention due to the 4 way Creora® fabric, which also does a good job of supporting you in all the right places! Offering knee patches for grip and support and belt loops to enable you to wear a belt. Available in 6 colours there really is something for everyone.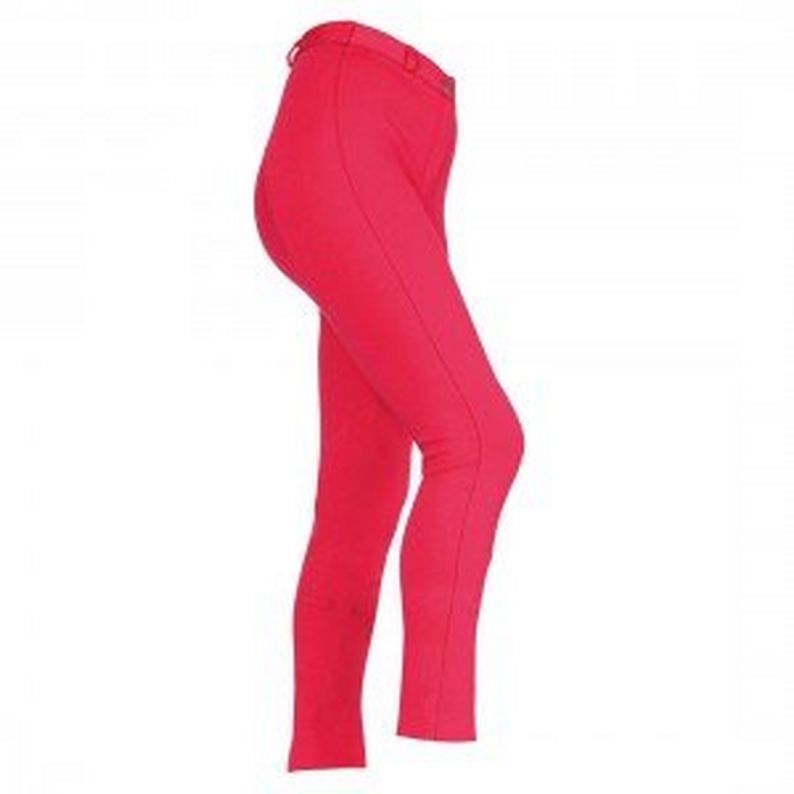 Now if you are a trend setter or enjoy keeping up with the latest trends, then certain brands such as Horseware, Horze, HV Polo and Pikeur will be right up your street!
These brands not only make practical and comfortable breeches, made with the rider in mind, they also consider the latest trends and colours that are being flaunted on the high street and fashion catwalks.
Seriously, riders have never looked so good!! Check out these Horseware Polo Nina Breeches in Cherry, everyone will want a pair once they have seen you riding your horse in these flattering, figure hugging breeches…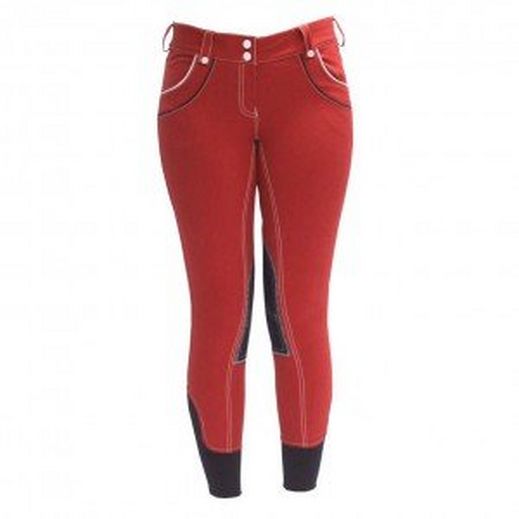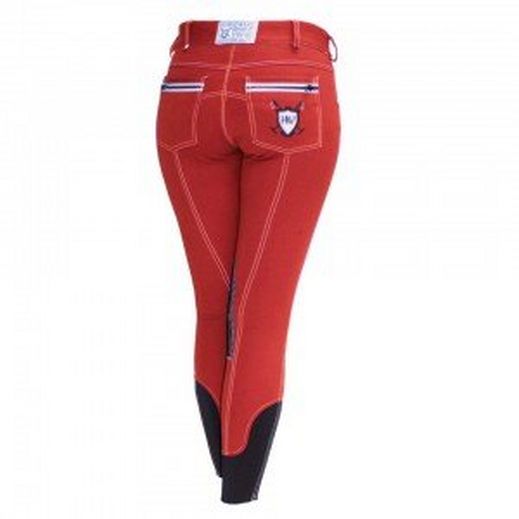 Naylors also cater for those riders that love the bling and a little bit of sparkle, so look no further than Montar Breeches!
Montar Breeches do an embroidered full seat breech and also a horseshoe breech. Both of these designs offer support and comfort for the serious rider as well as offer the style statement that you bling lovers really enjoy!
Made from Bamboo fabric that is strong, flexible, thermo-regulating and moisture wicking, these breeches work and play hard too!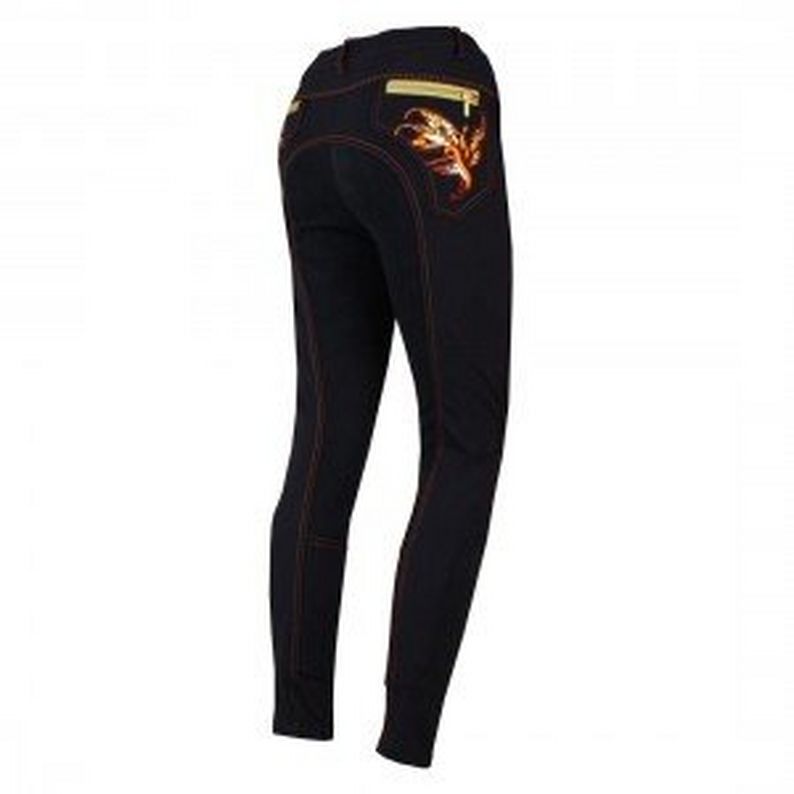 Whether you are a showing queen, a dressage diva, or a brave eventer or show jumper, Naylors has the right competition breeches available for all budgets and riding aspirations.
Check out and shop all of our competition style breeches by clicking here…
Most showing classes require you to wear beige or canary yellow coloured jodhpurs or breeches. Choose jodhpurs if you are wearing short boots, and choose breeches if you are wearing long leather boots or half chaps.
A personal favourite for showing are the Shires Ladies Portland Performance Breeches in Beige. They offer huge technical benefits for comfort during your performance, they fit well and are great value at £60…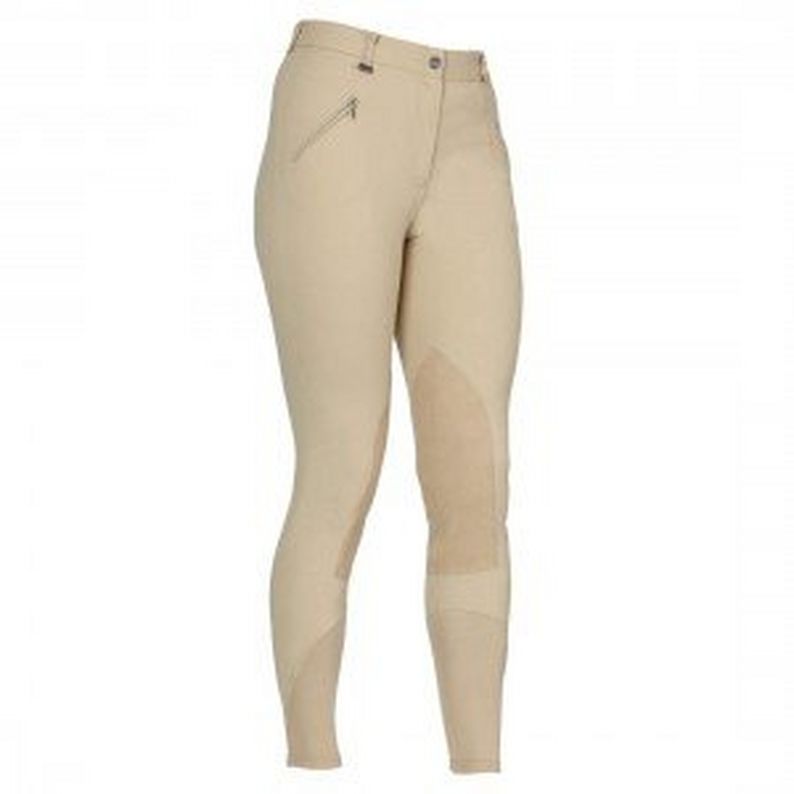 For dressage you are required to wear white breeches, personally I think these look great with a higher waist and smart black belt, especially if you have a cut away jacket at the front.
Try the Dublin Supa Embrace Performance Full Seat Breeches at £75. They are breathable, quick drying and with a technical fabric that is figure hugging and works as hard as you do in the saddle. Also with a Clarino full seat for a bit of extra grip in the saddle and stretch cuffs for a smooth and comfortable fit under long boots.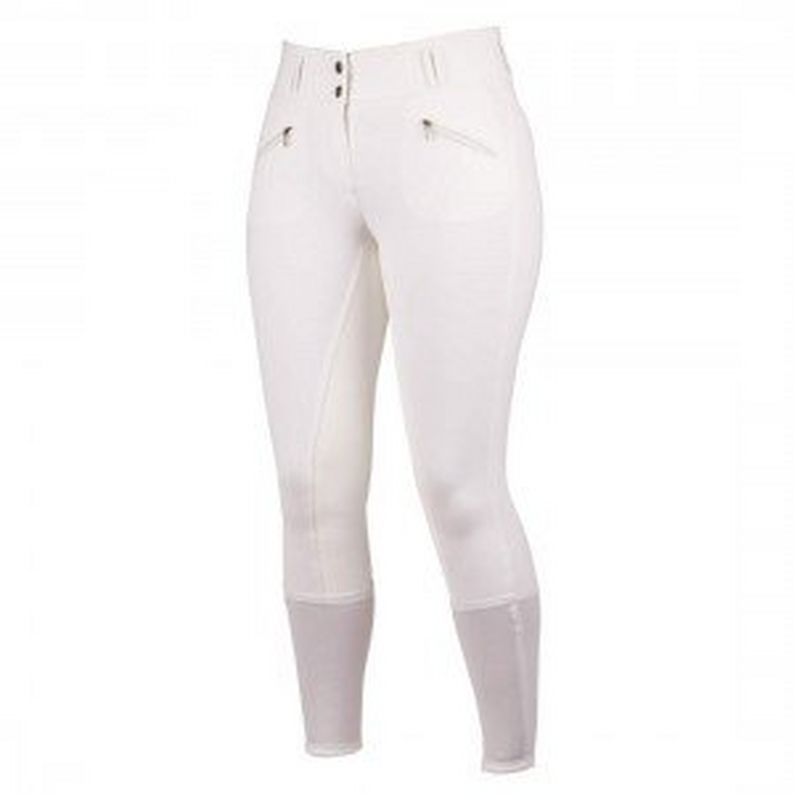 Again for show jumping most people wear white breeches and you can also wear a little bit of bling so how about the Montar Bamboo Swarovski Full Seat Breeches.
Made from Bamboo fabric that is strong, flexible, thermo-regulating and moisture wicking, these breeches will look great and give you the comfort and grip you need when jumping.
For working hunter classes, cross country, etc… beige is usually worn. Always check with your local riding club or governing body for any rules around what you can and cannot wear.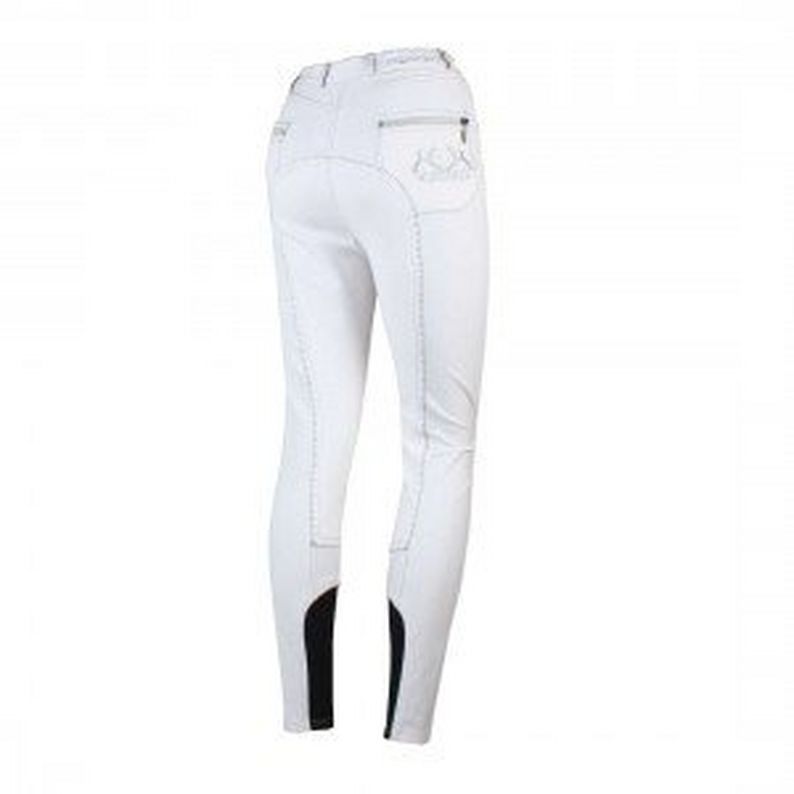 Most breeches and jodhpurs these days are designed with riders in mind, your comfort, breathability, keeping cool, keeping warm and drying quickly either from sweating or from being caught out with the weather.
From a value for money point of view Shires have an awesome range of performance breeches with fabric that works for you rather than against you. They are also available in full seat or knee patch styles. Priced between £60 and £90 a pair they won't break the bank either! Lets have a look at the technical features and benefits of Shires Performance Breeches:
Meryl® Actisystem™ – this is fabric that is breathable, quick drying and designed to keep you comfortable at all times.
Clarino / synthetic suede knee patches or full seats – these move with you and provide grip in the saddle, it looks and feels good too.
Dri-Lex® Technology and AEGIS Microbe Shield® – these technologies provide moisture management and protect against odour causing bacteria, which helps to keep you fresh and dry.
Smooth Leg Cuff – no more bulky Velcro under your long boots to rub or dig into your legs!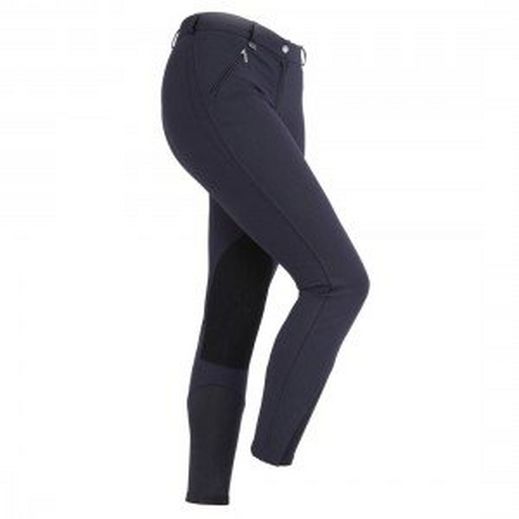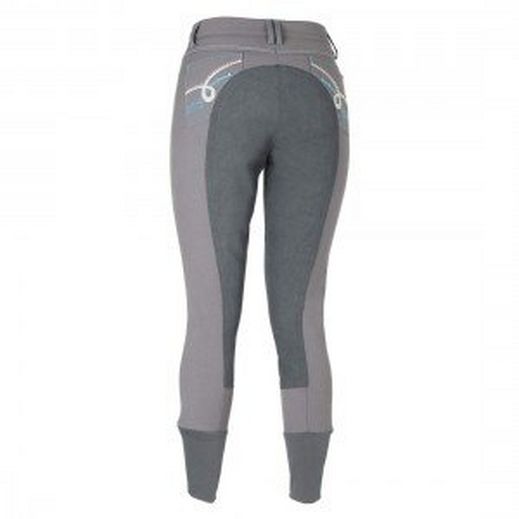 Naylors really does have something for everyone, whatever your budget or discipline.
What are your favourite breeches or jodhpurs? What makes them your favourite?
Are there any brands you would like to see at Naylors? Do you have any feedback on some of the breeches mentioned in this blog?