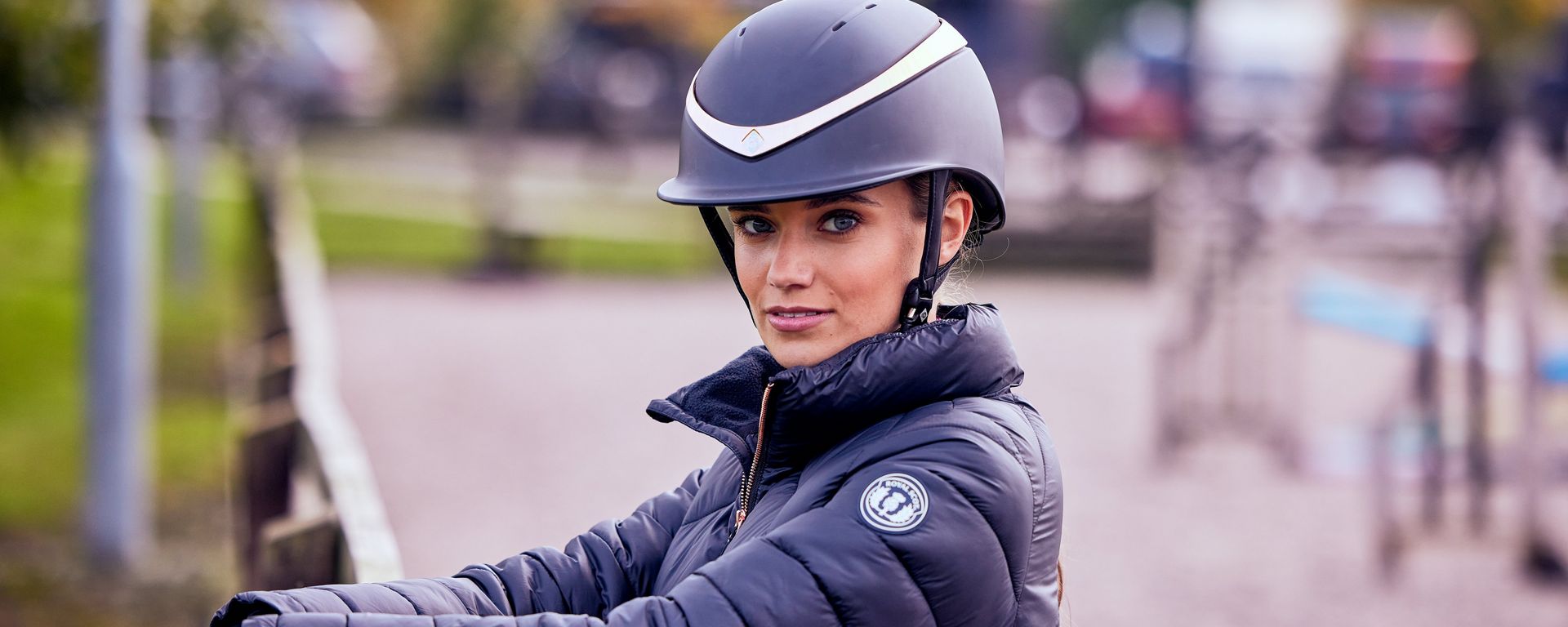 Is your riding equipment competition legal to the new 2023 & 2024 rules and regulations? Here you will find out all you need to know about exactly what has changed and the new requirements for when wanting to take your horse to competitions.
We all know that checking the standards of your riding hats and body protectors can be confusing. You may not even know what standard your riding equipment is now, especially if you have had it a long time or have not been to an event or venue that requires an up to standard hat or body protector. So now is the time to check, especially if you're looking to compete this year.
When competing your riding hat and body protector (if one is being worn) will need to be checked by an official, who will check the safety standards to ensure they meet the requirements of the discipline you are competing in. At some competitions, once you're riding hat has been checked they may put a small tag onto it to show it has been approved and we will come onto that a little later.
2023 Riding Hat Standards
From 1st January 2023 riding hats with the safety standard PAS015:1998 and SNELL 2001 will no longer be allowed to be worn at British Eventing, British Riding Club, Pony Club and Riding For Disabled events.
The safety standards for British Show Jumping were reviewed at the beginning of 2022 and these standards for riding hats were withdrawn then.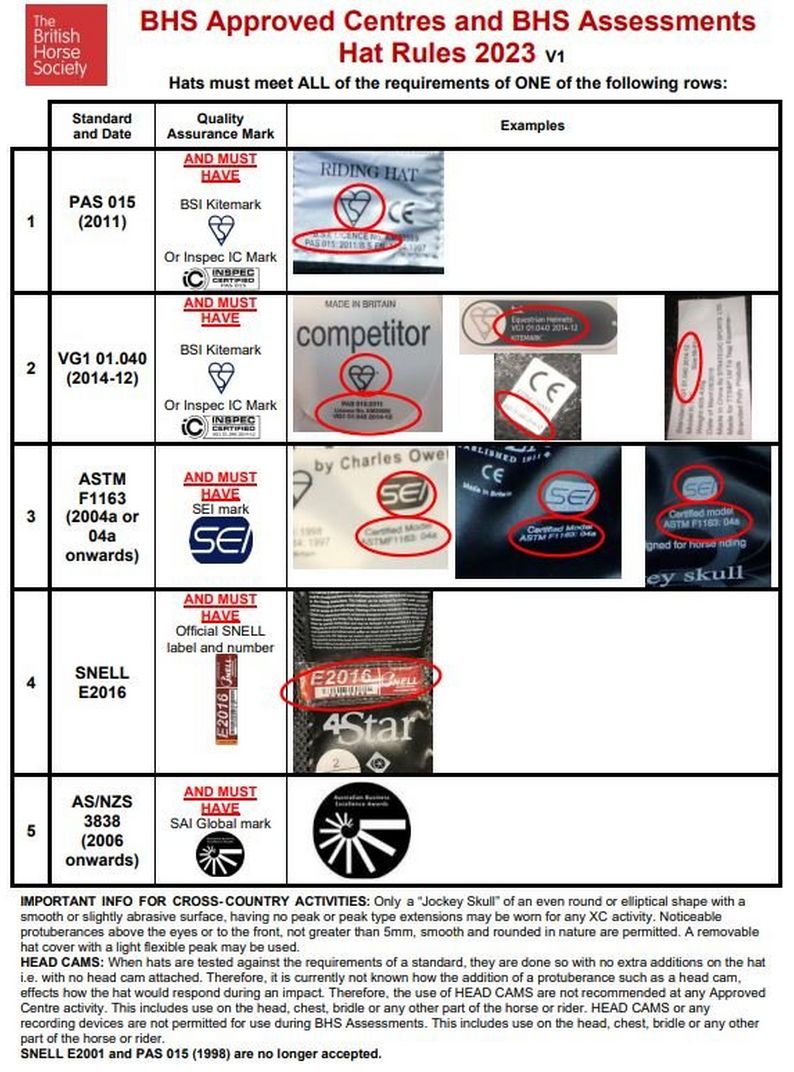 Riding Hat Standards Which Will Be Allowed are:
PAS 015:2011
VG1 01.040 2014-12 – This standard must also have either a BSI Kitemark or a Inspec IC Mark
ASTM F1163 2004a or 04a onwards – This standard must also have a SEI mark
SNELL E2016
AS/NZS 3838 2006 onwards – This standard must also have a SAI Global Mark
Once you're riding hat has been checked by an official at a competition, they may put a small tag onto it which shows it has been checked and is up to the correct safety standards. If your hat is already tagged from previous competitions, it will need re-tagging with a new coloured tag due to the safety standards and rules being updated for 2023.
2024 Body Protector Rules
From 1st January 2024 all body protectors with a 2009 safety standard will no longer be permitted at British Eventing, British Riding Club and Pony Club events.
Even though this safety standard has been withdrawn from these events you can still wear your 2009 standard body protector for leisure and other activities, however before you attend a venue ensure you check they don't require your body protector to be up to the new, updated 2024 safety standard.
The only safety standard for body protectors that will be allowed to be worn at British Eventing, British Riding Club and Pony Club events from 1st January 2024 will be ones with a BETA 2018 label. With this being said, there are no new standards in effect right now and there are no revisions expected to the current standards.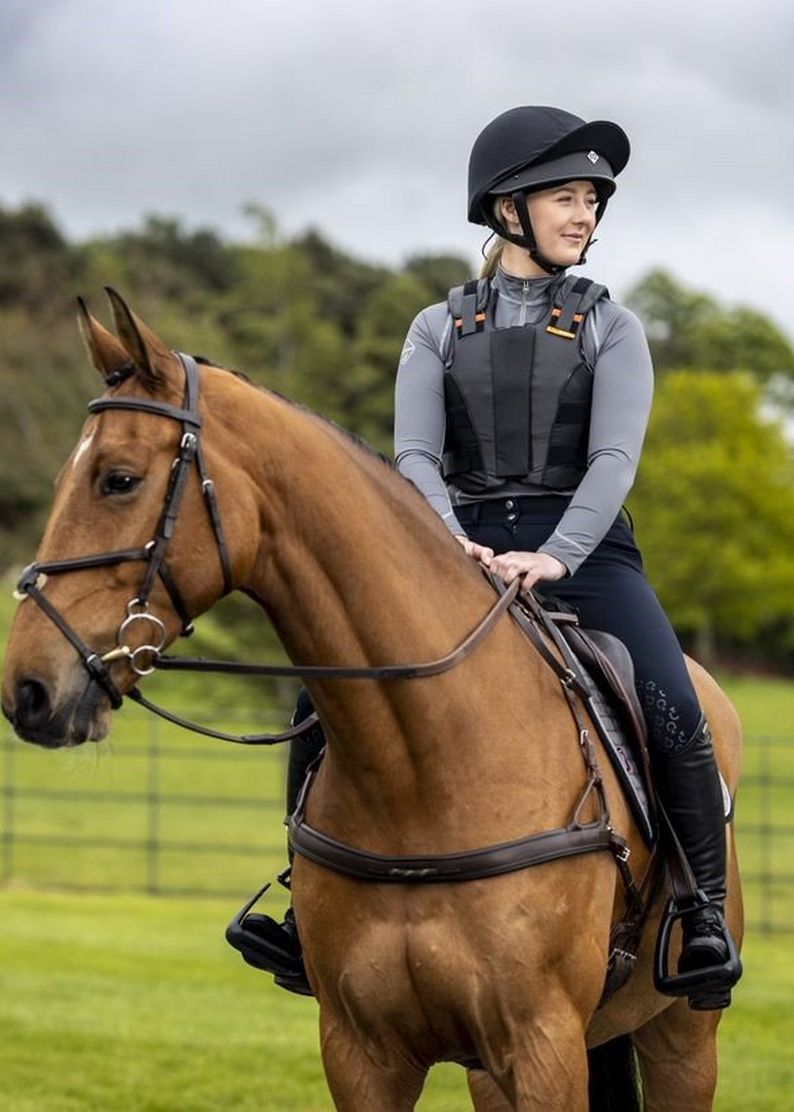 That is all you need to know as a rider regarding your riding equipment, but what about your horse? British Dressage have released their new handbook and rules for 2023, and there are a few things you need to know about your horse's tack.
2023 British Dressage Tack
The changes to the rules and handbook British dressage have made will come in to play from the 1st January 2023. The biggest changes concerned with tack, are with bridles and biting. If you are unsure whether your bridle, or bit is now legal for British Dressage reach out to the tack and equipment team of your governing body.
Here's A Summary Of The Changes For Bits & Bridles
Let's start with bits, some bits you have been able to use for British Dressage, will now not be legal for 2023, meaning you may have to speak to a specialist to find a new bit for your horse.
Bits that will be no longer legal are:
The Bombers DC Dressage Bit
Elliptical Cable Bits
Dressage Control Plate Bits
Cable Snaffle Bits
Swivel Weymouth Bits
Ported Barrel Weymouth Bits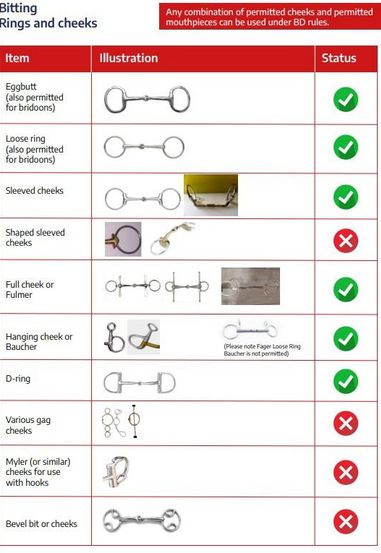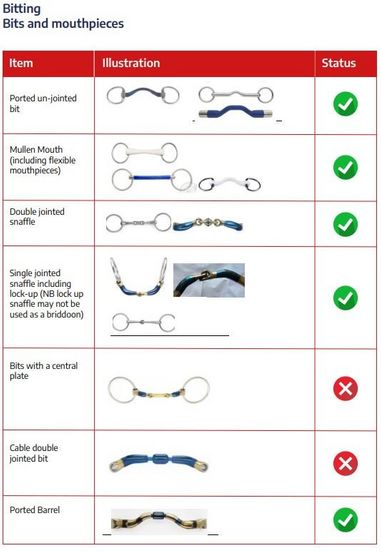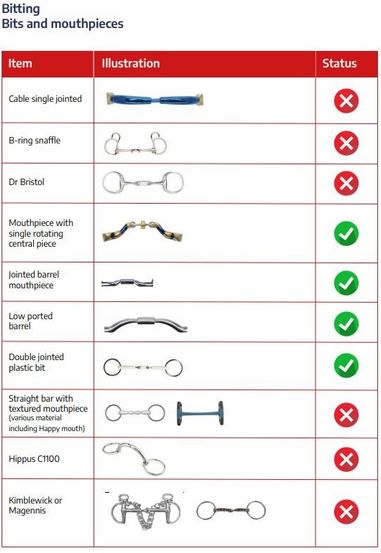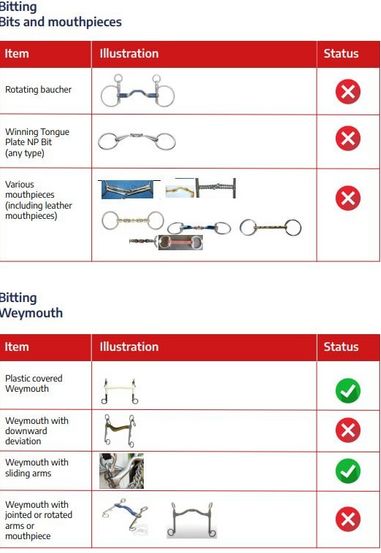 Now let's move onto bridles. There have been some major changes in what your bridle can and cannot have for British Dressage, meaning some parts of you bridle may now not be legal. Take a look below at our summary of the bridle changes, to check if you can still use your current bridle as it is for 2023.
Cheekpieces:
Cheekpieces which use a clip to attach the bit are no longer allowed.
Elastic inserts are permitted in cheekpieces and headpieces but must not make contact with the horse.
Bits should only be attached to the reins and cheekpieces nothing else.
Headpieces:
Your horse's headpiece must now sit immediately behind the poll. It can extend forwards onto the poll but cannot sit behind the skull.
The headpiece must be made entirely out of leather or a leather-like material except the buckles and padding, padding is allowed. Nylon or other non-metal materials are allowed to reinforce the leather in the headpiece but cannot come in to contact with the horse.
Headpieces without a throatlash are no longer permitted to use in British Dressage National Competitions. FEI bridles without a throatlash are permitted if the bridle has a combined noseband or is a Micklem bridle.
Browbands:
Browbands with decoration on top of the leather are allowed and bridles which don't have leather and are just decoration are only allowed if the browband has leather where the bridle attaches to the headpiece.
Browbands are required and can be made from any materials but the parts that attach to the headpiece must be made from leather or a leather like material.
Nosebands:
At any level of dressage the noseband must never be so tightly fixed that it causes harm to the horse, it must be checked by an official as per the steward's manual noseband protocol.
Snaffle bridles must be used with a regular cavesson noseband, a dropped noseband, a flash noseband, a crossed noseband, a combined noseband, a Micklem or similar design of bridle.
Except for buckles and padding the noseband must be made entirely of leather or a leather like material.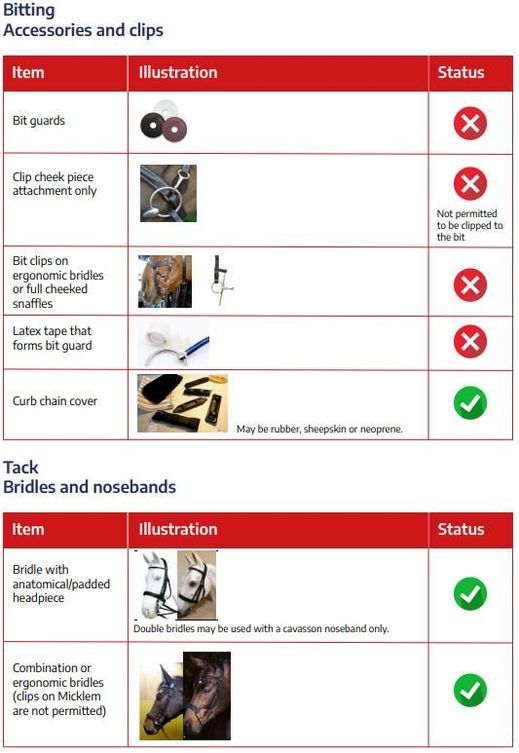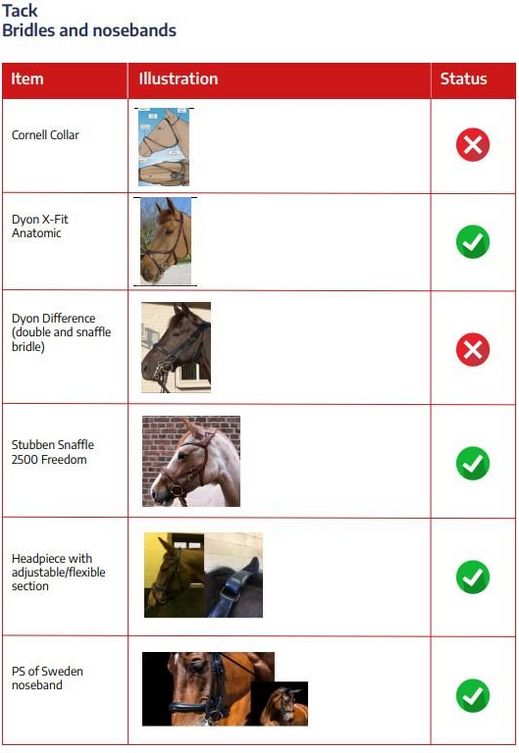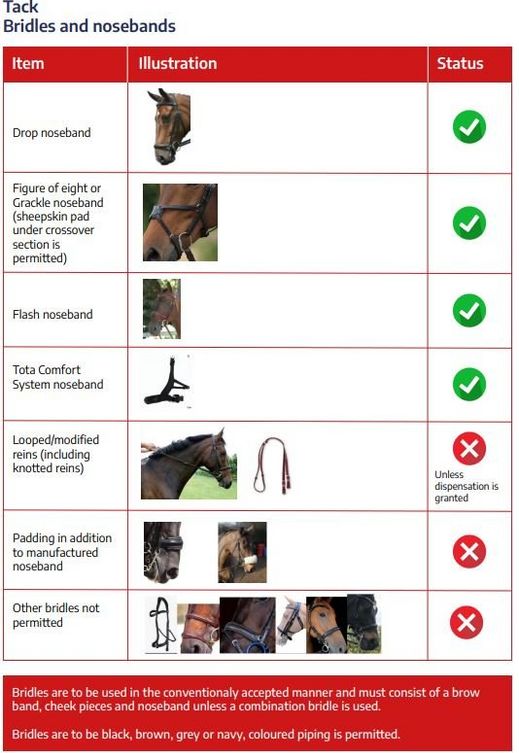 We hope this has helped you to find the safety standards, rules and regulations required for your chosen discipline for 2023 and 2024. If you have found that your riding equipment or horses tack will no longer be competition legal for your discipline or you fancy treating yourself or your horse to some new competition equipment for the new season. Browse our riding hat, body protector, bit, and bridle range by clicking on the links below.
For more information, you can visit the BHS and British Dressage websites.
Did you know we offer a completely free riding hat and body protector fitting service at our Naylors stores? Visit us for a free fitting service, advice, and recommendations for the perfect equipment for you and your horse.