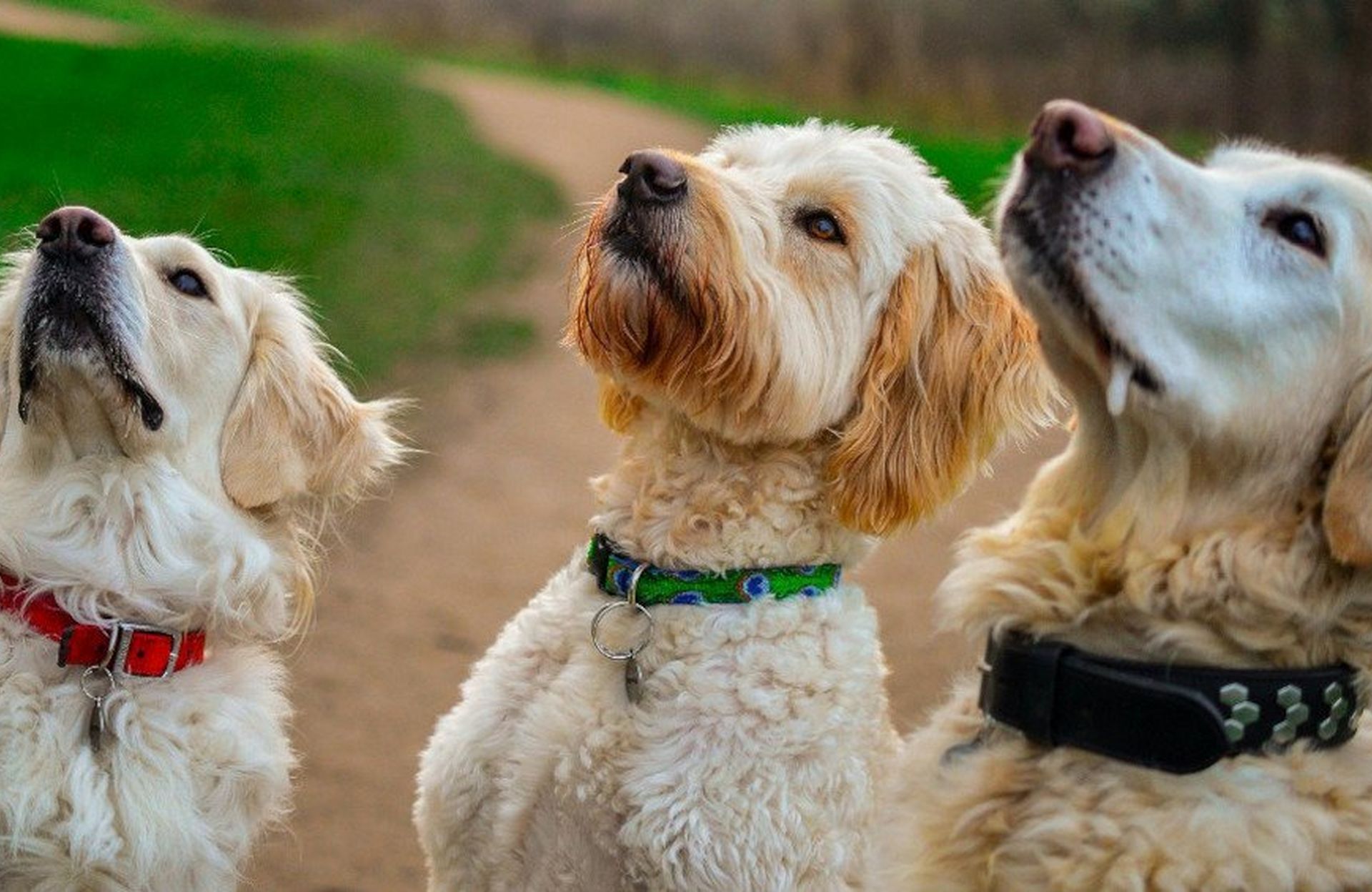 Dogs are a part of our families. They share our homes and our memories. They forever hold a huge place in our hearts. So, we all strive to care for them in the very best way we can, right? But that doesn't just mean long walks, cuddles and regular check-ups. We've got to be mindful about what's going into their bodies each and every day.
Ok, so the chances are if you've got a dog, you're probably pretty familiar with the brand pedigree? But how much do you really know about their products and why exactly they're so popular?!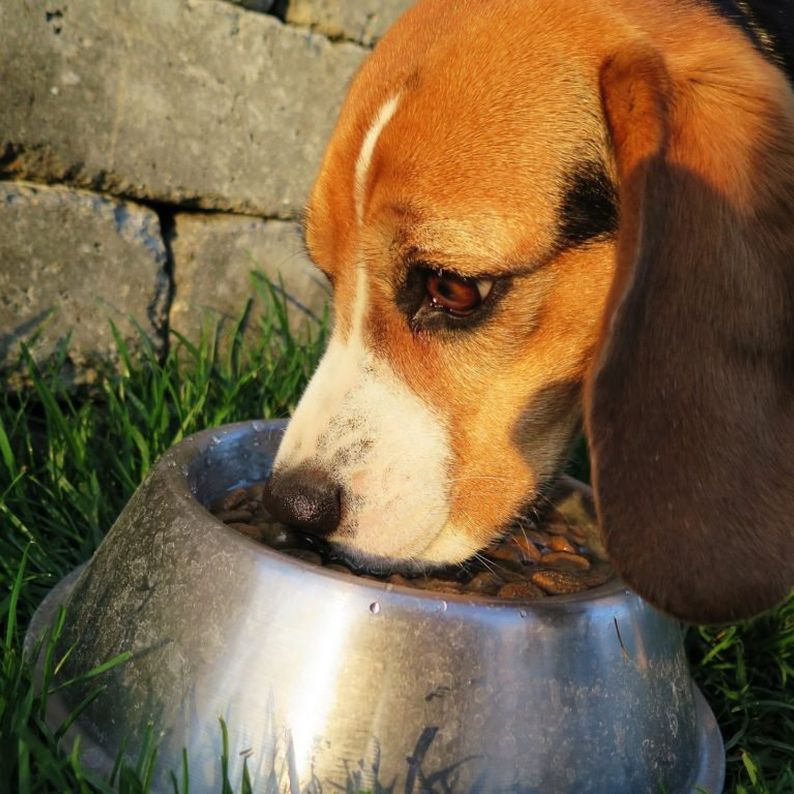 These days pedigree are a pretty huge brand. Does this mean they've fallen into the trap of becoming a soulless sales machine? No! The people at Pedigree take pride in knowing that everything they do is for the love of dogs… And always will be. Dogs aren't just their jobs. Just like doting owners worldwide, they're passionate about pets.
With over 80 years experience creating food and treats, their philosophy is to develop great quality, nutritious products that dogs will love, designed to keep all breeds and ages happy and healthy. Not to mention making sure these products are accessible and affordable, for every owner.
Pedigree Promises
Science: A benefit of being under the huge Mars Petcare group which also includes ROYAL CANIN®, WHISKAS®, CESAR®, SHEBA® and DREAMIES™, Pedigree products are informed by research conducted at WALTHAM™ Institute. The team there are well known for delivering scientific breakthroughs in the areas of pet nutrition, health, well-being and behaviour.
Suppliers & Standards: All the raw materials used by Pedigree are sourced from approved suppliers and processed in independently inspected factories adhering to the same standard as those used to produce human food. Proud of their creations, they never sell them to other companies.
What's inside Pedigree products?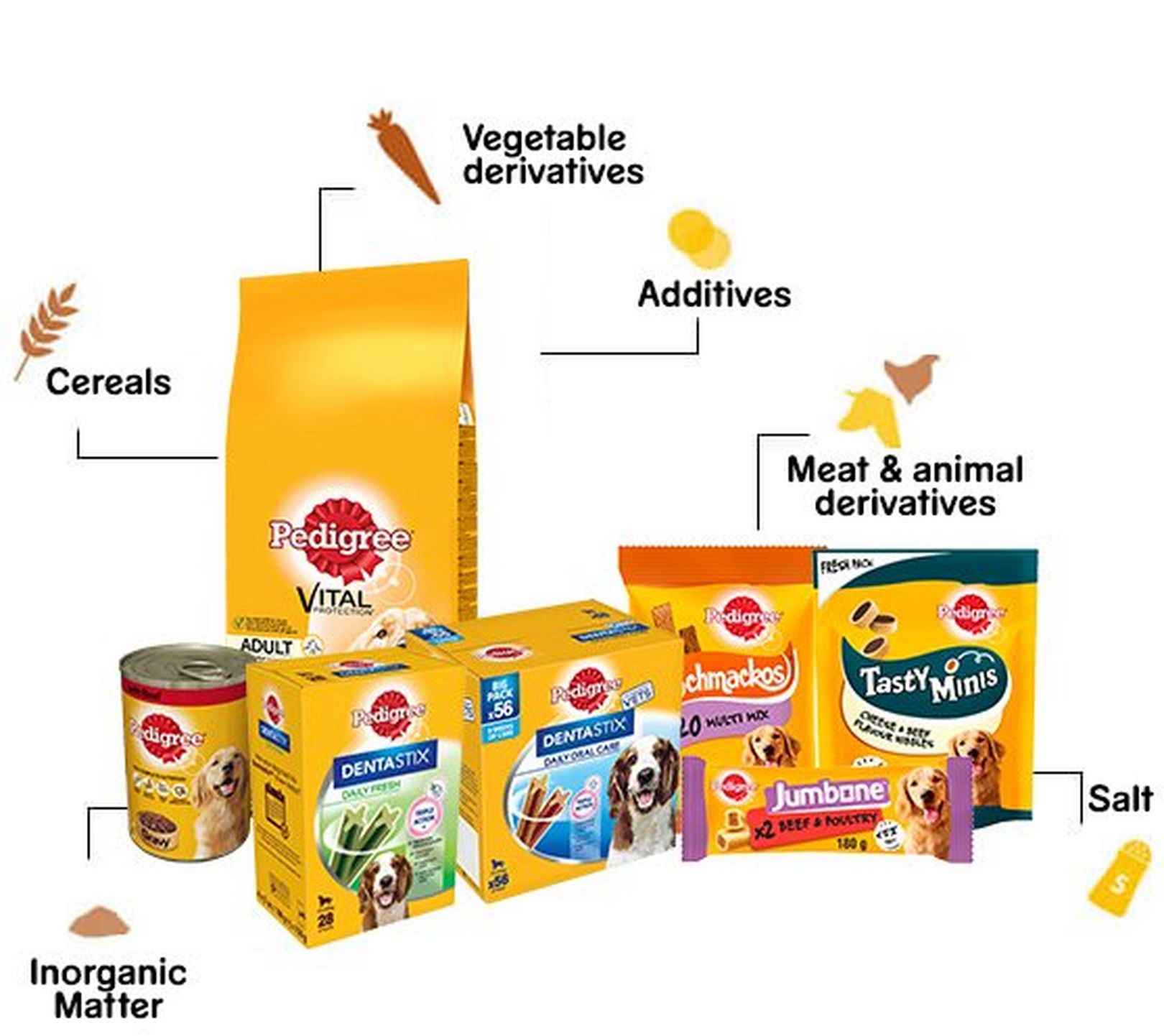 Meat and Animal Derivatives: This describes organs such as liver, kidneys and heart. Great for your pets health, they contain high levels of essential nutrients including various vitamins and minerals.
Inorganic Matter: Sounds scary, right? It's really not, in fact quite the opposite. It's just minerals! Where minerals are lacking, they're added to food and treats to ensure that the recipe provides complete and balanced nutrition.
Vegetable Derivatives: These are simply ingredients that have come from plants.
Cereals: Wheat, corn and rice can feature in dog foods. In the correct levels, they provide energy and fibre for a healthy digestive system.
Flavours & Sugars: None of Pedigrees products contain artificial flavours. Interestingly, dogs don't taste sugar in the way we do, so adding it wouldn't make food more palatable for them anyway, so the only sugars are natural ones!
Salt: There are lots of worries about adding salt to food. But dogs aren't like us! They've evolved to a eat meat-based diet naturally high in sodium. A small amount of salt in your dog's diet is essential to keeping their metabolism healthy.
Additives: While it would be nice if they weren't needed, they're used for a reason! Pedigree foods are fortified with vitamins and minerals. Preservatives in their dry foods are approved as safe under EU regulations, used to ensure their products can be stored safely.
Products From Pedigree
Oral Care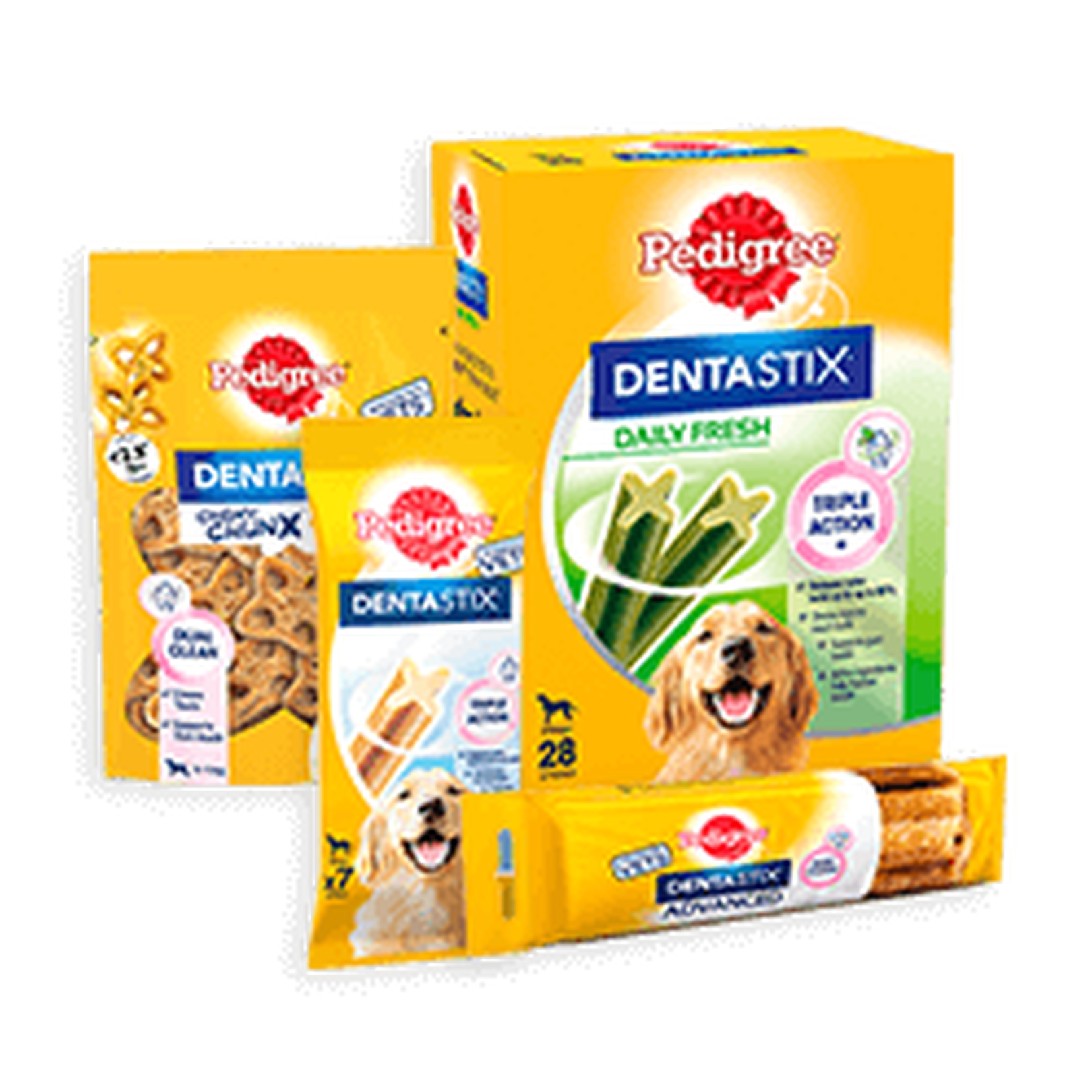 Our dogs mouths are used for so much more than eating! They use their mouths much like we use our hands. It's their way of exploring the world around them. So, one of the best things we can do for them, is to make sure that we're taking good care of their teeth and gums!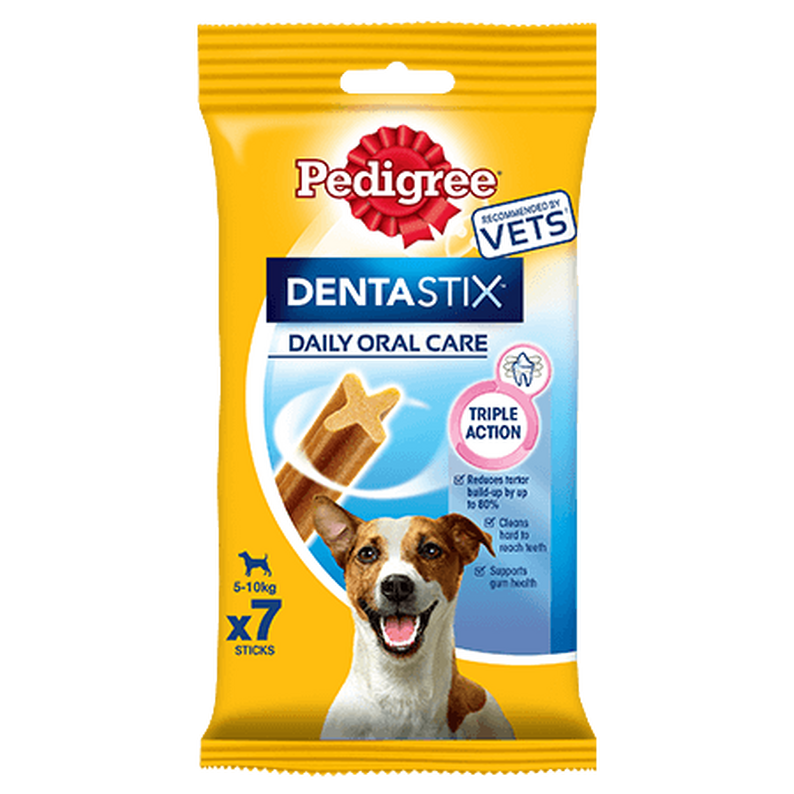 Pedigree DentaStix
From £1.80
Tasty treats, tough on tartar! Low fat and sugar free, the combination of its gently abrasive texture and active ingredients is scientifically proven to help reduce tartar build-up by up to 80% when fed daily.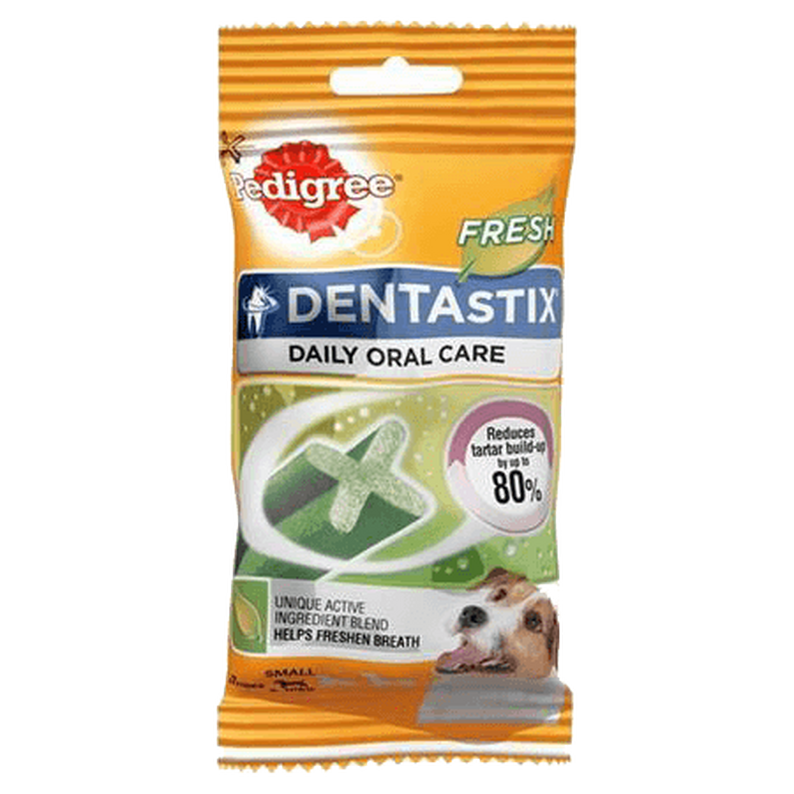 How does it work? DentaStix contain sodium tripolyphosphate and zinc sulphate, together these bond with the calcium in saliva. This makes plaque softer and easier to remove, helping to prevent gum disease.
Shop Now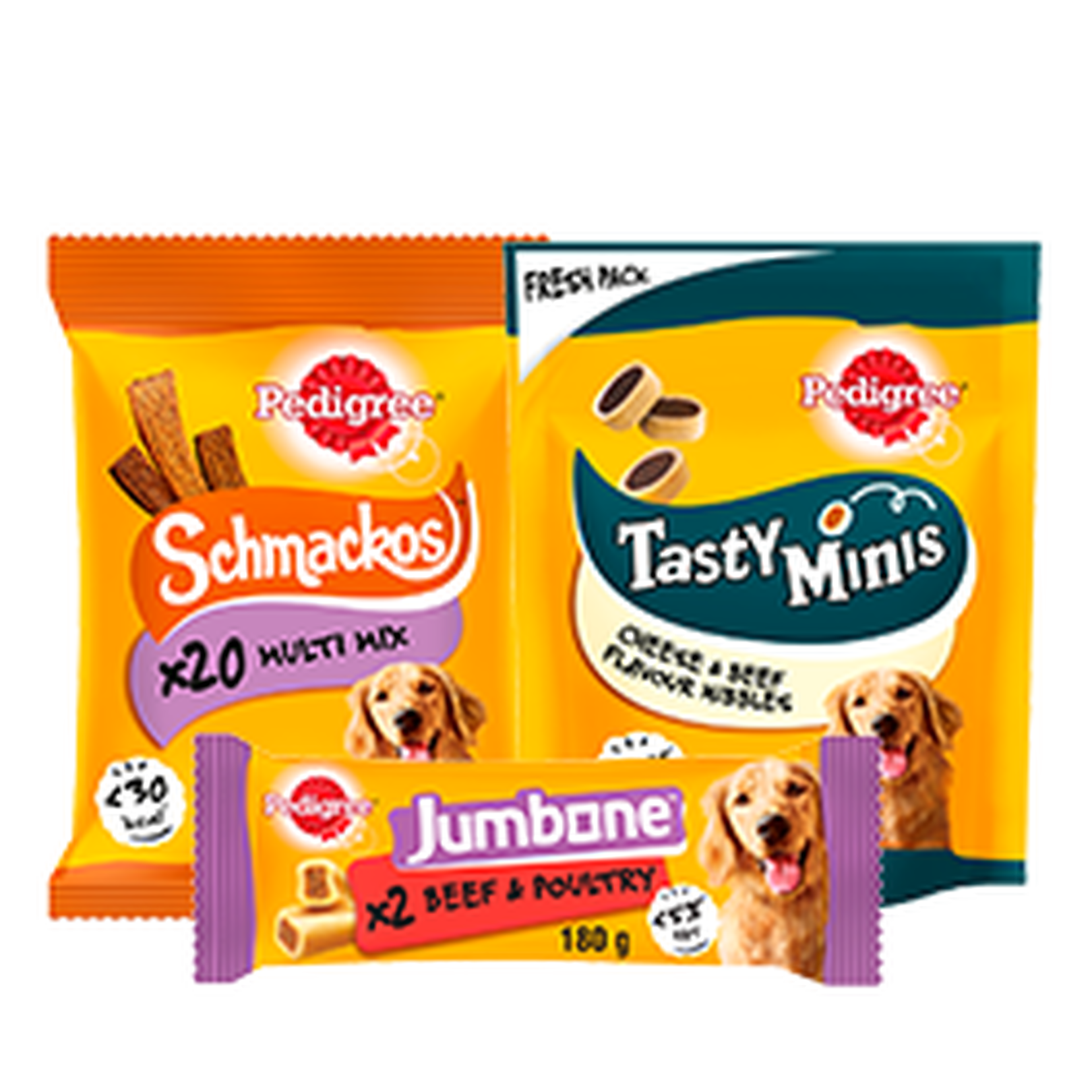 There's nothing nicer than rewarding our furry friends with a treat. Whether we're trick training or just bonding, it's lovely to see their eyes light up at the rustle of a packet! Putting your dogs emotional and physical health first, Pedigree treats are terrific.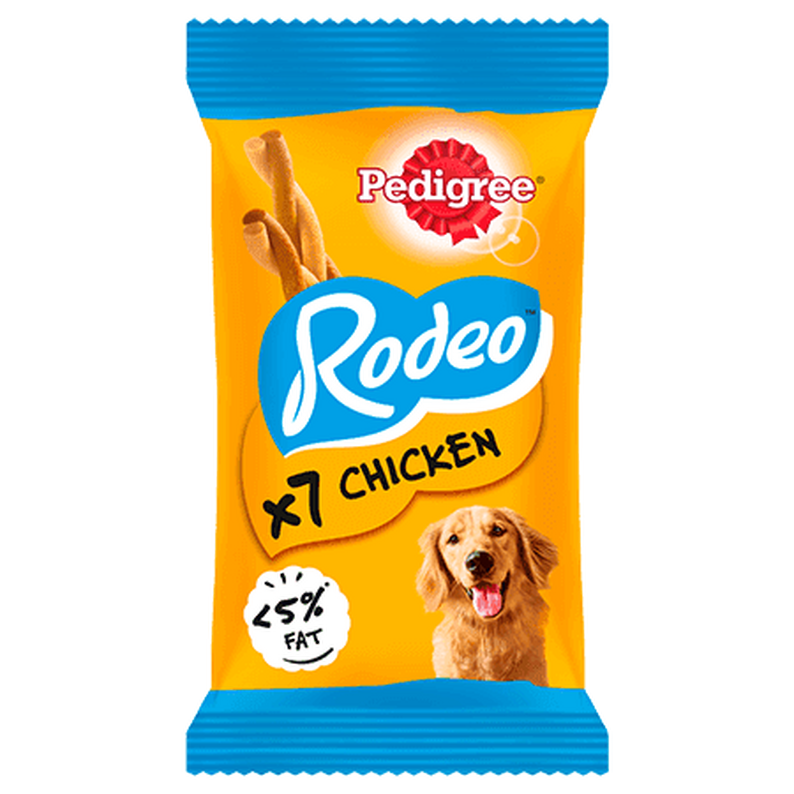 Pedigree Rodeo
From £1.80
Add a twist to your pooches day! Delicious and nutritious Pedigree Rodeo treats are packed with super tasty natural flavours. Designed to keep your four legged friend as healthy as they are happy, they contain added Omega 3, vitamins and minerals.
Shop Now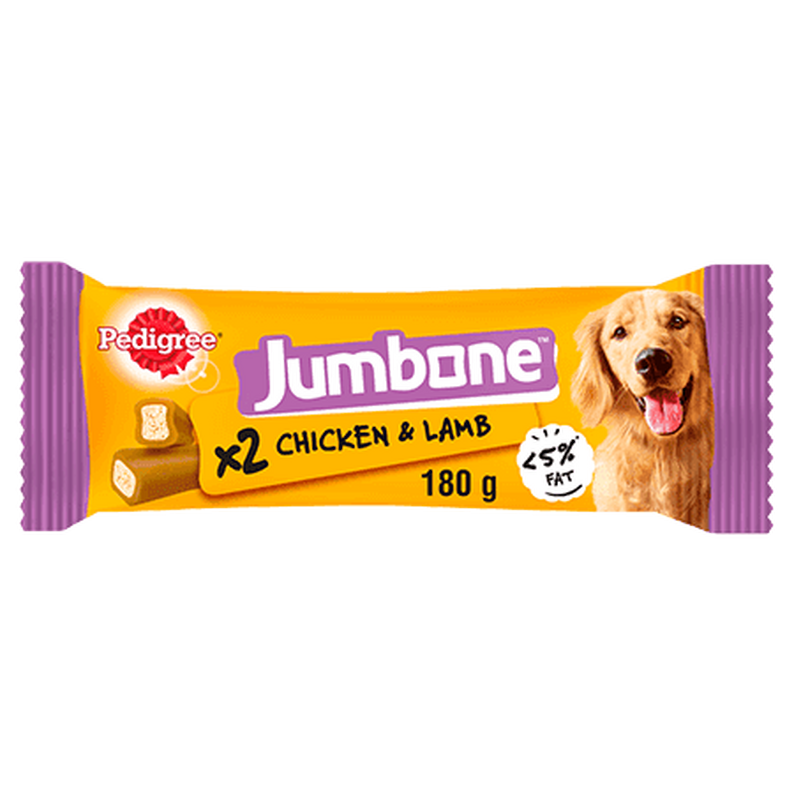 Pedigree Jumbone
From £1.80
Time for a treat? This one's brilliant to the bone! Pedigree Jumbones cleverly combine a long lasting, tough and chewy outer with a marvellously meaty middle. Best of all, they're less than 5% fat.
Shop Now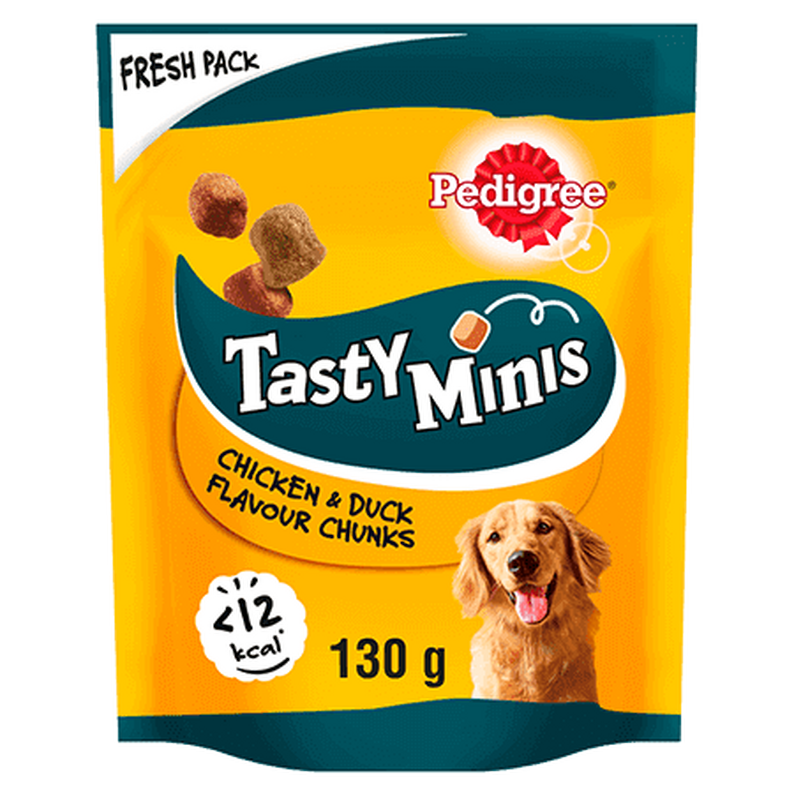 Pedigree Tasty Minis
From £1.50
Designed for training and rewarding, these tiny treats contain less than 12 Calories each! Don't be fooled though, they're still packed with the good stuff including Omega 3, Vitamin E and Calcium.
Shop Now
There you have it, we're sold! If you have any questions please don't hesitate to get in touch via the comments or give our customer service team a call on 01706 507555. You can shop our full range of products at www.naylors.com or why not visit one of our stores.