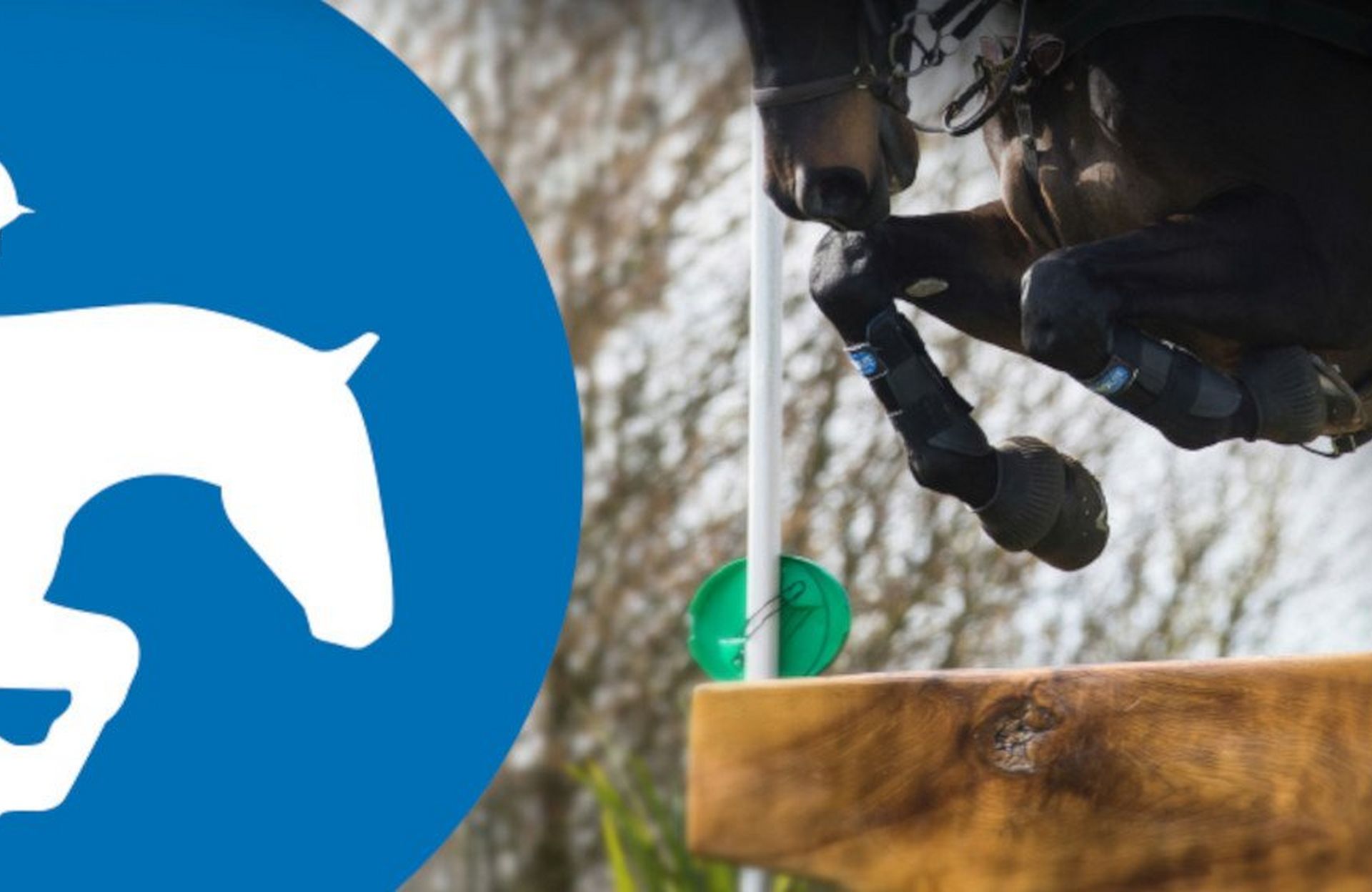 Have you got a Prolite Girth? We've been hearing lots of great things about them. But, they are one of the more expensive options. So, it begs the question, are they really worth the money? We've been hunting for some answers, take a look at why they're not your average girth!
Why choose Prolite?
Good question, now for the science!
Manufactured under license from Fairfax Saddles Ltd's intellectual property rights, this design of girth is proven to dramatically increase your horse's freedom of movement, allowing you to achieve better results. Extensively tested using pressure mapping and gait analysis, you're sure to see the difference!
Using technological testing enables the horse to tell me exactly how every design change impacts on pressure and freedom of movement.
Pressure Mapping - Pliance pressure mapping is the industry-standard method of assessing the level of pressure on a horse's body. This method allows data to be gathered through all paces and even when jumping.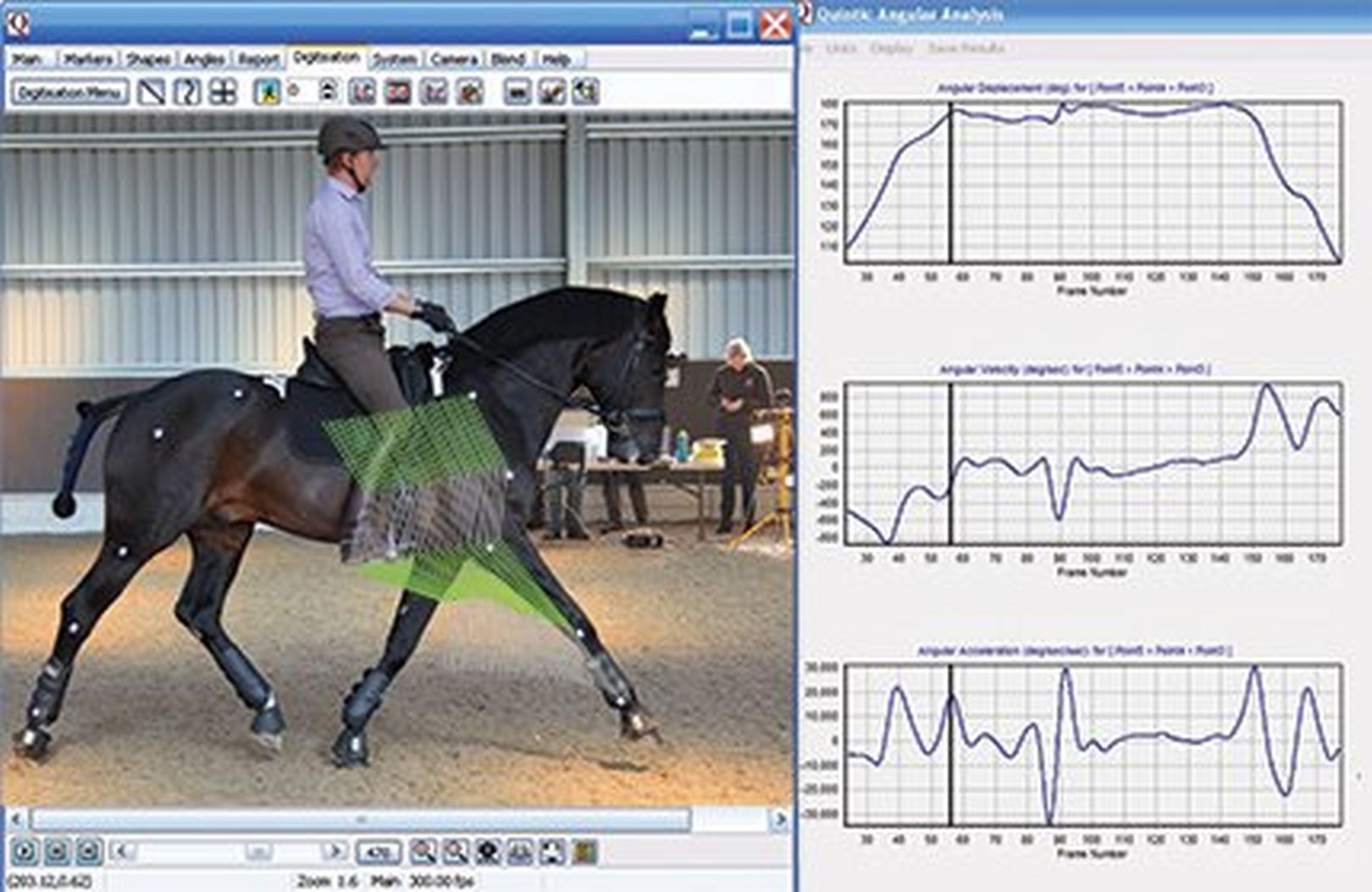 Gait Analysis - Small spherical markers are placed on the horse's skin at the centre of key joints. They're then photographed at a rate of 300 frames a second (25 times faster than the human eye). The images are processed by a computer that provides detailed information on the horse's joint and limb angles. This allows difference in his extension, flexion and freedom of movement to be measured. Cool or what!
One's good, but two is better! Together these testing methods mean we have a better understanding of not only how much pressure your horse is feeling, but the impact it has on his way of going!
Design - Informed by extensive testing, the innovative design features anatomical contouring and strategically placed cushioning. Padding allows the front edge of the girth "to float" so your horse's muscles are able to move underneath it, rather than being blocked. The cut of the girth avoids the sensitive area behind the elbow. Combined, this creates a "buffer zone" preventing a "hard" edge. The result is reduced pressure, dramatically increase freedom of movement in the forelimbs and hind limbs and eliminated gait asymmetry.
Materials - The marvellous material used to make Prolite girths is four times more resistant to abrasion than leather, antibacterial and hypoallergenic. Offering superior breathability, it's renowned for wicking away sweat. This helps to keep your horse dry and comfortable.
Loved By Our Customers
Don't take our word for it… take a look!
Needed a girth for my wide cob that was cut away at the elbow and didn't have elastic. So far this has been fantastic, fits perfectly and is cut away enough to clear his elbow completely. Plus it's a fraction of the price of its Fairfax counterpart. Would definitely recommend for big moving cobs or wider built horse where elastic in the girth reduces stability.
Excellent! I have used this girth for backing a 4 year old. He's a little girthy and round so I wanted to allow plenty of elbow room. This girth has given me exactly that.
Bought this on my saddler's recommendation as my mare is deep in the girth area with a very forward girth groove. I was sceptical but the girth is brill, comfy for my mare and no more saddle roll. Won't use anything else now.
Good quality, really good price and my horse goes well in it can't fault it!
Choosing The Right Prolite Girth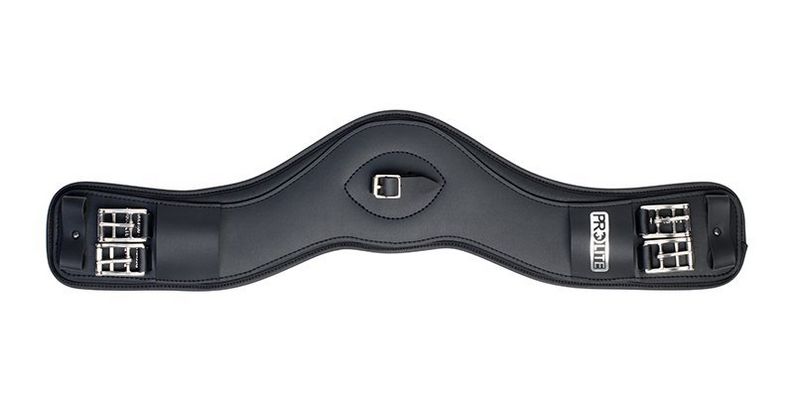 Short (Dressage) Girth
RRP £88.99
Colours: Black, Brown
Sizes: 22″ – 32″ (55cm – 80cm)
Use With: Dressage, Monoflap Jump Saddles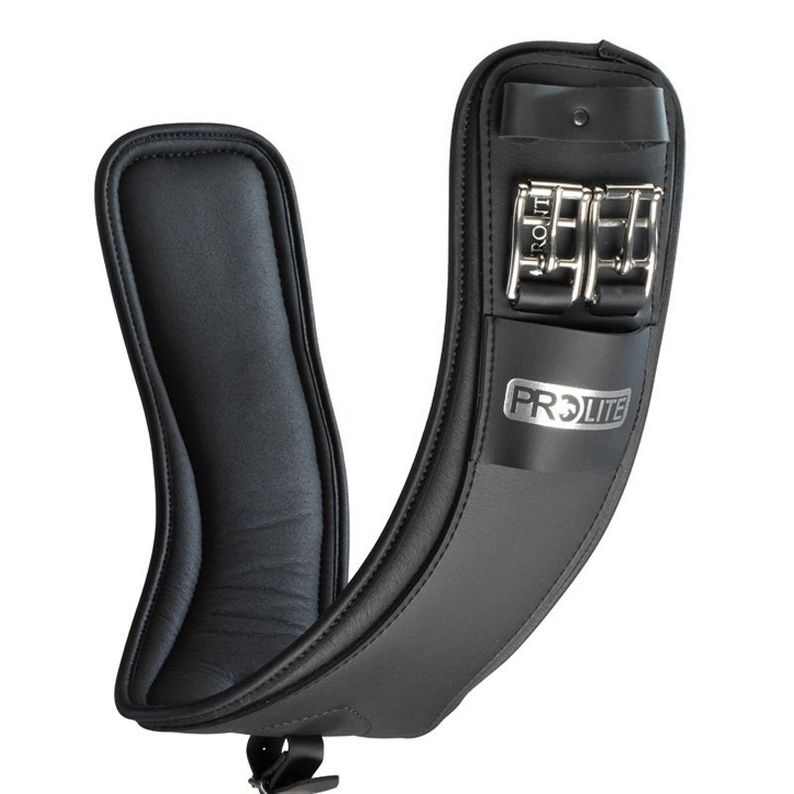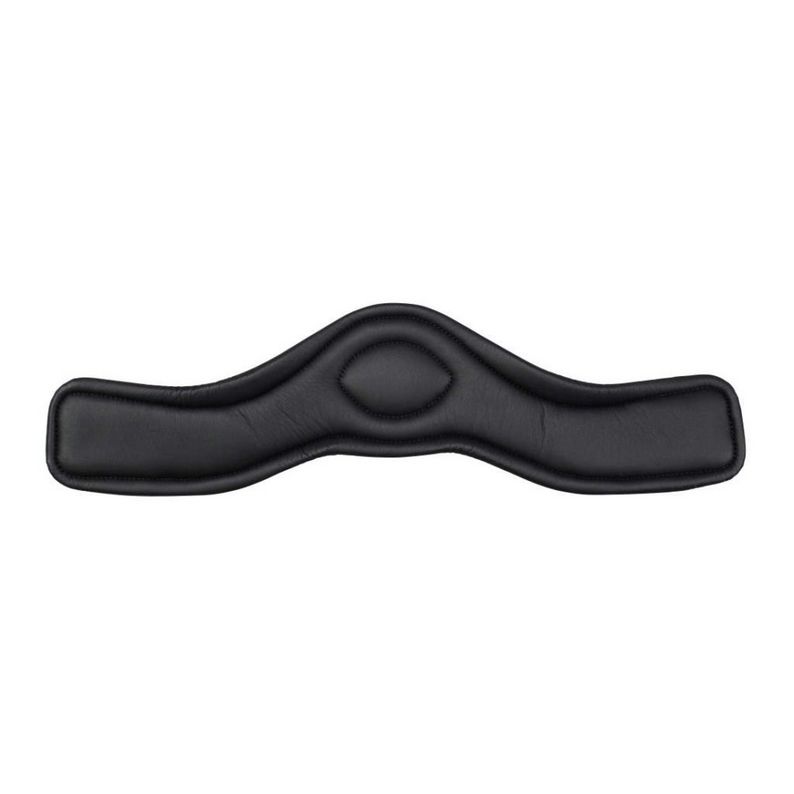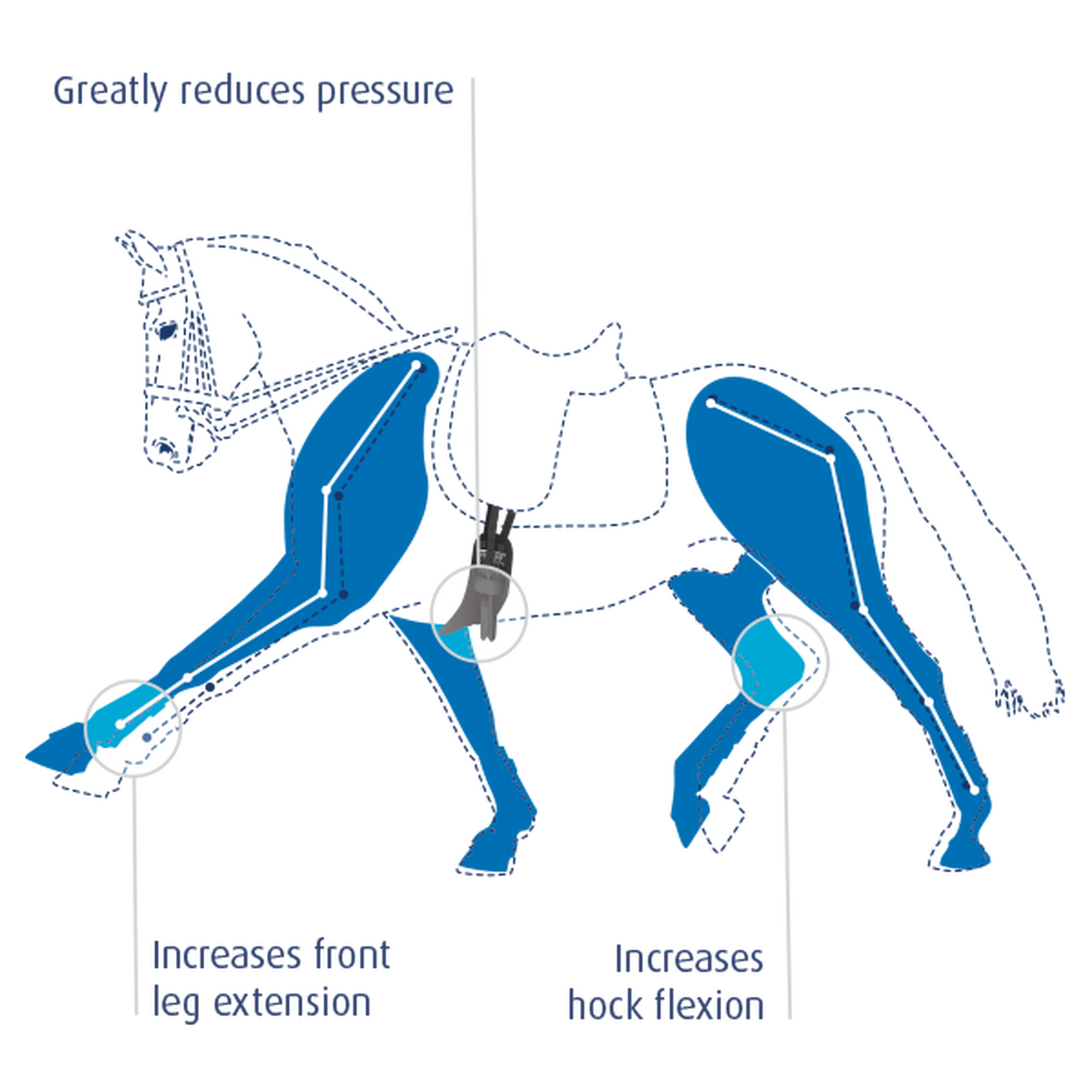 Prolite Girth Benefits - Short

Long (General Purpose) Girth
RRP £88.99
Colour: Black, Brown
Sizes: 44″ – 56″ (110cm – 140cm)
Use With: GP & Two-flap Jump Saddles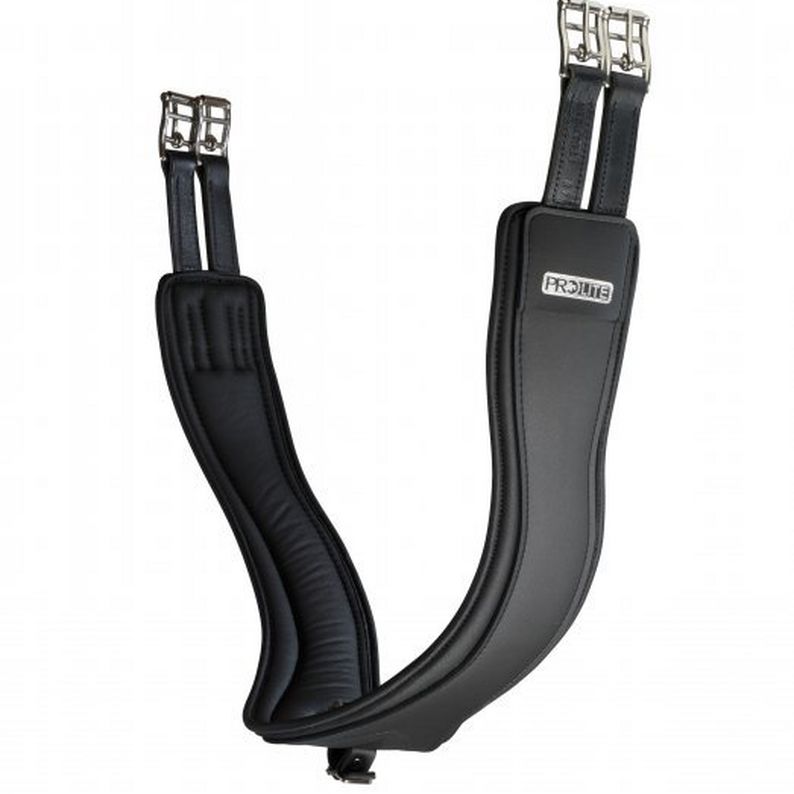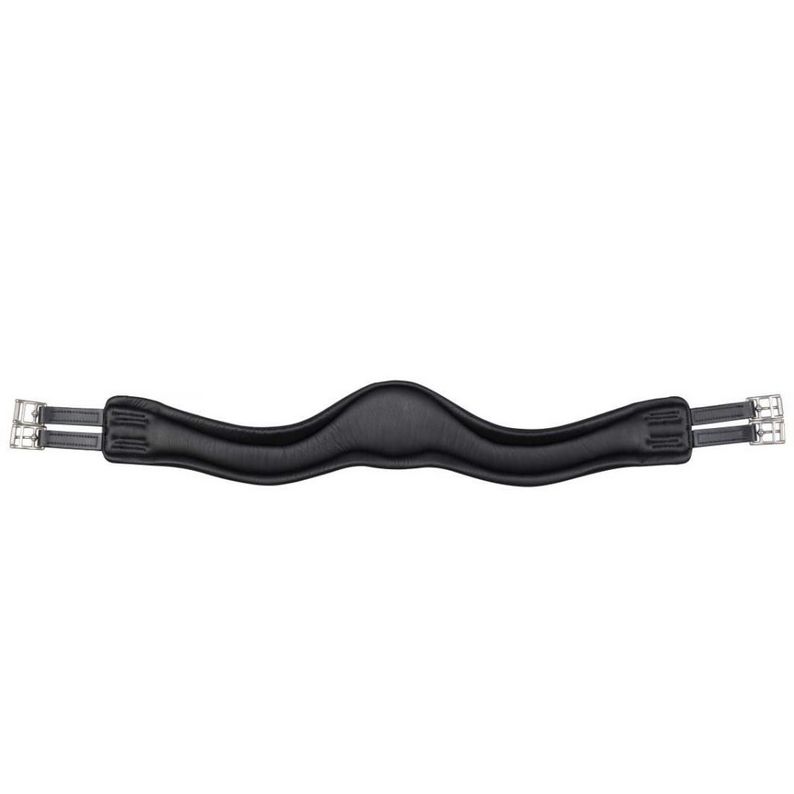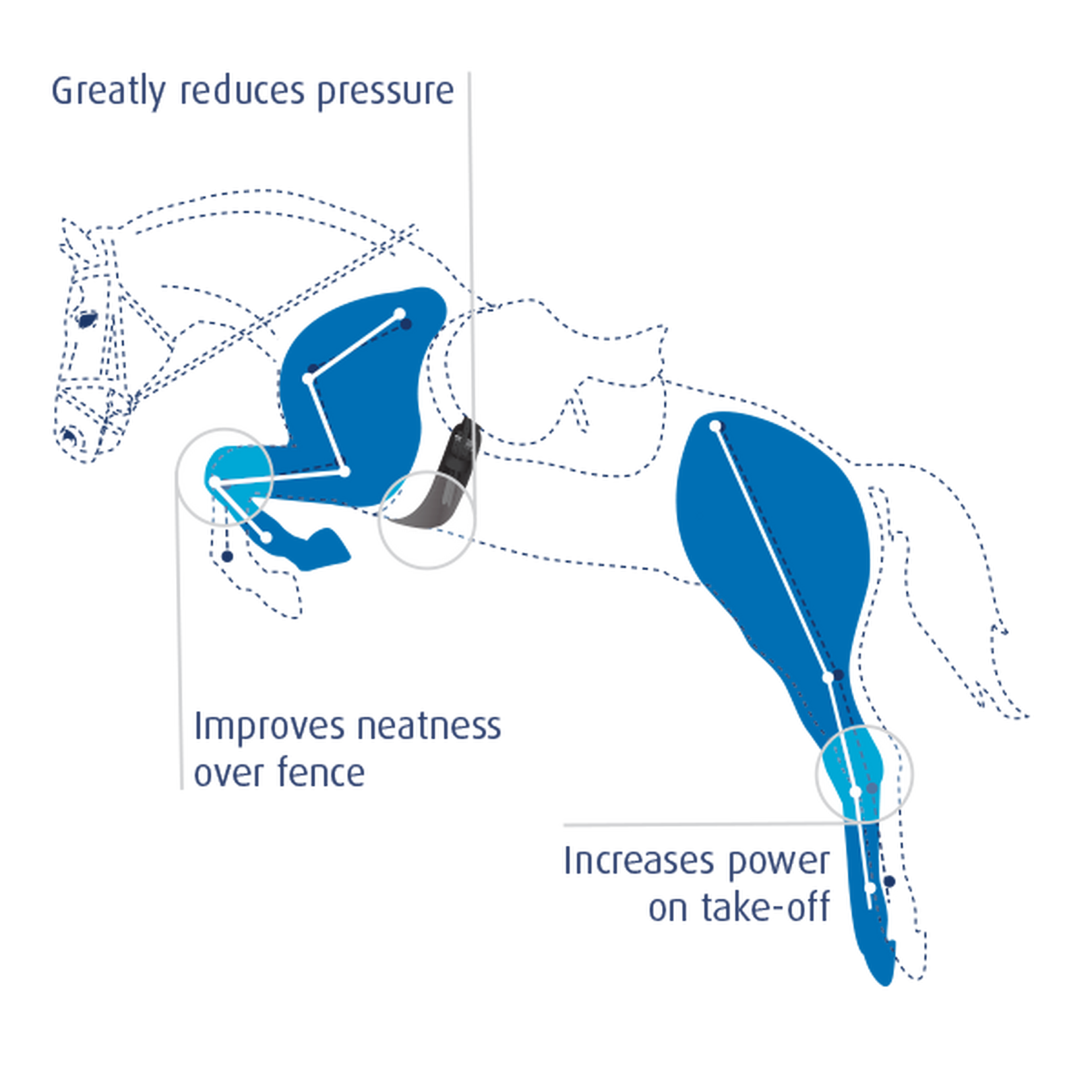 Fitting & Using A Prolite Girth
We've all fallen in to this trap, but just because it fastens doesn't mean it fits! In order to ensure you and your horse see the maximum benefit from using a Prolite girth they must be checked properly. Check out our top tips:
Prolite® Girths are measured in the same way as traditional alternatives – buckle end to buckle end. However, the size of your old girth should be used as a really rough guide only, here's why:
Unlike other brands they are available not only in different lengths but in two different widths – Narrow and Standard. Due to their anatomical shape, it's really important that you choose the correct option. Narrow girths are designed specifically to fit horses with a slimmer rib cage or forward girth groove. If the flat area between the horse's elbows measures less than 20cm, your horse needs the narrow gauge. If you haven't got a tape measure to hand you can check this using a sweat scraper, if it won't fit between your horses front legs, select a narrow gauge fit.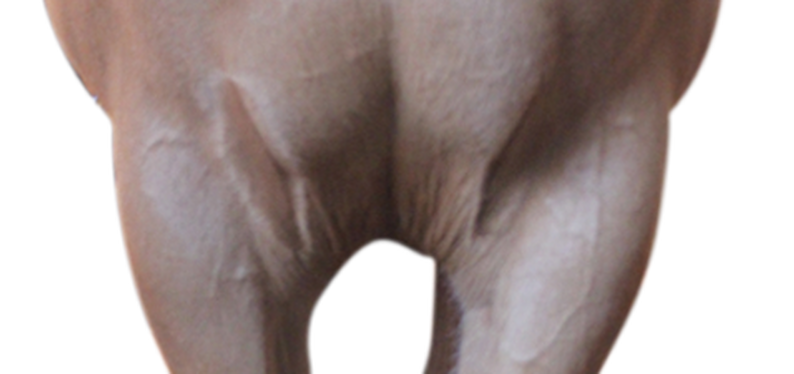 Less than 20cm – Narrow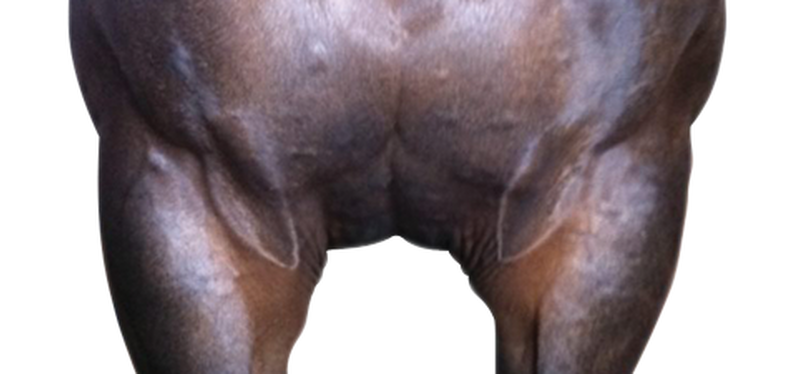 More than 20cm – Standard
Horses with a forward girth groove can also benefit from the increased elbow clearance provided by a narrow gauge girth.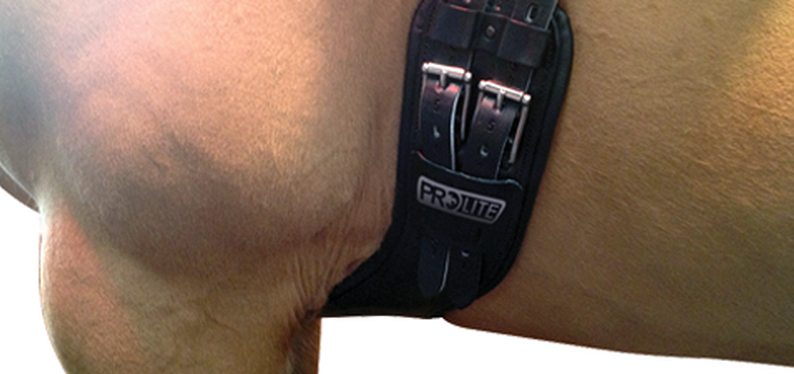 Standard Elbow Clearance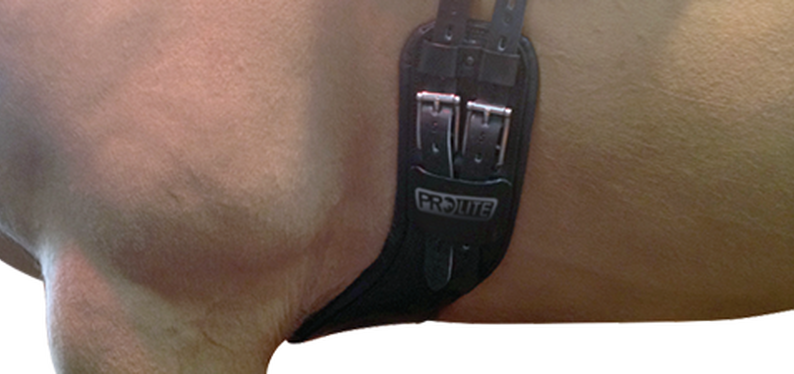 Narrow Elbow Clearance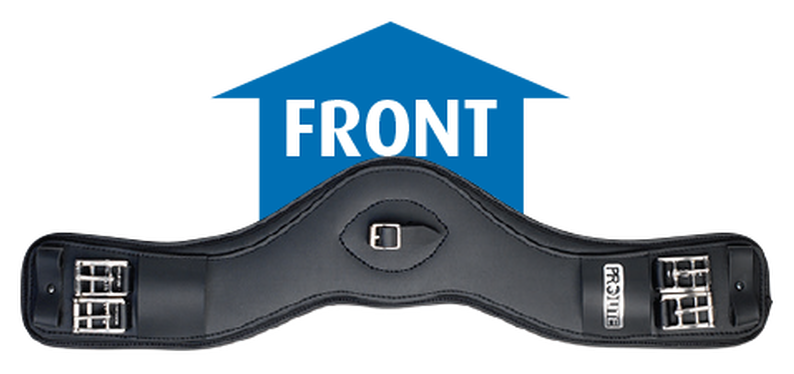 This one sounds obvious, but due to it's ergonomic shape it's vital that you use Prolite girths facing the right way! Make sure you fit your girth with the curved section facing towards the forelimbs.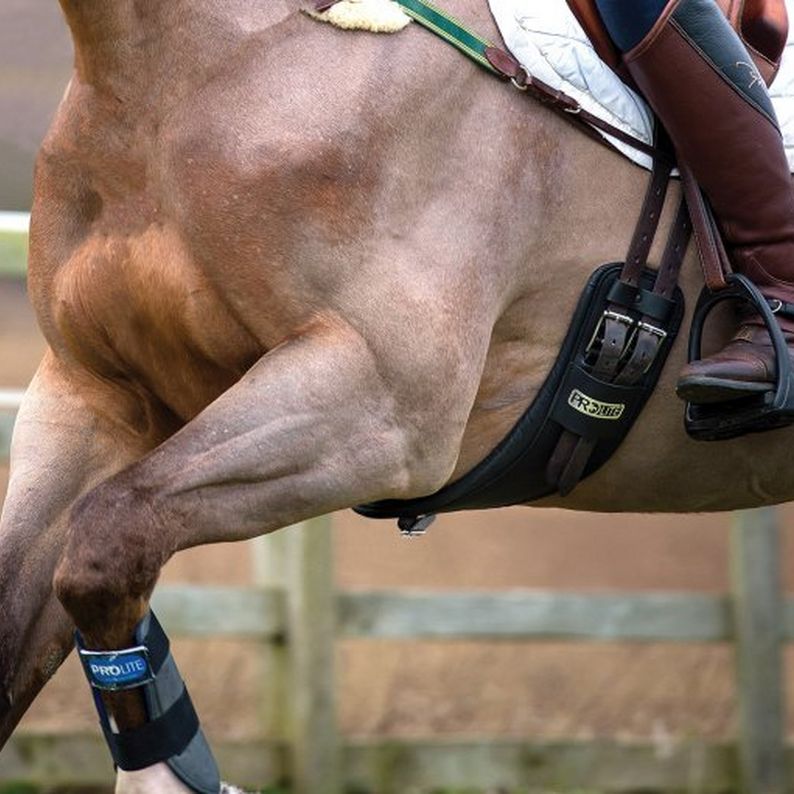 Unfortunately, the majority of people using dressage (short) girths don't know how to fit them correctly! You should always select the longest length possible. This helps to keep the buckles away from the pressure-sensitive area behind the elbow. When fully tightened, the top of your girth should be as close to the bottom of your saddlecloth as possible. On a dressage saddle, the ideal is to have two billet holes remaining on both sides.
Tightening the girth on just one side… Be honest, we've all done it! It is however really important that they're done up evenly on both sides. This helps to distribute pressure evenly and prevents your saddle slipping.
For the longevity of your girth do not use the billet keeper alone when tightening. It is designed solely to guide the billet strap into the roller buckle, it will not to withstand the pressure of tightening and doing this will break the central stud. Instead, thread the billet strap through the buckle before applying any upward pressure.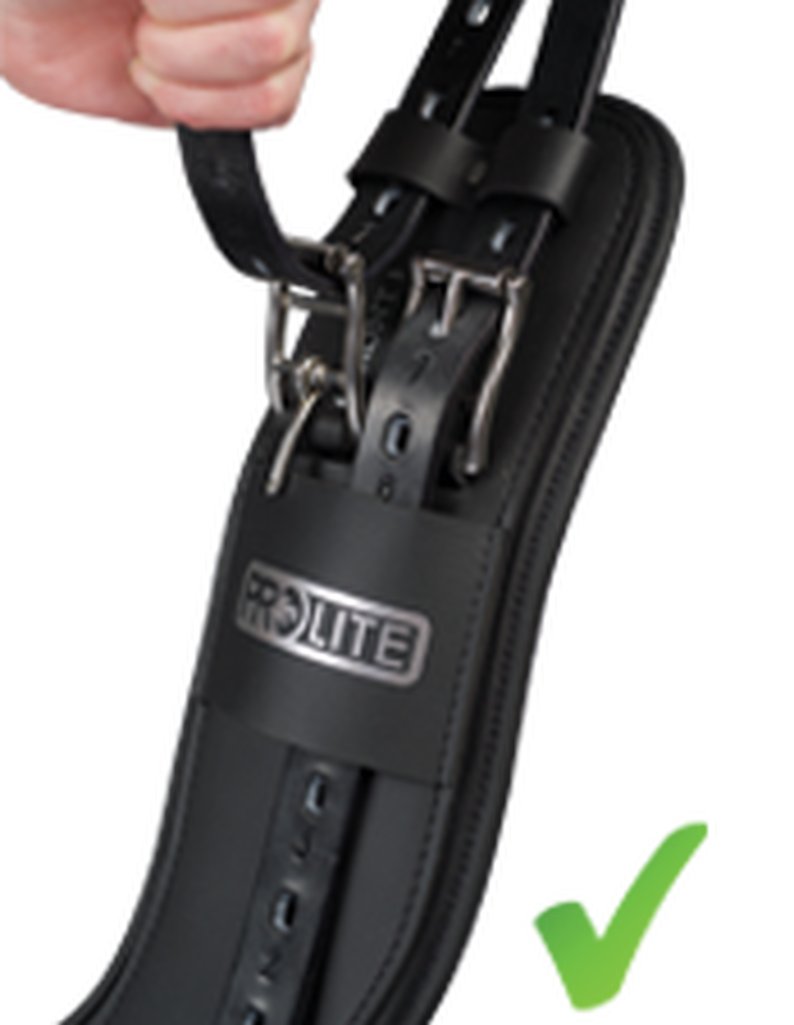 Do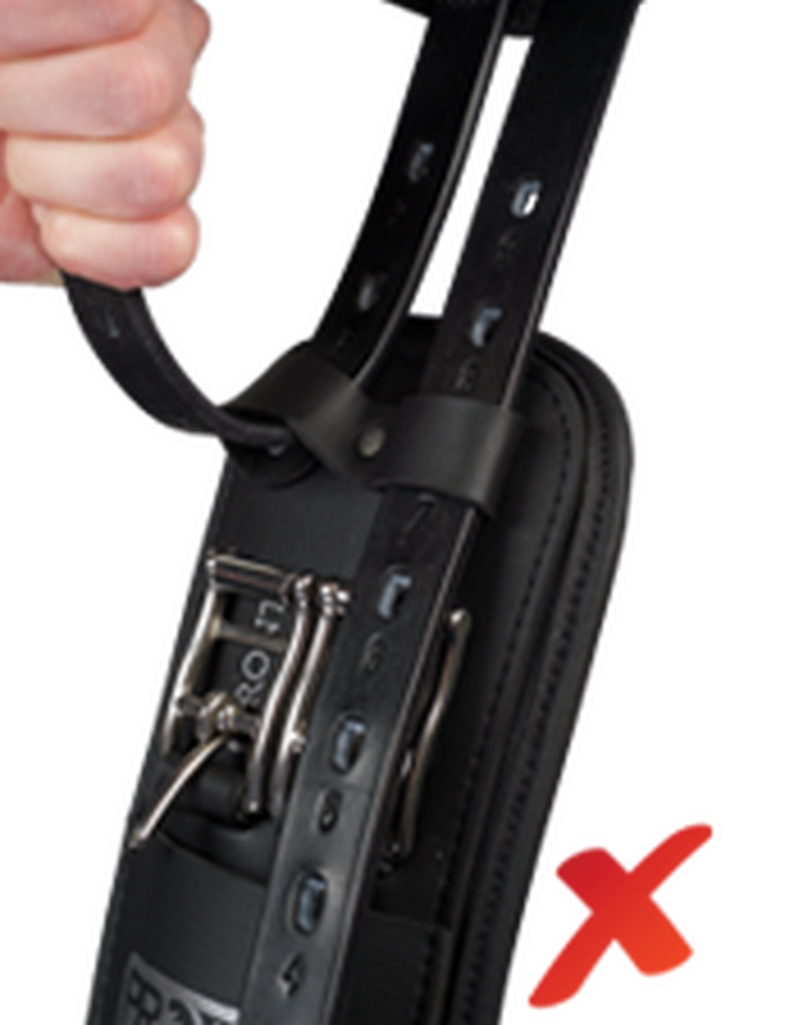 Do Not
Time for some myth busting! We've all been told to extend our horses legs forward once we've girthed up, to help prevent pinching and sores. Ironically, stretching the horse's front leg like this simply pulls more skin forward into the sensitive area behind the elbow.
While you might have previously expected the girth to fit flush, it's perfectly normal for there to be a gap between the front edge of the girth and the horse's sternum, particularly when the horse is standing still. Part of the design, this allows the muscles of the shoulder girdle to move, instead of being blocked.
Caring For Your Girth
Like all things, they require proper care for the best results. If your girth isn't cleaned properly it will allow sweat to build up in the fabric, which will cause the material to become stiff and eventually it could crack. To avoid damage follow this simple cleaning process;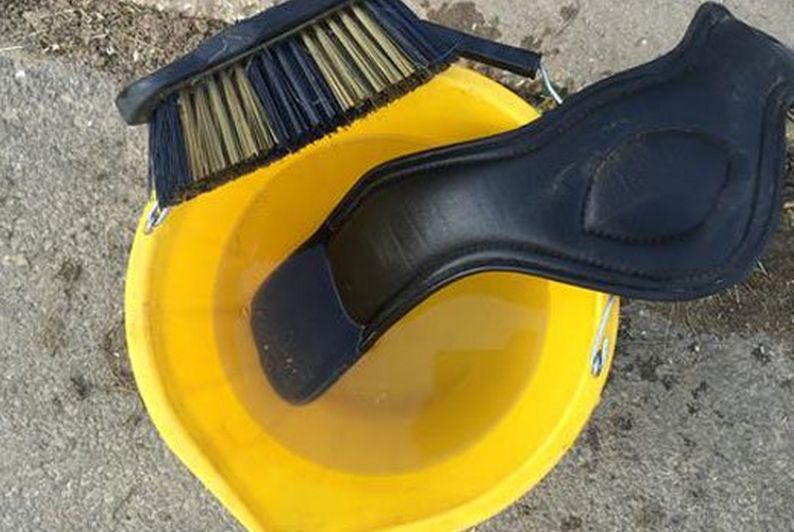 All you'll need is a bucket of warm water, a cloth (or a soft brush) and an old towel. If the girth is very greasy or dirty a mild detergent can also be added to the water.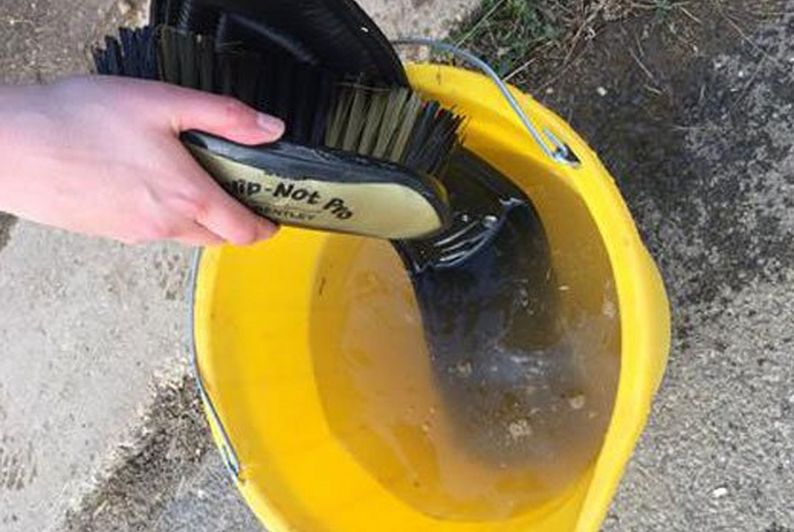 Submerge your Prolite girth in the water and use the cloth/brush to gently remove dirt.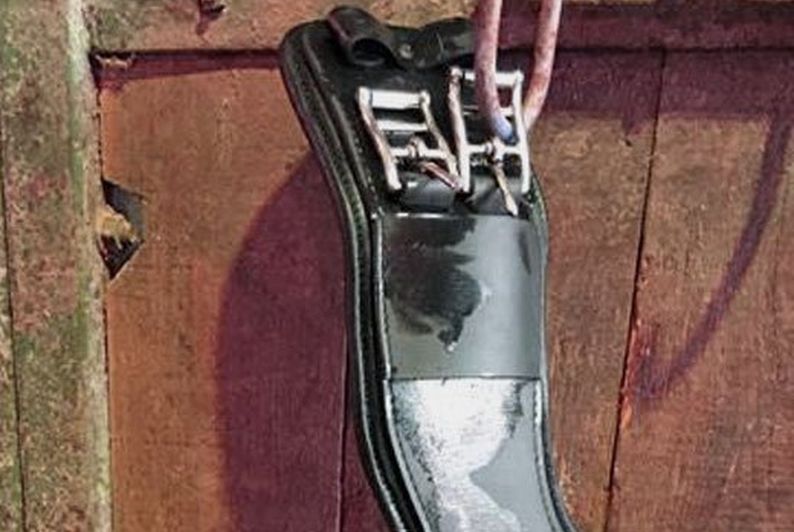 Remove as much water as possible using your towel. Allow the girth to dry naturally. You're all done! and best of all there's no need to use any further products.
Prolite, pro-performance! You can shop all Prolite at www.naylors.com or why not visit one of our stores.