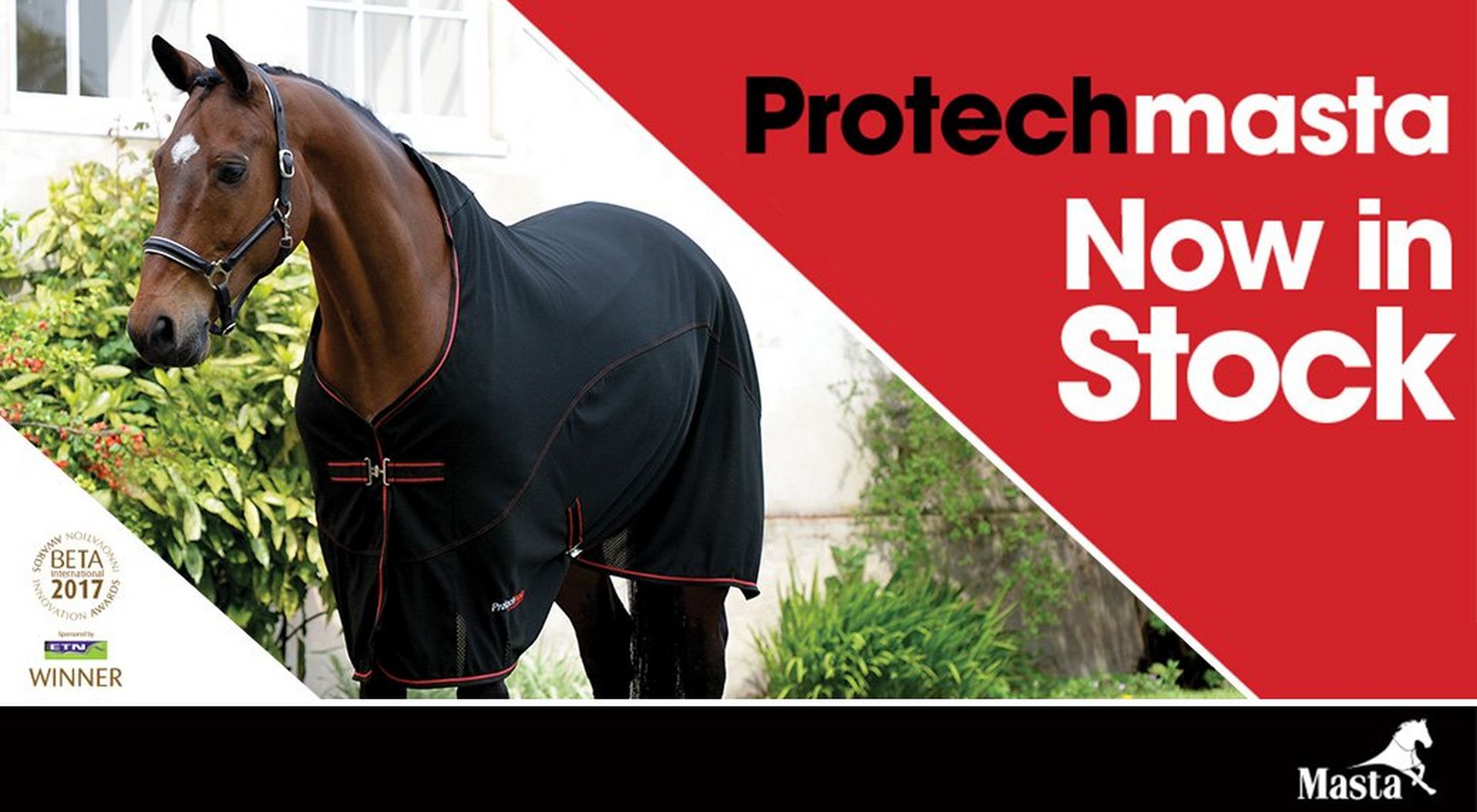 New and exciting for 2017 is the launch of the Protechmasta collection. The Protechmasta is an award winning collection by Masta which uses Far Infrared Radiation (FIR) also known as biogenetic radiation or biogenetic rays to improve the horse's wellbeing. Far Infrared is the part of Infrared which has the pure heating effect on cells due to marked sensitivity of our thermoreceptors. Far Infrared Radiation penetrates up to 4 centimetres beneath the surface of the skin.
FIR is absorbed by a horse/pony's body but it is also emitted by the body in the form of black body radiation. The Protechmasta products are made from thousands of threads which are blended with special ceramic powders that generate FIR and also reflect the FIR that the horse emits naturally into the body. The blending technology ensures the coating will not wash out and therefore makes the products hygienic to use.
At the cellular level, the FIR waves are then absorbed by water molecules making them vibrate more and starting the 'domino effect' of benefits of this type of radiation. The benefits of use both pre and post exercise are detailed later in this blog post but include benefits such as improving circulation, raising the horse's core temperature, encouraging healing as well as promoting swelling reduction and relieving muscle fatigue.
FIR has beneficial therapeutic effects as a result of local hyperemia (excessive blood flow) which by vasodilation (the dilatation of blood vessels which decreases blood pressure) regulates and encourages the supply of blood to different body tissues. This in turn creates a positive heating impact which reduces muscle tension and pain perception due to the increase in endorphin secretion. This type of radiation also creates immunological reactions which reduce bacterial invasion and accelerate metabolism helping to maintain equilibrium and regulation of activity of the autonomic nervous system in the aspect of controlling muscle tension and relaxation in the horse. At the cellular level the mechanism of infrared radiation is based mainly on the interactions with water molecules.
Below is a diagram which explains how the technology in the rug works.

Horse Therapy Products by Masta
Protechmasta Infrared Rug
Available in sizes: 4'6 - 7'6 | RRP: £134.99
This super wicking, washable rug is made from 3D air mesh fabric that's soft and absorbent. It offers ultimate therapy and its properties are designed to enhance and stimulate the horse to improve its overall health. Key features of the rug include its breathability; the air pockets in the air mesh help circulate air around the horse. Additionally, the rug also has cross belly surcingles as well as front surcingle fastenings to provide a great fit for your horse.
Below is a list of the key benefits of the Protechmasta rug when it is used both before and after exercise.

Gently increases blood flow to provide extra oxygen and nutrients to muscles
Enhanced circulation
Increases core and muscle temperature
Increased metabolism
Energises and relaxes horse
Detoxifies - removal of toxins like lactic acid and sulphur dioxide
Improves disease resistance
Relieves fatigue
Promotes healing - works to repair wear and tear to muscles and ligaments
Reduces swelling and muscle spasms
Relieves stress
Find out more about the Protechmasta Infrared rug in this short video.
Sold as a pair and available in sizes: Pony, Cob, Full and Extra Full | RRP: £64.99
Protecting your horses legs and providing therapy for your four legged friend is crucial for maximising their wellbeing. The Protechmasta therapy boots are a quick and easy to fit therapy system for the horses legs which help to relieve inflammation. Like the therapy rug, the leg wraps are washable, breathable, have high wicking properties and are recommended by vets. Key features of the Protechmasta leg wraps include its breathability; the air pockets in the air mesh help circulate air around the horse's legs and help to wick away moisture quickly and effectively.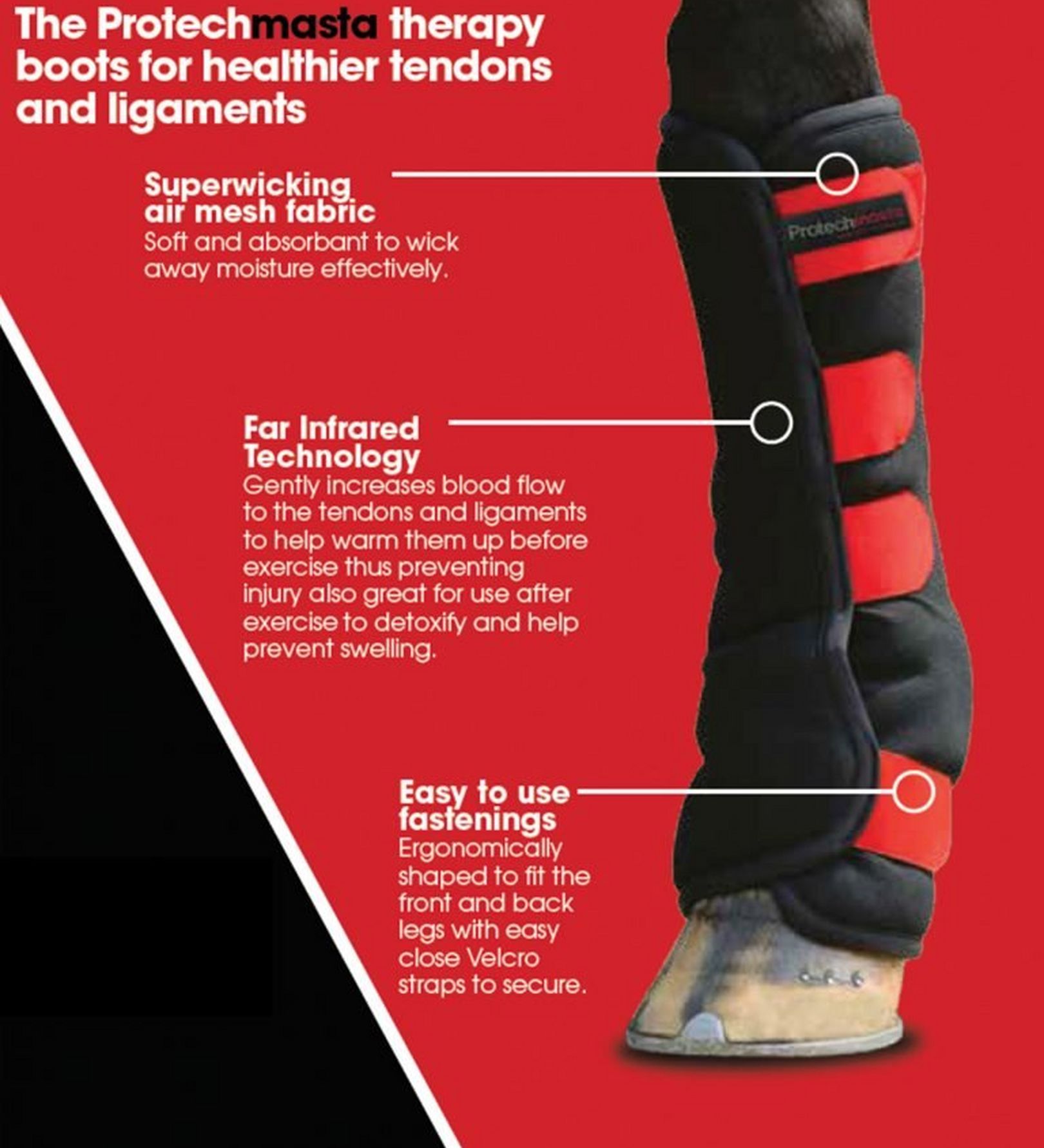 Now that you have had an overview of the science behind the Protechmasta products we thought it would be useful for you to hear what those who have tried and tested them thought.
Protechmasta Testimonials
FEI Veterinary Delegate and consultant for NFU Equine Insurance - Ieuan Pritchard
"All horses showed a marked improvement - they were much more relaxed and became less tense and stressed after wearing the Protechmasta Rug. The rug definitely helps muscle spasms, which will in turn reduce pain - it will help a horse be less tense and relax their muscles so they become ready to work properly without being stressed and knotted. In addition it helps after work - reducing inflammation of muscles which would have long term benefits. I really like this rug, it's light, easily portable and I hope it's affordable for the majority. It compliments the horses wellbeing and other treatment it's receiving such as physio. I really like the fact that it is easily transferred from one horse to another, when they are in the stable and the owner can get on with other jobs, so helping the time poor owner".
Olympic Eventer and Course Designer - Ian Stark OBE
"The improvement was incredible. There was an immediate improvement on a young horse that was always a bit back up when starting"
International Grand Prix Dressage Rider - Alice Oppenheimer
"Bracken uses the rug every day, when she comes in from the field after exercise. She has suffered in the past from muscle stiffness, this has significantly improved since using Protechmasta".
Based on the scientific research carried out in the Protechmasta Case Study by Sandie Chambers (Equitherm, 2017) and the responses from those who have tried and tested the Protechmasta range we believe it is highly likely you will see improvements in your horse from day one.
If you have further questions about these products please do not hesitate to contact us via this blog post or via Customer Services at customer.services@naylors.com or on 01706 507 555.