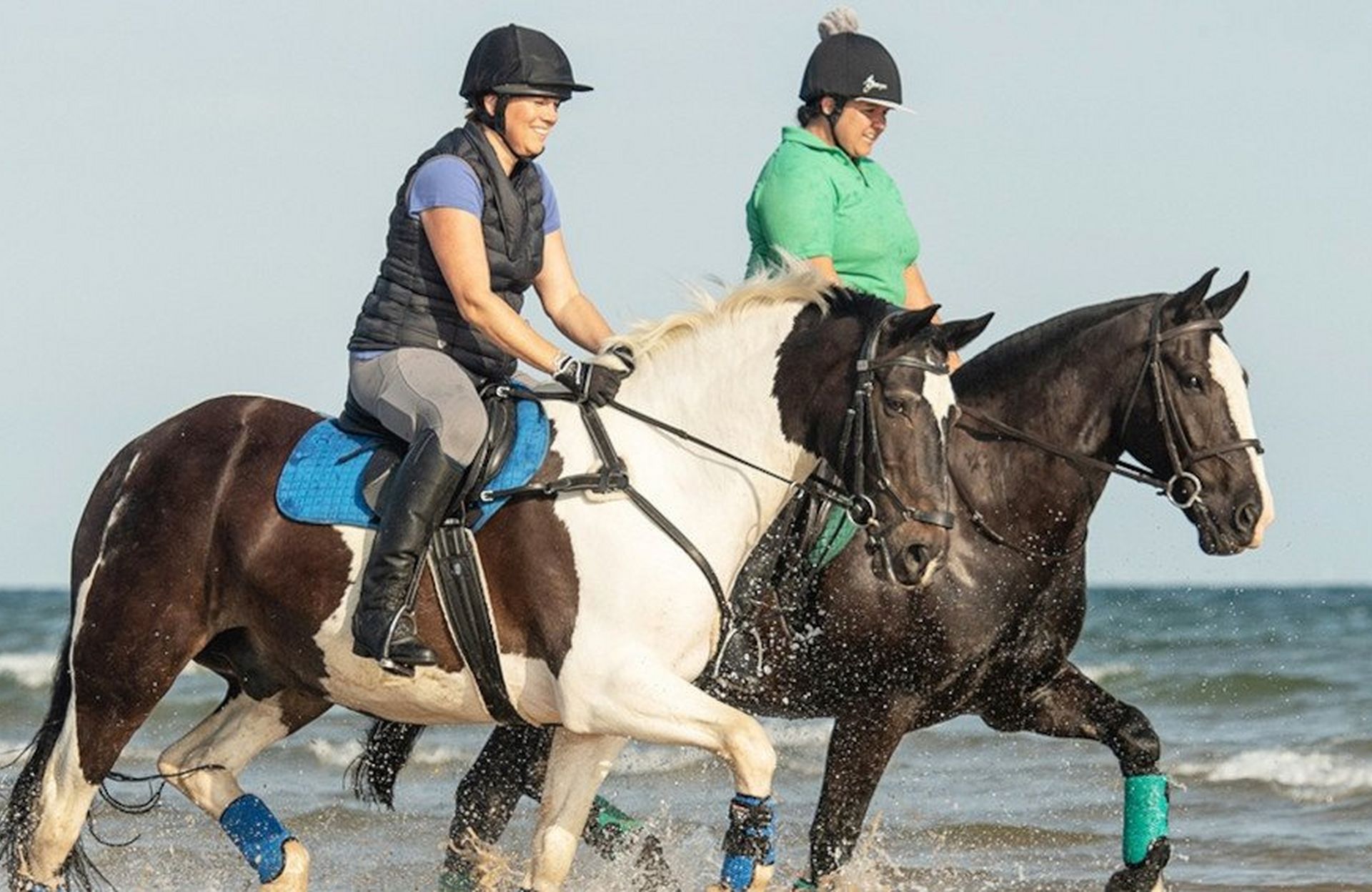 Have you been thinking about returning to riding after some time away? There's no denying that once you've caught the equestrian 'bug', you've got it for life! More than just a sport, equestrianism works its way into our hearts and minds, offering a level of fulfilment unlike anything else (not that we're biased).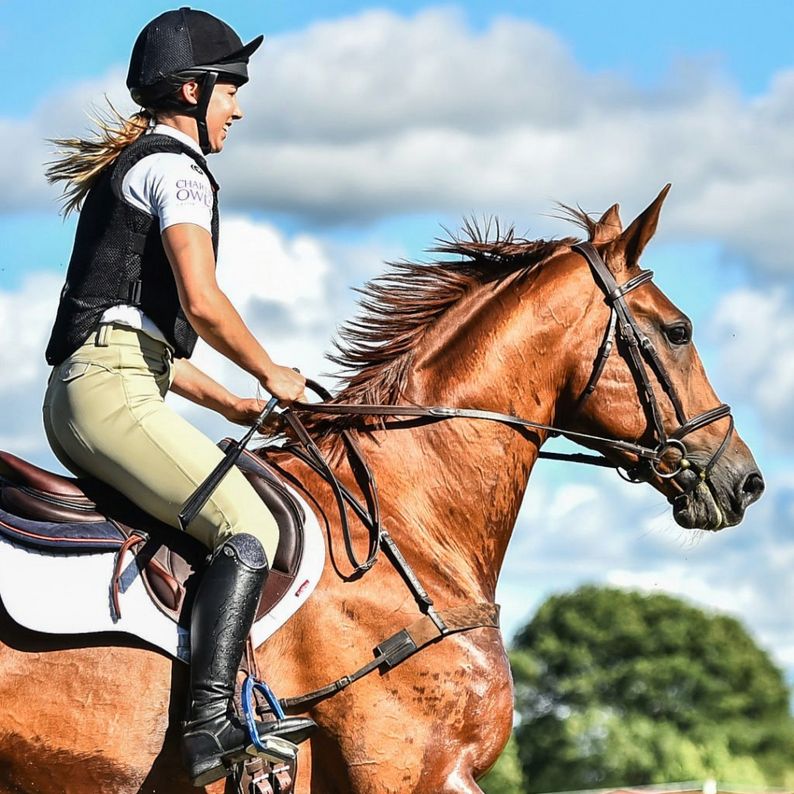 Life happens! From pregnancy and work commitments to health and finances, there's a whole host of reasons that sometimes we have to put our hobbies to one side for a little while. Thankfully, whether you've been out of the saddle for days, weeks or even years, it's never too late to pick up the reins and give it a go! Here we're going to be looking at everything you need to know before returning to riding!
Returning To Riding - The Benefits
Still undecided? Returning to riding can seem a little daunting and maybe even scary but it can be hugely beneficial to our health and well-being. Take a look at just a few of the many known advantages!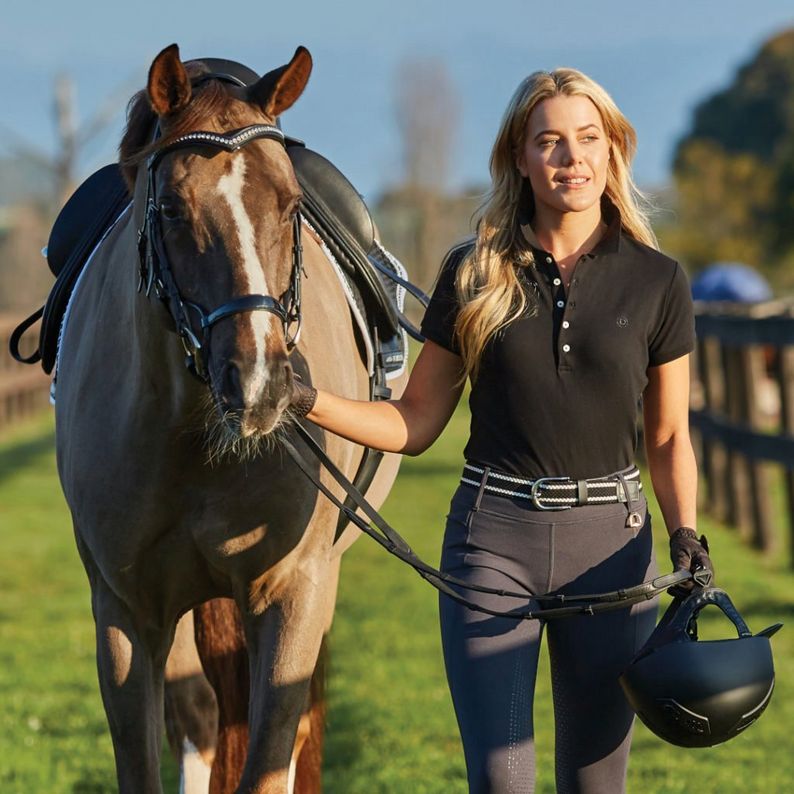 Burns calories.
Improves cardiovascular health.
Builds muscles.
Develops balance and coordination.
Improves posture.
Reduces stress, anxiety and depression.
Encourages problem solving and mental agility.
Develops new friendships.
Returning To Riding - Riding Schools
Ready to #GetHorsey? The first step in returning to riding is finding an approved British Horse Society (BHS), Association of British Riding Schools (ABRS), Pony Club or Riding for the Disabled Association (RDA) centre. By choosing a registered facility, you can feel confident that they're able to provide a safe and supportive environment to help you take your first steps back in the saddle.
When you call to book a lesson it's really important you're open and honest. This way the instructor will be able to find your perfect partner, based on your age, height, weight, confidence level and ability.
Each riding school will be different, however most offer a range of lesson types formatted to suit your individual goals.
| Type | About |
| --- | --- |
| Own A Pony | More than just riding, these 'taster' sessions are targeted at children. They usually take place across a full or half day and involve a combination of grooming, general care and riding. If your little one is pestering for a pony, these lessons are a fantastic way to ensure they fully understand the level of responsibility horse ownership involves. |
| Private Lessons | Private lessons are 1:1 sessions used to identify and target specific areas for improvement. These can be adapted to suit exactly what you'd like to address. They're generally shorter and can be a little more costly than group lessons. A big advantage of private lessons is that they can often be more flexible, you can organise them so they work around your existing commitments! |
| Group Lessons | If you'd like to be involved in a group lesson, your ability will first be assessed so you can be placed in the right session. Ironically, they're a great way to work more independently, with the benefit of advice and guidance. Joining a regular group lesson can be a big commitment, they usually take place at a set time and at fixed intervals. Meeting new people who share your interest is a huge advantage to these lessons, they're a fantastic way to develop friendships! |
Returning To Riding - What To Wear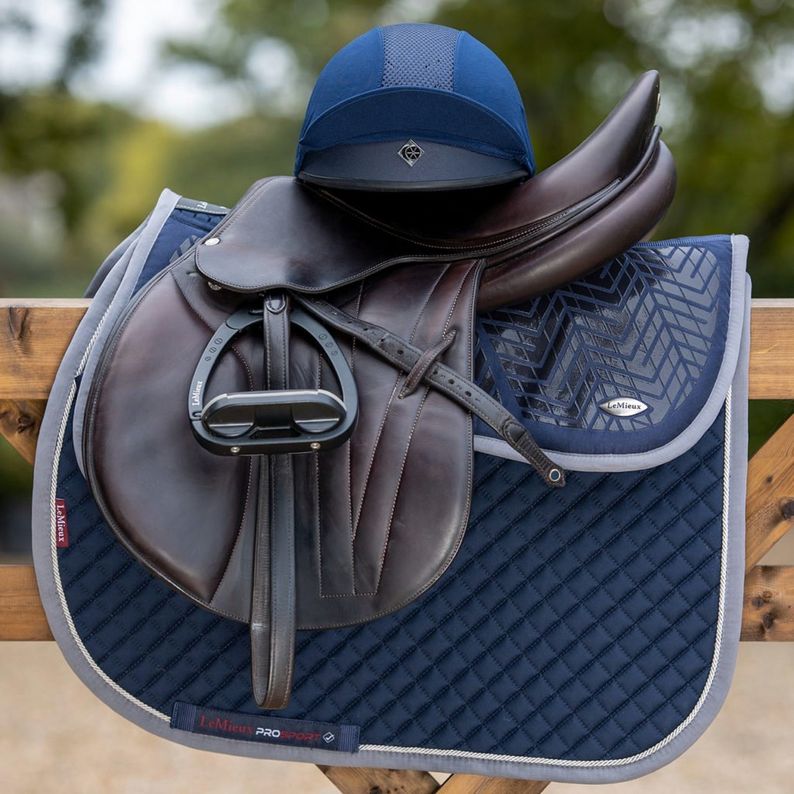 Riding Hat
Safety first! If you'll be returning to riding the most important piece of kit is a good quality riding hat, to prevent head injuries in the event of a fall. While it can be tempting to look for the cheapest option (or even to purchase one second hand), it's worth remembering there's only one you!
Approved riding centres will check that your riding hat meets at least one of the following standards: EN1384 1996 / BSEN 1384 1997, PAS 015:1994 / PAS015 1998, ASTM F1163 : 1998, Snell E2001, EN 14572 or AS/NZS 3838: 1998 or 2003. Multiple standard hats may be a little more costly, this is because they've been more comprehensively tested to ensure protection in the event of a wider range of scenarios. You can also keep an eye out for quality assurance symbols including a BSI Kitemark, SEI mark and SAI mark. Even if you think you know what size you need, each brand and style is slightly different. We'd recommend you book online and visit us in-store for a free fitting wherever possible.
Already got a hat? Be sure to check it's up to the job! Your hat will need replacing if it no longer fits, has been dropped or damaged, is more than 4 years old or doesn't meet current requirements.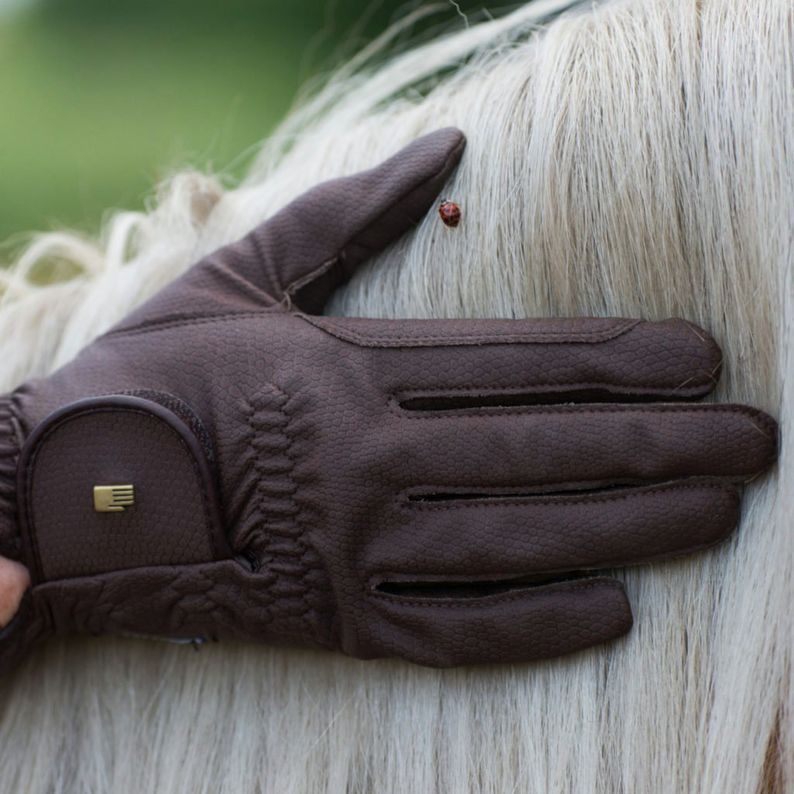 Gloves
While they're not seen as essential, returning to riding can be tough on your hands, so a pair of riding gloves can be a really smart addition to your lesson attire! Practical and protective, they're designed to improve your grip on the reins, prevent blistering or rubbing and keep your hands defended against the elements. There's a vast range available but comfort and fit are key. When searching for the perfect pair consider the material, breathability, grip, durability, feel, touch screen compatibility, closure type, weather resistance and price. Remember, they should help, not hinder! So, be sure to measure your hands for the optimum fit.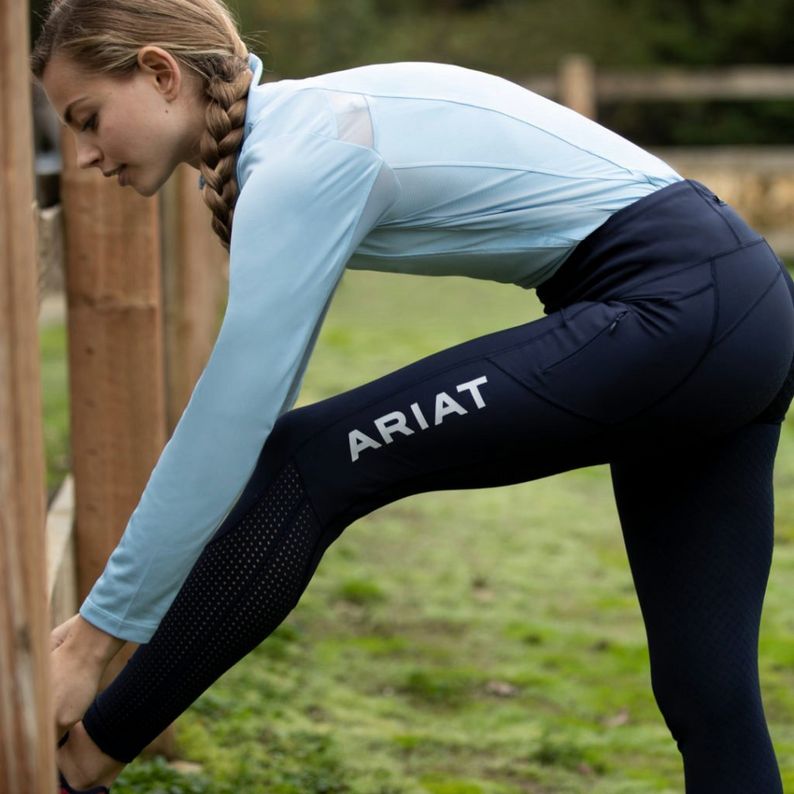 Legwear
If you know, you know – Riding in jeans is a big mistake! Uncomfortable, tight and restrictive, not only do they negatively impact your performance but they can cause painful pinching, chaffing and muscle soreness. So, if you ask us, before returning to riding it's a great idea to invest in a pair of jodhpurs, breeches or riding tights. They're worth every penny!
Jodhpurs: Jodhpurs are full length, snug fitting trousers. They're designed to be worn with jodhpur or paddock boots while riding, featuring excess material for rolling up. They don't sit flat over your ankles so to prevent them riding up your leg you can add jodhpur clips.
Breeches: Similar in length to ankle grazers, breeches aren't full length. Snug fitting, they sit flat to your calf without additional bulk, perfect for use with long riding boots.
Riding Tights: Sporty and stylish riding tights are similar to gym pants or leggings. Ideal for the summer months, they're lightweight, flexible and comfortable.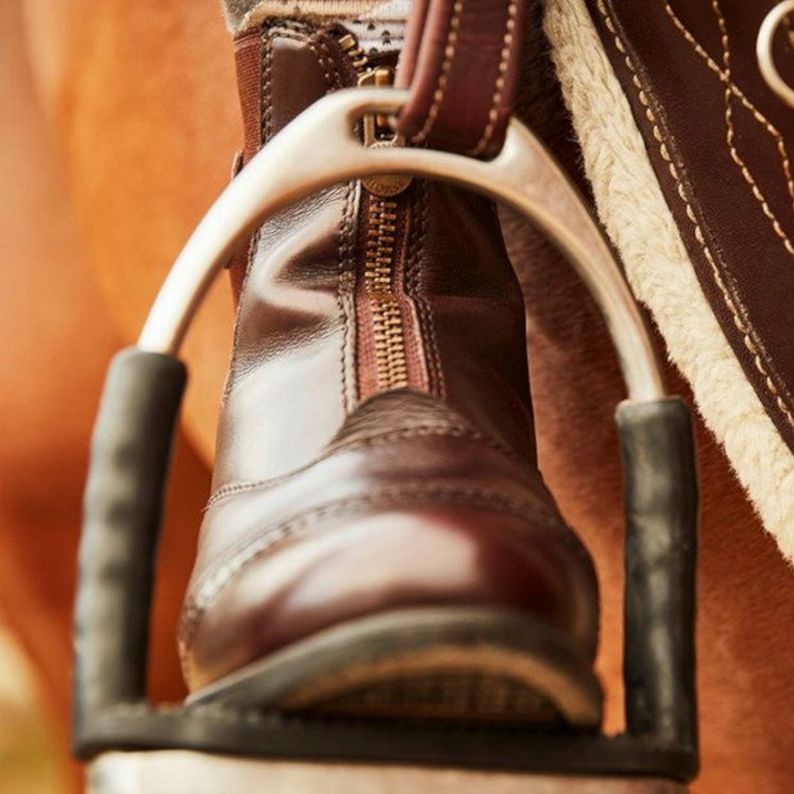 Riding Boots
You're not ready for returning to riding until you boot up! More than just fashionable, riding boots have specifically designed soles to help keep you safe in the saddle. Unlike trainers or wellies, they have a small heel, added to prevent your foot slipping through the stirrups and getting stuck in the event of a fall.
Short Boots: Short boots are popular amongst young riders, beginners and those returning to riding. When you're learning or reacquainting yourself with applying aids these offer greater freedom of leg and ankle movement. Favoured during the summer months, paddock and jodhpur styles help to keep your lower leg cool and comfortable. Generally cheaper, adult prices start from just £27.50!
Tall Boots: More traditional in appearance, tall boots elongate the calves and offer a snug, supportive fit. Usually worn by advanced and competitive riders with refined aids, they limit range of motion to prevent harsh leg movements. A fantastic choice for the winter months, they're great for keeping warm and dry in the saddle.
Patience and Perseverance
"I'm hurting in places I didn't even know I had!"
There's a pretty good chance these words may leave your mouth after your first lesson! Can we just start by saying, it really is worth it in the long run. Returning to riding can be physically challenging, taking its toll on our legs, back, core, shoulders and bum. It can be tempting to push ourselves, aiming to achieve what we know we were once capable of but it's important to listen to what our bodies are saying. Build up the frequency and intensity of sessions slowly to avoid sustaining an injury. If you're feeling a little tender, a warm bath, gentle walk, massage or careful stretching can provide relief for tight muscles.
You can shop all of the products featured in this blog online at Naylors.com 24/7. If we've inspired you to give it a go and get back in the saddle, we'd love to hear your story. Share your photos with us in the comments or post on social media using #NaylorsSnapAndShare and #IGotHorsey!