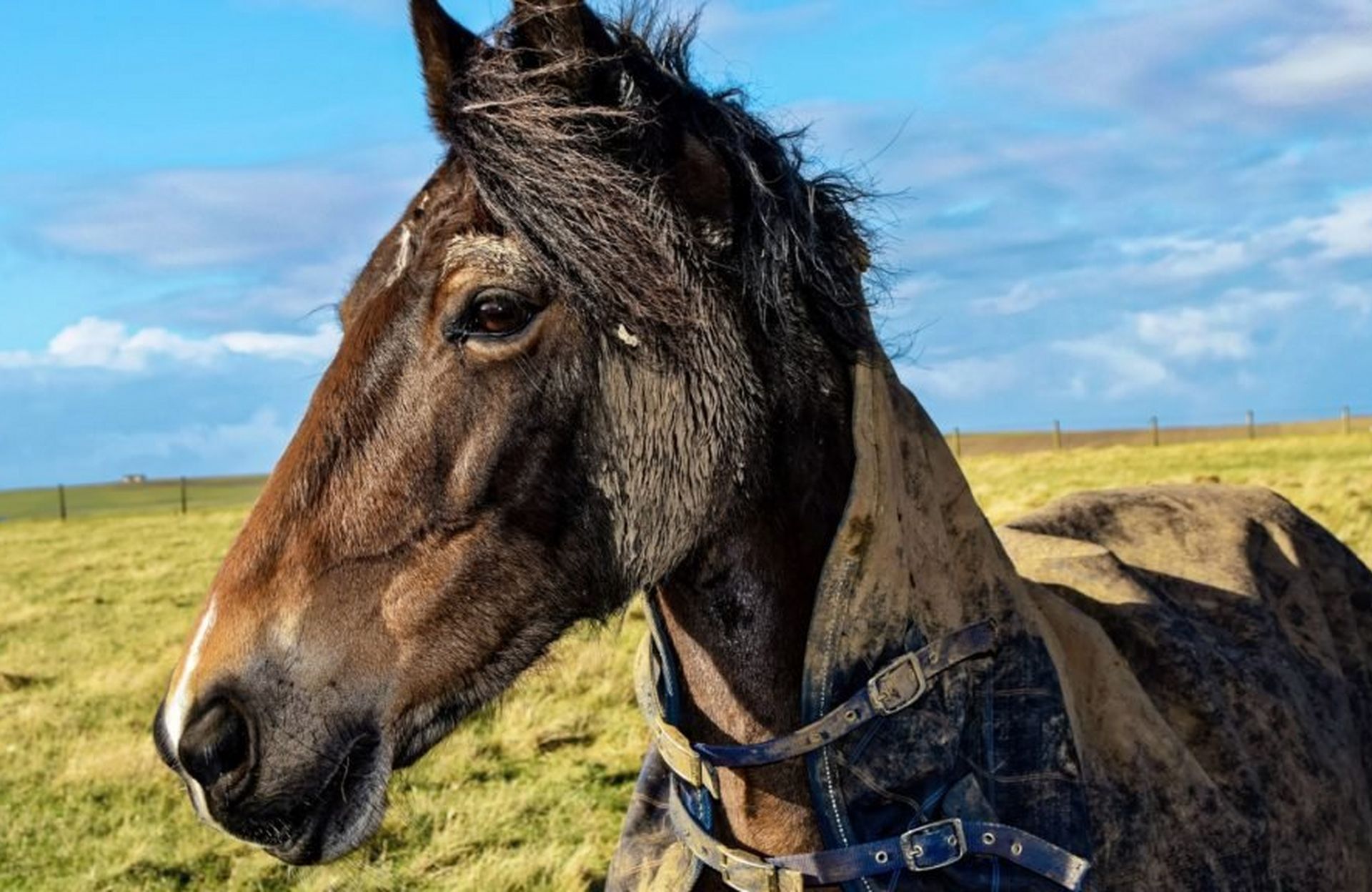 It's no secret that rugs are by no means cheap and disposable, despite how our horses often treat them! While we wish they'd stay looking and performing as good as new all by themselves, this just isn't the case. Poo stains, caked on mud, leaky seams and small tares are all types of general wear that are unavoidable. All too often though, if we do nothing about it, their condition continues to worsen until they're rendered at best embarrassing at worst, ineffective, unsuitable and even unusable! Thankfully though, it doesn't have to get to this point. Regular rug cleaning, re-proofing and correct storage can all dramatically extend their life and keep them looking as good as new for years to come!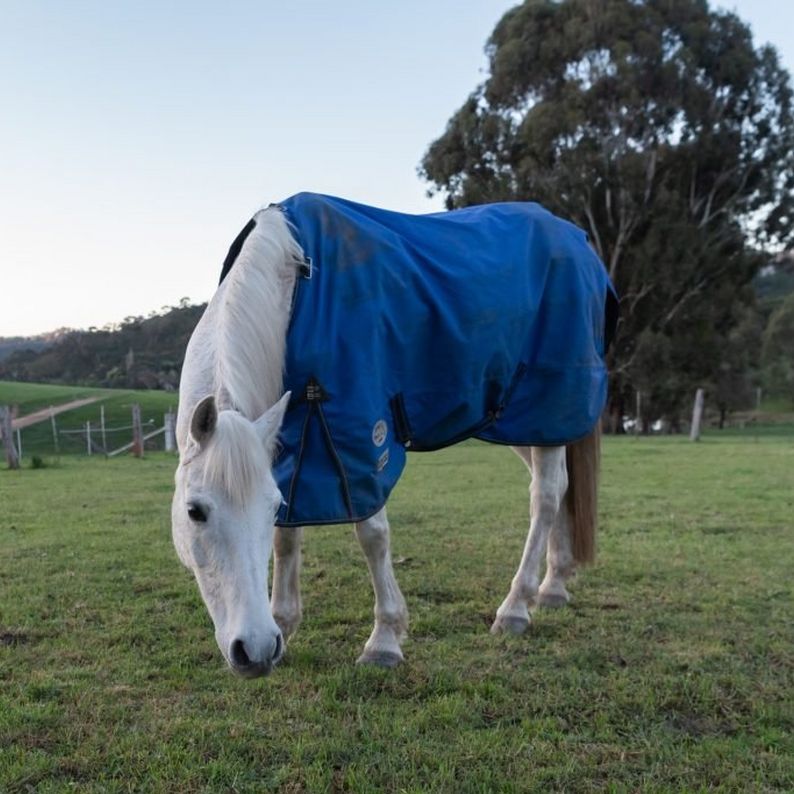 Here's our rough guide to rug cleaning at home. Please remember each brand will differ, so check the manufacturers guidance too! Heavy weight and large rugs may need hand washing or professionally cleaning.
Rug Cleaning - Preparation
No one wants a washing machine full of mud and hair! If your planning to undertake rug cleaning, ensure they're fully dry then gently remove the worst of the muck using a body brush, being careful not to damage the fabric. You should then remove any detachable straps and fasten all of the buckles as though it was on your horse. To ensure any remaining dirt doesn't clog the filters or pipes, fold the rug and place it in a wash bag or an old pillow case.
If hand washing, place your rug into a large container or bucket of warm water (not hot) and allow it to soak.
Rug Cleaning
Washing a turnout rug is just like washing your clothing, right? There's no arguing that you could tackle rug cleaning with any old detergent on the first setting you came across. They'd probably come out looking lovely and clean, but there's lots of reasons that you shouldn't ever do this!
Load Size
Always ensure you're not exceeding the capacity of your washing machine or over filling. For your rug to wash effectively it requires plenty of room to move around. So, only one rug should be washed at a time.
Spin Speed & Temperature
If you've ever washed a garment with large buckles at home, there's a good chance when your machine began to pick up spin speed you quickly darted over to see what all the noise was about! Fastenings hitting the drum are not only loud, they can be damaging too. Manufacturers generally recommend you select a low spin speed, between 600 - 800rpm but it's best to check the label. This will also help to avoid damage to the fabric and prevent your rugs losing their shape.
It's easy to think rug cleaning requires a high temperature, but this isn't true. Hot water may kill additional invisible nasties, but it can also strip the waterproof coating, damage the fabric, fade the colour and cause shrinking! Selecting your machines lowest temperature is generally safe, however always look at the label.
Drying
There's nothing worse than waiting for soggy rugs to dry out. While we appreciate it can seem easier to tumble dry them for speed, this is a really bad idea! Instead, hang them on a washing line on a warm dry day or on rug racks so they can dry out naturally.
Rug Cleaning - Products
Soaps
Whether you hand or machine wash, you'll need soap! Rugs sit directly against your horse's skin, this means the products we use on them do too! Harsh and heavily fragranced biological detergents can not only damage the fabrics and cause the weatherproof coating to harden and peel away but they can cause nasty allergic reactions too. These could present themselves as hives, itchiness, heat and hair loss. These symptoms may not happen straight away, so your horse could spend hours uncomfortable until the next time you visit. If you choose to wash rugs yourself, you should ideally use a specialist product like Nikwax Rug Wash, instead of household detergents.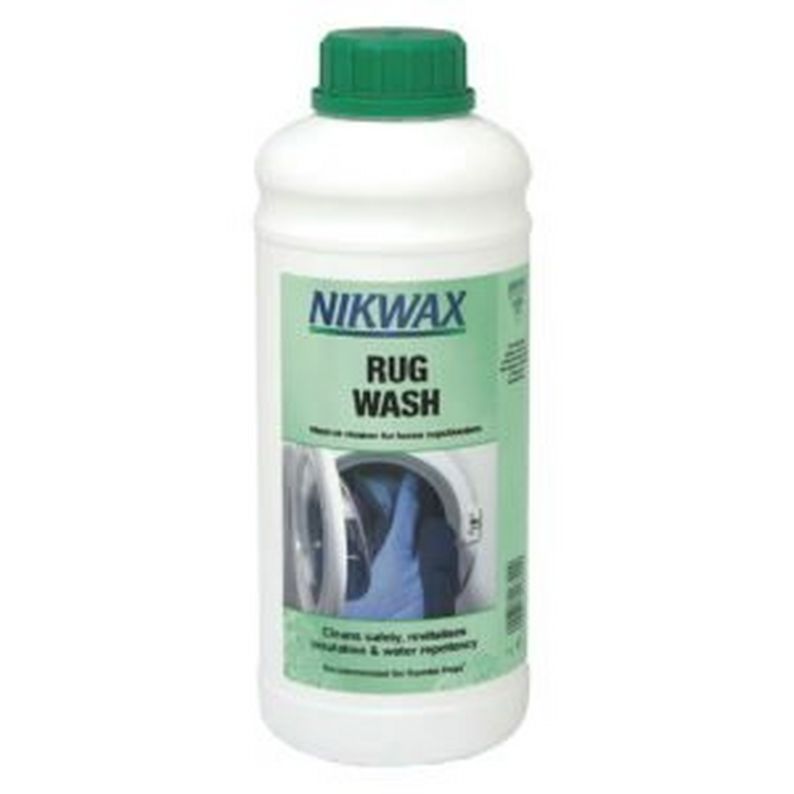 Nikwax Rug Wash
RRP £9.99
Natural vegetable based soap.
Cleans without damaging.
Revitalises the existing Durable Water Repellency.
Improves breathability.
Shop Now
Machine Wash
If your rug has stubborn stains, apply a small amount to the effected areas neat and rub in prior to washing.
Measure out 150ml and add it to your washing machine.
Select a 30°C low spin cycle.
Once finished, air dry naturally.
Hand Washing
When hand washing, always use gloves.
Remove the rug from soaking.
Dilute product using the ratio 1 part rug wash with 2 parts hot water.
Use a soft brush to work the solution into the fabric on both sides.
Once the dirt and grease have begun to lift, rinse thoroughly with clean warm water.
Once rinsed, air dry naturally.
Did we mention, it can be used to effectively clean waterproof jackets, coats and pants too?!
While we wouldn't recommend it, you can use a non-biological, non-detergent washing powder instead. These are not specially designed, so may over time diminish the effectiveness of your rugs.
Rug Waterproofing
Most waterproof fabrics have a 'hydrophobic' coating applied to the outer. These substances work by repelling water so it's unable to penetrate the fabric. Over time, these can become less effective. This doesn't necessarily mean the fabric is damaged and the rug needs replacing, just that it's time for some TLC. Unsure if your rug needs re-proofing?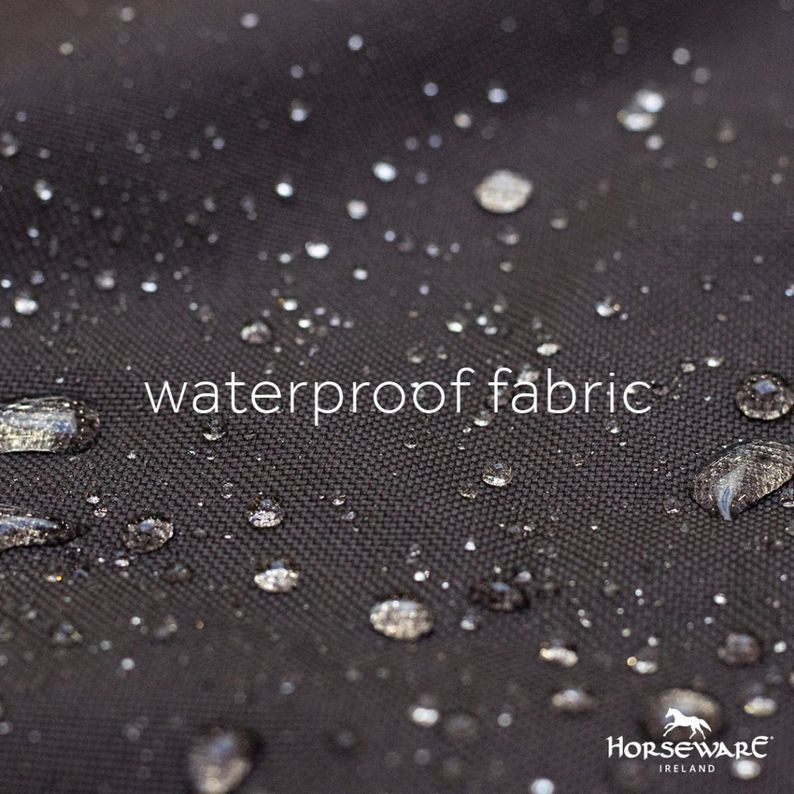 There's an easy test for this. While the rug is on your horse or on a rack, poor a small amount of water onto the outer. If it beads and runs off, the waterproof coating is intact! If the fabric darkens and the water vanishes, it's been absorbed and it's time to act!
Waterproofing & Breathability
Did you know that when your horse's rug loses it's waterproof coating it can be up to 70% less breathable?! We all know that waterproofing and breathability tend to be rug features that go hand in hand, but why is this? Waterproof fabrics are designed to stop water leaking in. Equally important, breathable fabrics allow moisture to escape. Without breathability, moisture can't evaporate, instead it condenses on the inside. This can leave your horse feeling soggy and could cause them to catch a chill, even if their rug isn't letting water in!
Products
There's loads of waterproofing products out there but they weren't all created equal! Lots of them are solvent-based and flammable or water-based with fluorocarbons. While you might think the second option is better, fluorocarbons pose a potential risk to the environment and to long-term health! So, it's really important you choose wisely!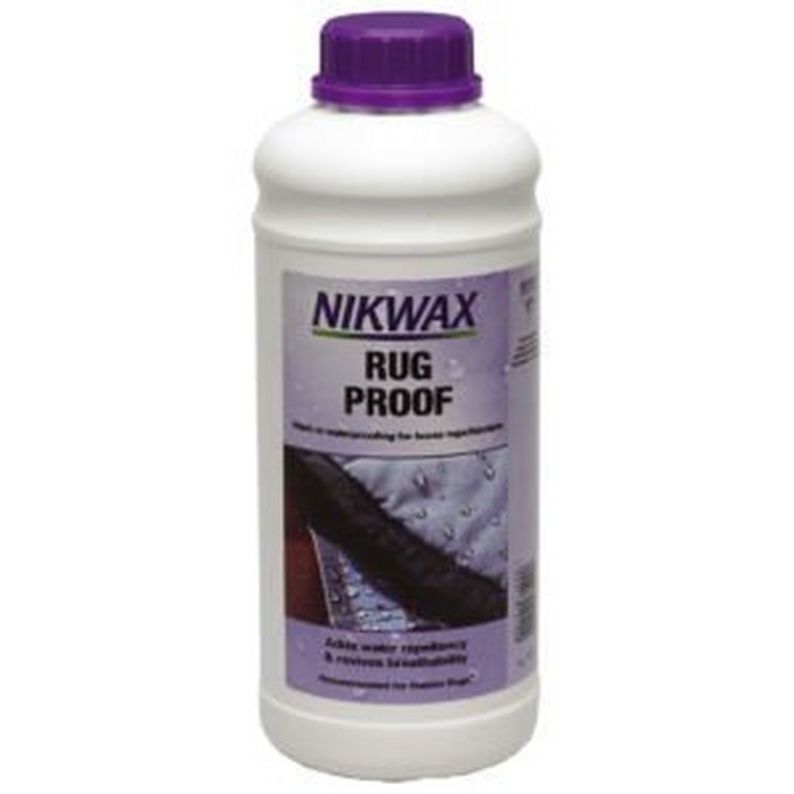 Our recommendation is to use Nikwax Rug Proof. It offers a water based, non-flammable formula with no volatile organic compounds and it's fluorocarbon free. Specifically designed for breathable waterproof fabrics, the wash in application treats all areas of your rug easily.
Shop Now
Machine Application
To apply, wash your rug as above.
Once finished, add 500ml of Rug Proof to your washing machine.
Run a 30°C low spin cycle.
Remove and allow your rug to air dry naturally.
Application By Hand
When applying by hand, always wear gloves.
Wash your rug first.
Dilute 500ml with 10 litres of warm water in a large container and mix.
Submerge the rug fully in the solution.
Add another 15 litres of warm water to cover the rug and mix.
Leave to soak for 2 hours, moving around occasionally to ensure no parts are missed.
Rinse the rug using cold water, until it runs clear.
Air dry.
Storage
Storing rugs while they're not in regular use is really important. It not only helps to keep them clean and tidy but extends their life too. Exposure to direct sunlight, damp, dirt and even rodents or moths doesn't do them any favours! Clean and dry rugs should be folded and stored in a breathable container. Most brands will provide a rug bag, but if not it's a worth while investment!
You can shop the products in this blog at www.naylors.com. Don't forget to share your before and after rug cleaning pictures with us in the comments or include #NaylorsSnapAndShare on your social posts!