Stress Awareness Month takes place in April every year, it is a great time to take a step back and to think about what stresses you may be facing, what causes them and to consider ways to reduce and manage your stress levels.
This year for Stress Awareness Month, Naylors has teamed up with Riders Minds to discuss the stresses we as equestrians might face. We'll be offering advice, top tips, facts and videos to support and educate you on how best to manage your stress and how to receive support should you need it.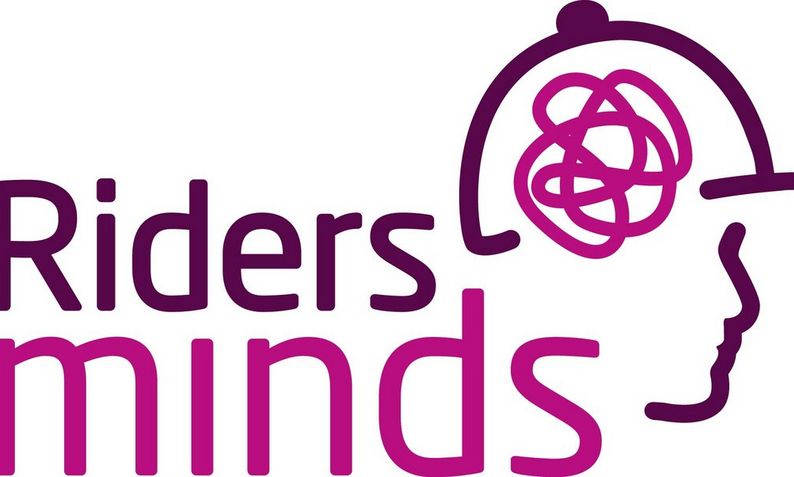 The Riders Minds Charity is an online bespoke resource dedicated to supporting the mental health and wellbeing of all horse riders, drivers and equestrians.
They offer a free online service 24 hours a day 7 days a week! This means you can talk to their trained helpers whenever, if you ever feel you need a bit of extra help. It is completely confidential, and they can help you with stress, mental health or any wellbeing issues you may be facing.
To speak to a trained helper from Riders Minds you can use their online chat via their website, call them on 0300 102 1540 or if you prefer you can text them on 07860 065 202, to receive help and advice, don't forget this is all completely free to do.
Stress That Comes With Horses
In life everybody has ups and downs, but having horses can sometimes bring more ups and downs that causes stress, due to the unpredictable behaviour, events and health that comes along with owning animals. Stress can be defined as a state of worry or mental tension caused by a difficult situation. Stress is a natural human response that prompts us to address challenges and threats in our lives.
With horses you may experience stress when, out competing if you're finding it challenging or it is not going well, if you're rushed off your feet with many horses to look after and get ready on a time restraint, if your horse is unwell and needs the vet or the financial responsibilities involved with owning a horse. It is natural to feel stressed whilst in these situations or others, but it is what you can do to manage and help reduce your stress which is important.
So What Can You Do To Help Minimise Stresses You Face?
Completely taking stress away from our lives would be impossible because we are all human after all, but here are some top tips you can use if you are feeling stressed:
Raise your self-awareness – Pay attention to your indicators as triggers for action -
How do you know you're stressed? How do you experience it?
What are your indicators?
What causes your stress? Competing, a particular horse, owner, person, movement, fence type/configuration, hacking, or certain situations? Family, friend, social, work related? Social media?
Think about it differently -
Stress can be your friend! – it's a trigger, a warning, telling you to do something.
Stress isn't always negative. A certain level of pressure can help us prepare for actions and challenges, and 'good' stress can drive us to succeed, to do something different, to make changes.
Accept it's part of life. Everyone experiences [bad] stress from time to time. Just because you might not 'see' it or others don't appear to 'show' it, doesn't mean they don't experience it!
Manage it differently -
This has happened, what can I do about it' approach.
Is a conversation needed?
Would I like help?
What changes/actions can you take?
Don't forget, if none of these top tips are helping you, you can easily get in touch with Riders Minds. If you feel you need or want to speak to a trained professional, reach out to them and they will be able to guide and help you further.
Now let's think about this from a different angle. Horses can also be very good helpers on relieving stress and improving our wellbeing both mentally and physically.
Equine-Assisted Psychotherapy is a form of mental or behavioural treatment using horses. Meaning if you're lucky enough to spend time with equines, they will have a huge positive impact on your wellbeing and stress levels.
Whether you are struggling with stress or not, horses are great for getting us outside into the great outdoors, also for regular exercise, which is believed to decrease stress hormones, improve mood, distract from negative thoughts and emotions, promote confidence, develop a positive body image, improve sleep and increase energy levels.
Some more ways our relationship with horses can benefit our overall wellbeing is by teaching us the skills of emotional awareness, confidence, assertiveness and empowerment. Horses offer us a purpose and teach us responsibility. Being on a yard, farm or in riding centre environment offers us a space away from the everyday to relax and to develop our social and communication skills with others we meet with the same interest.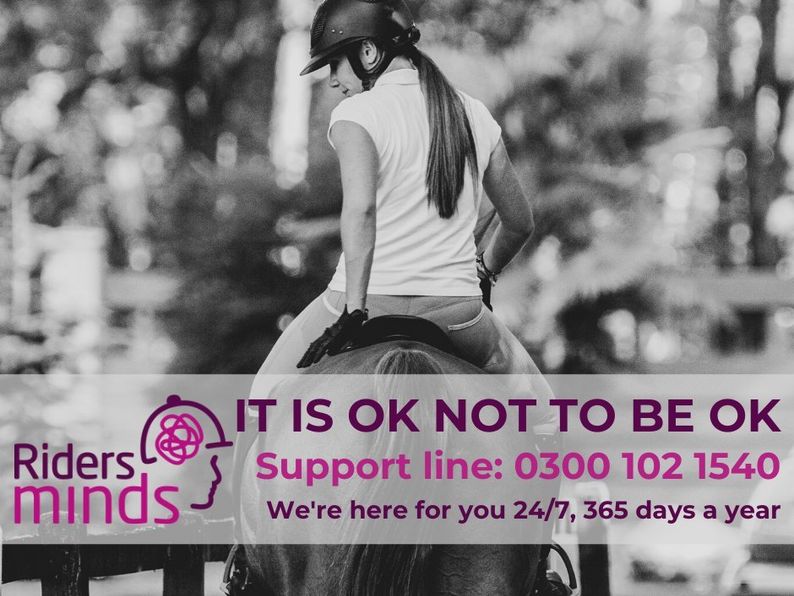 So, don't forget, if you or somebody you know feels like stress is taking over or you may need a little help managing stress, Riders Minds trained helpers are always available to talk to you via their website, phone or text.
To find out more about Riders Minds and the work they do visit their site here.