Ready for a new riding hat? Lets be honest, with so many options out there it can be hard to know which ones are worth the money and more to the point, which aren't! With that in mind, I've been trying out the brand new Valentina from Karben. Leaving no stone un-turned, take a look at my honest review and everything you need to know about them!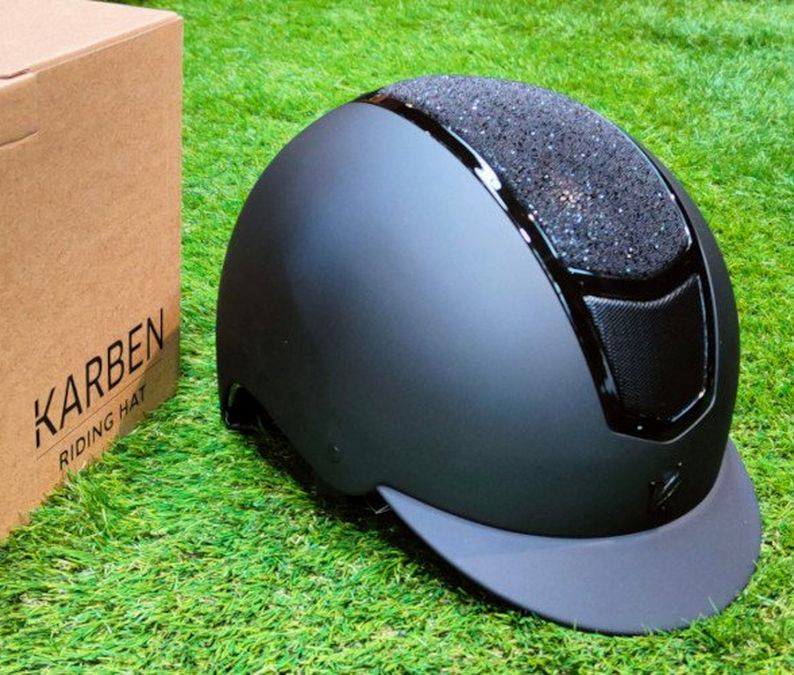 The Valentina riding hat offers a flexible peak and a smooth, hard outer shell, constructed using a single piece of material for improved strength and a modern low profile appearance. A real head turner, it has high shine accents with a vented sparkling central panel, embellished using eye catching crystals. Inside the hat is an expanded polystyrene inner, protecting your head from impacts. Fully lined, it has a removable layer of 3D mesh, this keeps air circulating around your head. It boasts a CoolDry memory foam headband, allowing your hat to contour for a snug fit. Fastening securely in place, it has a 4-point harness with removable anti-rub guards.
Introductions
I'm a Digital Marketing Executive here at Naylors. I've been riding since I was around 6. So, I've had my fair share of riding hats (and probably a few more)! At the moment, I've got a young horse. He's just starting his education, ready to be broken-in this summer. A keen rider, I borrow horses and ponies whenever I can. This means I don't always know them very well, so as you can imagine, I need a hat I can trust. But that's enough about me, let's take a closer look at the Valentina.
Tried & Tested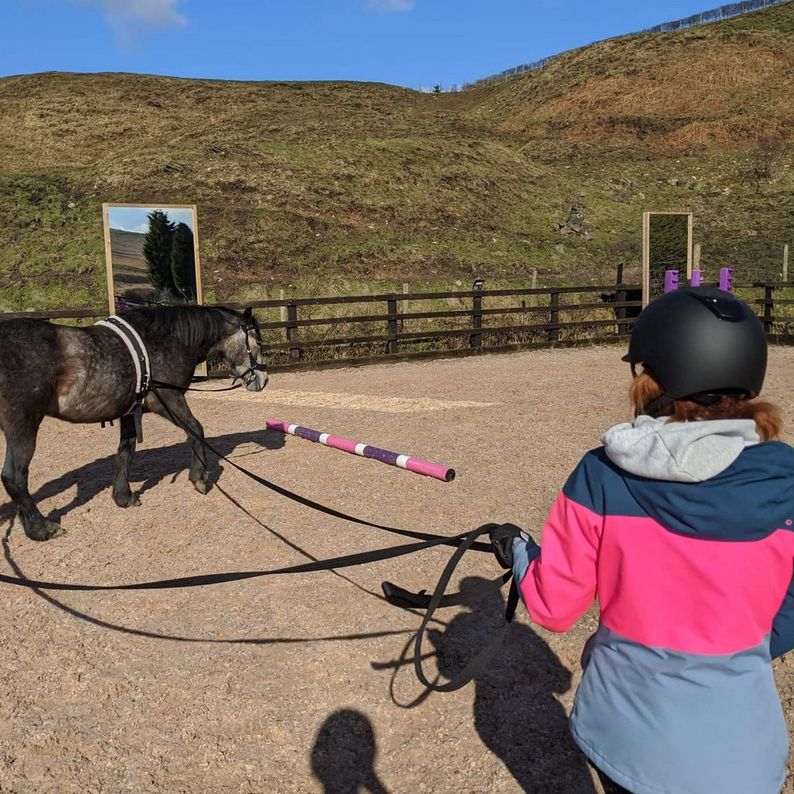 Safety 4/5
Nothing is more important than safety! Whenever I'm in the saddle, I want to know that my head is properly protected, in case something goes wrong. Not only that, but as the owner of an unpredictable young horse, I'm hyper aware that even when I'm on the ground, wearing a good quality riding hat could be the difference between a few bruises and a major injury! So, the first thing I wanted to know about this hat was which safety standards it meets. I was pleased to see that it adheres to Kitemark PAS015:2011.
Thankfully, I haven't had a fall wearing it (yet). That being said, I did knock off one point in the safety category as generally speaking, the more standards a hat meets the more extensively it's been tested. Because of this, I'd be more than happy using it for everyday riding, but I probably wouldn't choose it for something like cross country or hunting.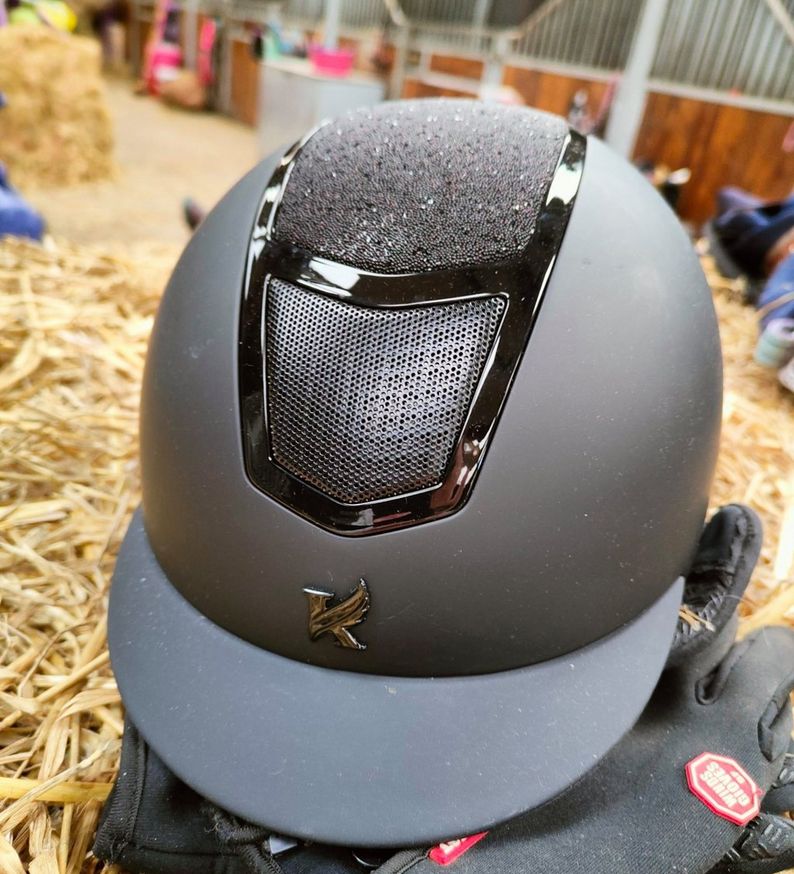 Style 5/5
From the moment I first set eyes on this hat, I was sold! Moving away from the look of a classic scull cap or traditional velvet show hat, these really are super smart and sophisticated. In truth, I've always loved hats with a smooth outer shell, but it seems to have been something almost exclusively seen in expensive styles. As a leisure rider, I've struggled to justify the hefty price tag in the past, but thankfully, this hat costs a lot less than I was expecting at just £109.99. Thoroughly impressed by both the appearance and the price, I couldn't wait to get mine!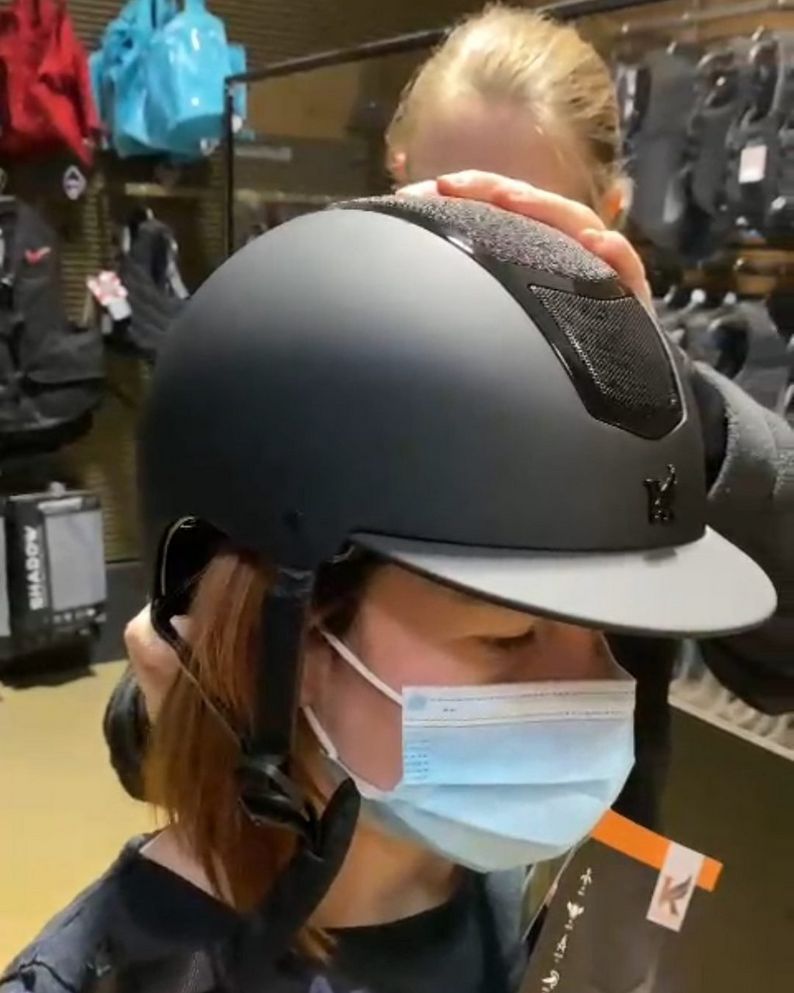 Fit 4/5
I've made the mistake of buying a riding hat without trying it on or getting measured up before. I say mistake, because this has rarely ended well, as no two styles seem to be the same. I can say from experience that there's nothing worse than pressure points around the temples or a hat that slips down so you can't see! To avoid this, I headed down to Naylors Rochdale to have it professionally fitted by a fully trained member of our store staff.
The whole process of getting my new hat checked was quick, easy and free, so well worth it! I was surprised to see that all of the Karben hats feature a dial adjuster at the back. This makes the fit adaptable. I was a little sceptical about this, but was really impressed by how snug the hat felt, without it being too tight. What I will say though, is that they're quite a round shape. This meant that mine came up slightly larger around my temples compared to some other brands. I also found I needed a smaller size than I thought, so I'd recommend measuring up at home or getting a fitting to make sure you pick the right one. Overall, I'm really happy with how it fits.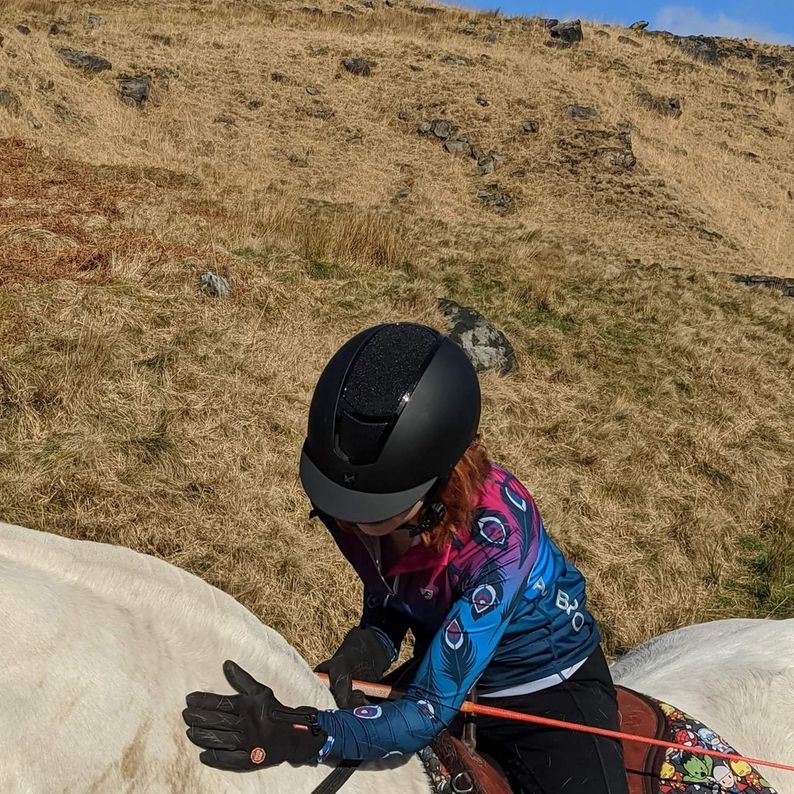 Comfort 5/5
I must admit, having been riding from a young age, I'm pretty well accustomed to wearing a hat. In fact, I often forget I have one on! I was slightly questioning how comfortable I would find my new Valentina, given the padding in my old hat had shrunk leaving it pretty loose. In actual fact though, it was super comfy even though it was snug! It felt stable and secure through all of the paces, no matter how bouncy! A rare find, it didn't pinch or cause me to get a headache. The mesh liner and ventilated central panel make a real difference, taking my hat off to find my head wasn't all hot and sweaty was fantastic!
Quality 4/5
This hat was way cheaper than I thought it would be when I first spotted it in a picture. So, I had a sneaky suspicion that they might have compromised on the quality. Thankfully though, this just isn't the case. It feels really well made, built to stand up to the rigours of daily use! The only reason I haven't given this top marks is the harness. This is made using nylon with coverings, as opposed to leather. The chin strap felt really easy to adjust, maybe a bit too easy. This would be super easy to fix using a rubber or platting band, just to ensure the strap stays the desired length. I did like that any excess can be tucked in to the padding, keeping it neat and tidy. All-in-all, it really wouldn't put me off.
Value For Money 5/5
Given this is the most expensive of the Karben riding hats at £109.99, I think it's fantastic value for money. Most options of this style and quality are so much more costly, I'm genuinely blown away. It looks nice, it's up to standard, it feels great and it's well made. I went in to testing this hat wondering why it wasn't way more expensive. Really, I think it comes down to the fact that like so many products brought to us by the Shires group, it's meant to be affordable!
My Favourite Thing…
For me, there's really not very much (if anything), that I don't like about this hat! If I had to pick my favourite thing about it though, I'd say it's the weight. Part of the reason that this hat feels so nice to wear is that it's super light.
I hope you found this review helpful. For more insight, take a look at the fitting and testing process...
There you have it - My thoughts on the new Karben Valentina! I'll be using mine every time I ride from now on.
So, If you're ready for a replacement, i'd highly recommend heading into your local Naylors to try on a hat from Karben!