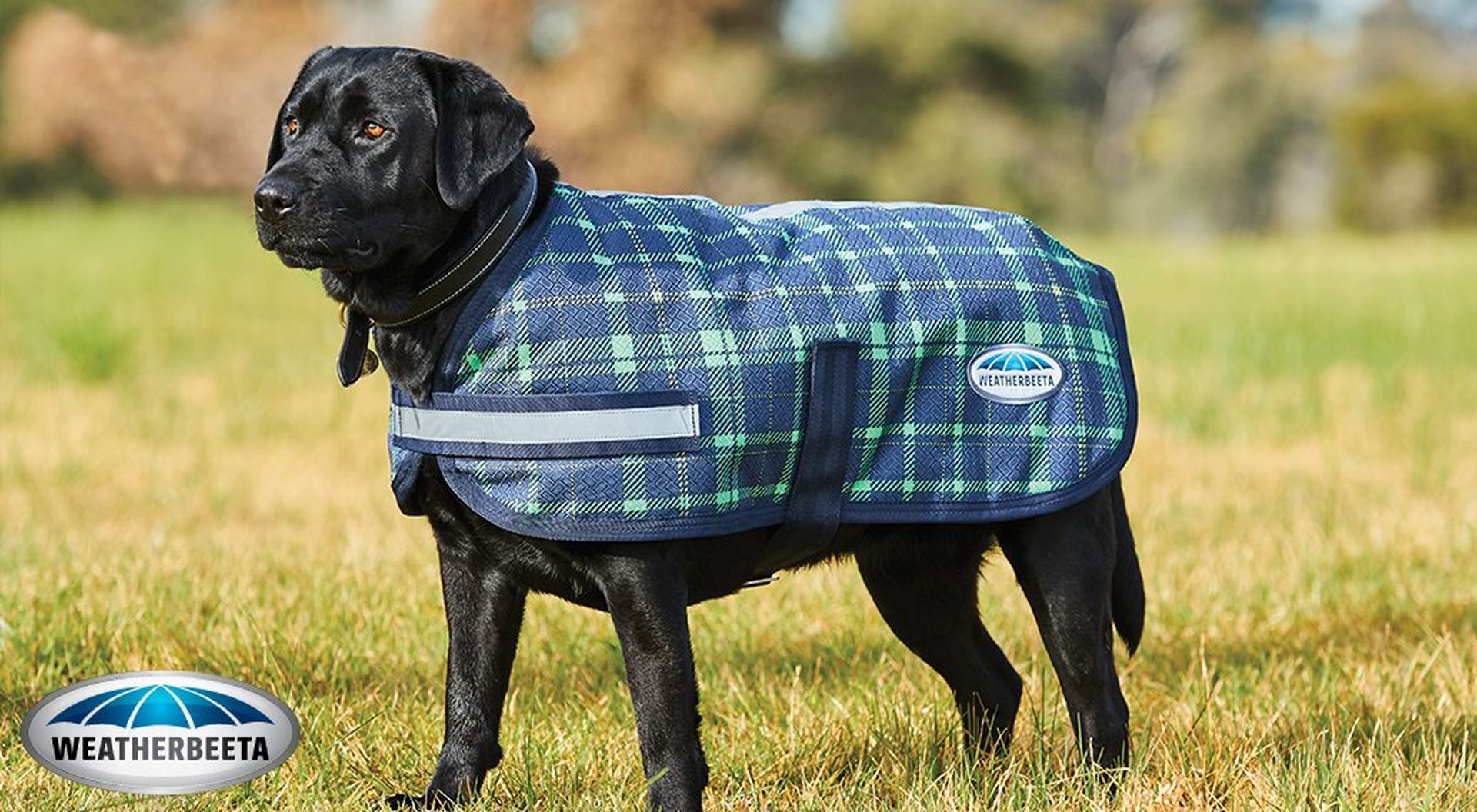 WeatherBeeta Dog Rugs
Don't let the weather spoil your dog's walk! If you've been thinking about investing in a rug for your dog, we've got just the thing. WeatherBeeta is a brand commonly associated with producing horse rugs. Did you know that they also offer a variety of rugs for dogs? WeatherBeeta dog rugs have been specifically developed to offer the very best in comfort, fit and performance. They're high quality and durable, great for keeping your dog protected from the unpredictable British weather.
Choosing Dog Rugs
Picking a rug for your dog is easy, finding the perfect rug is more of a challenge. First and foremost, you should have a budget in mind. You can then further reduce your options by determining what kind of rug is suitable for your dog. In order to do this there a few things you should take into account.
Age
Adult dogs are generally able to maintain their body temperature effectively, however senior dogs and puppies can struggle to do this. In some cases they may require additional warmth and protection from extreme weather conditions.
Breed & Size
Breed has a large impact on your dog's rug requirements. Your dog's breed determines their geographical origin, body shape, build, coat type, historical uses and much more. Some breeds are built to be resilient, requiring less protection. On the other hand, some struggle to cope in poor weather conditions, requiring extra protection from the cold. Before choosing a rug it is always a good idea to refresh your knowledge about the breed. This will help you to get a better idea of your dog needs.
Lifestyle
Active dogs need rugs designed to keep up with them! Rugs for active dogs mustn't restrict movement but should be secure to prevent slipping. Active dogs are likely to get warm when running around. Therefore, they need rugs that are breathable to prevent over heating.
Types of Dog Rugs
Windbreakers
WeatherBeeta Wind Breaker Dog Rugs are the perfect way to keep your dog protected from the elements during milder weather. They have a tough 420 Denier outer, showerproof shell, warm fleece lining, easy adjustable closures and a harness lead hole.
Parkas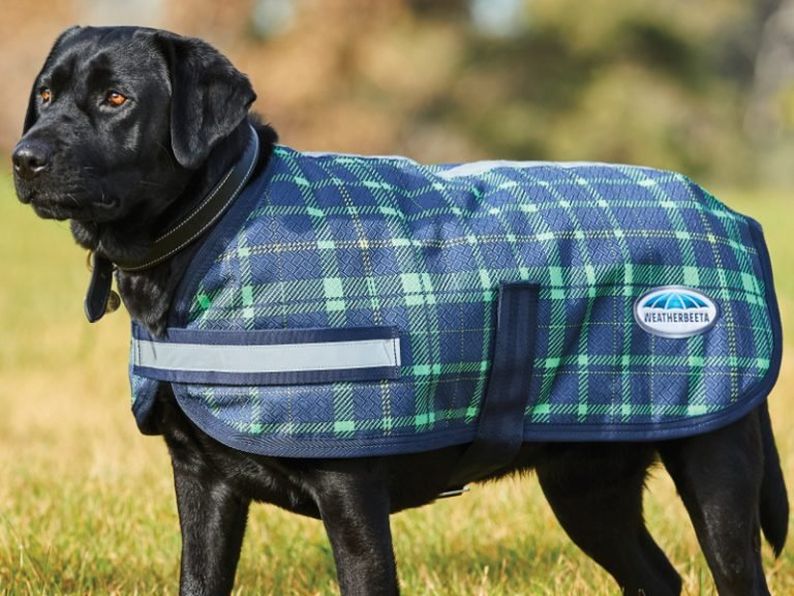 Standard
WeatherBeeta Parka Dog Rugs are perfect for keeping your dog cosy and dry during cold, wet conditions.
They have a 1200 Denier triple weave outer, waterproof and breathable shell with dirt repelling properties, 220g poly-fill, reflective strips for safety, easy adjustable closures and a harness lead hole.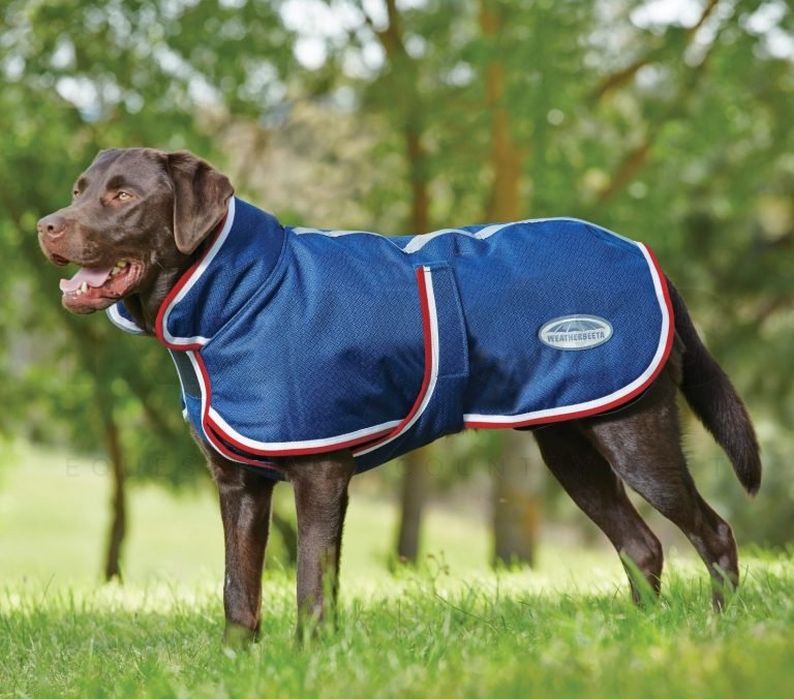 Deluxe
WeatherBeeta Parka Deluxe Dog Rugs are designed to protect your dog from the harshest of conditions.
They feature a strong, durable 1200 Denier triple weave outer, waterproof and breathable shell with dirt repelling properties, 220g poly-fill, extended collar for warmth, full wrap belly closure, elastic leg straps for security, smooth nylon lining for comfort, easy adjustable closures and a harness lead hole.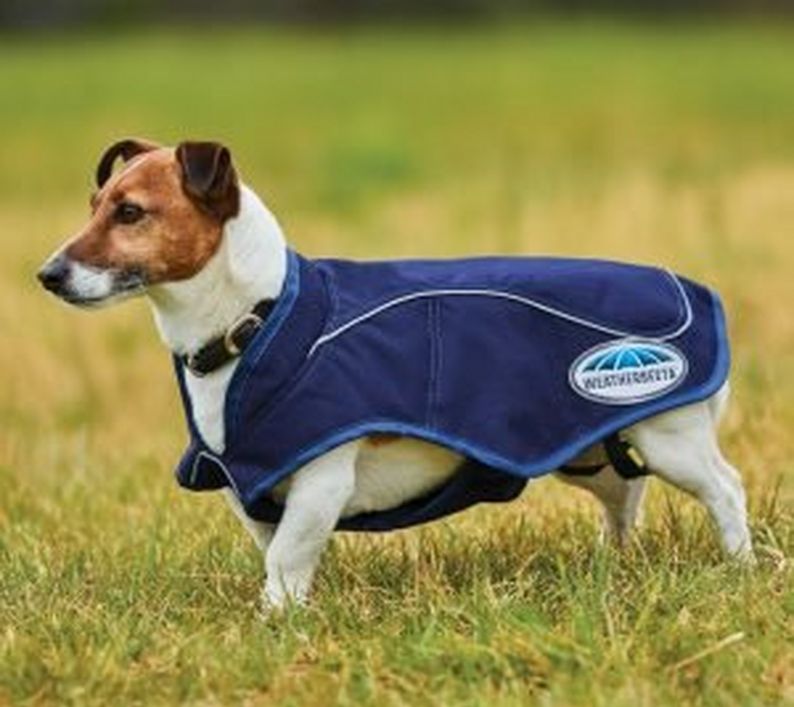 Exercise Coats
WeatherBeeta Exercise Dog Coats are designed to offer your dog additional room to run around and play.
The outer layer is made from a strong, durable 1200 Denier triple weave fabric. The rug is waterproof with tapered seams. Intelligent inner membranes channels funnel moisture away from your dogs skin, helping to regulate their body temperature.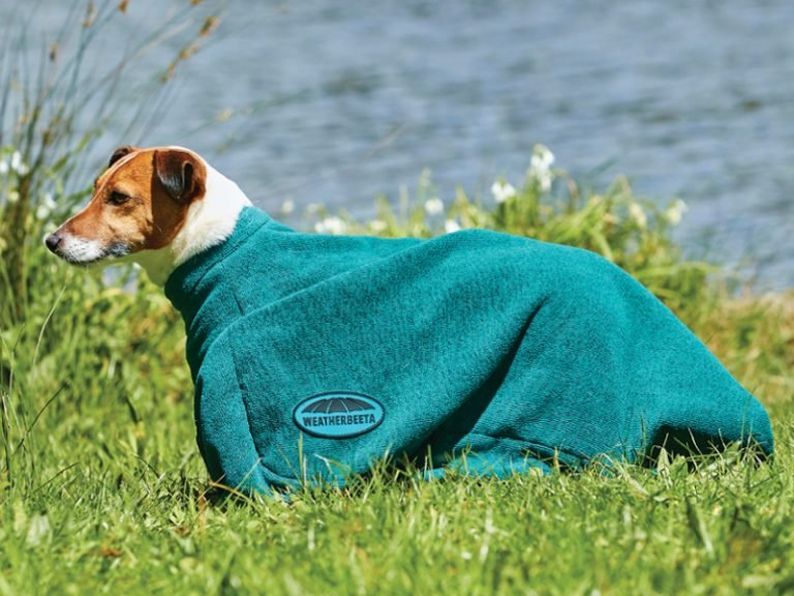 Dry Bags
WeatherBeeta Dry Dog Bags are a great way to protect your home and car from muddy or soggy pouches. They are made with a highly absorbent hydrophilic fleece, helping your dog to dry off quickly after walks or baths. They have a zip along the top of your dogs back for ease of use.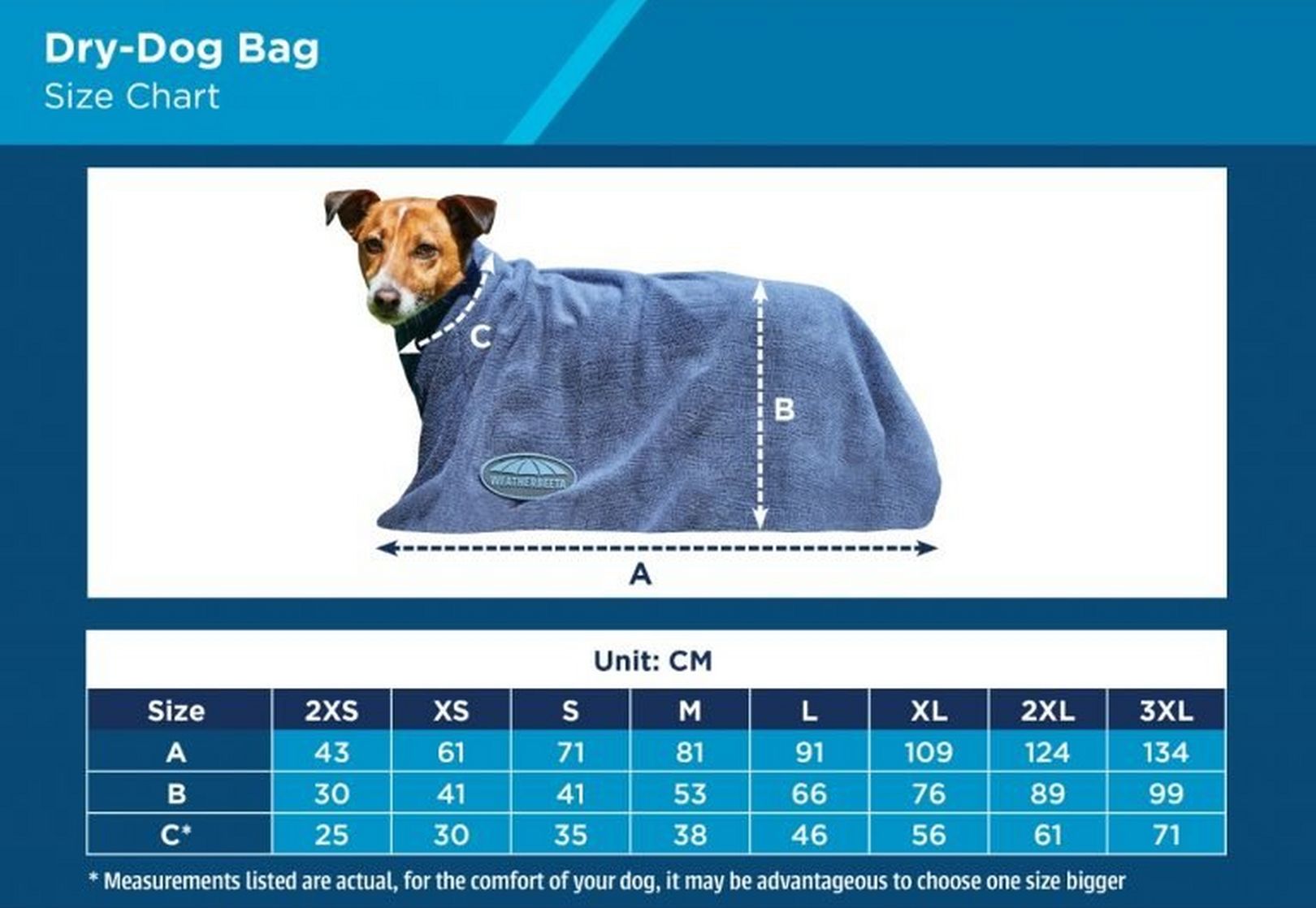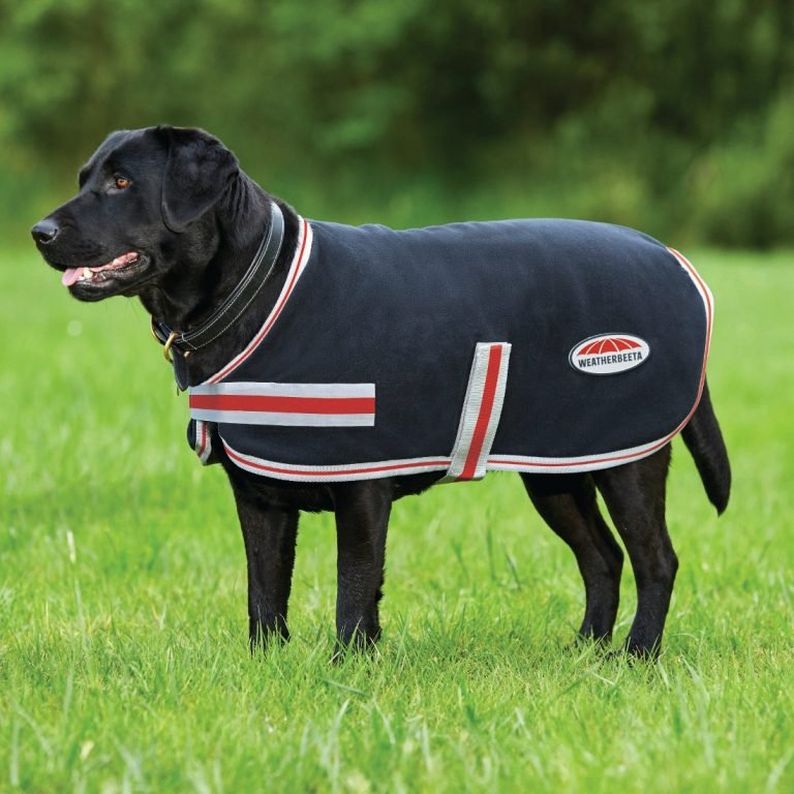 Therapy-Tec
The WeatherBeeta Therapy-Tec dog coat has been designed to ease muscle strain, reduce soreness, encourage recovery and enhance relaxation.
The rug is made from a warm, breathable fleece that wicks away moisture. Ceramic powder is blended within the fabric, this reflects the dogs body heat via infrared waves. The heat reflected can encourage vasodilation. This means that the blood vessels widen. Wider blood vessels boost circulation, increasing the oxygen supply to the tissue. This rug can be of benefit active dogs or older that suffer from soreness.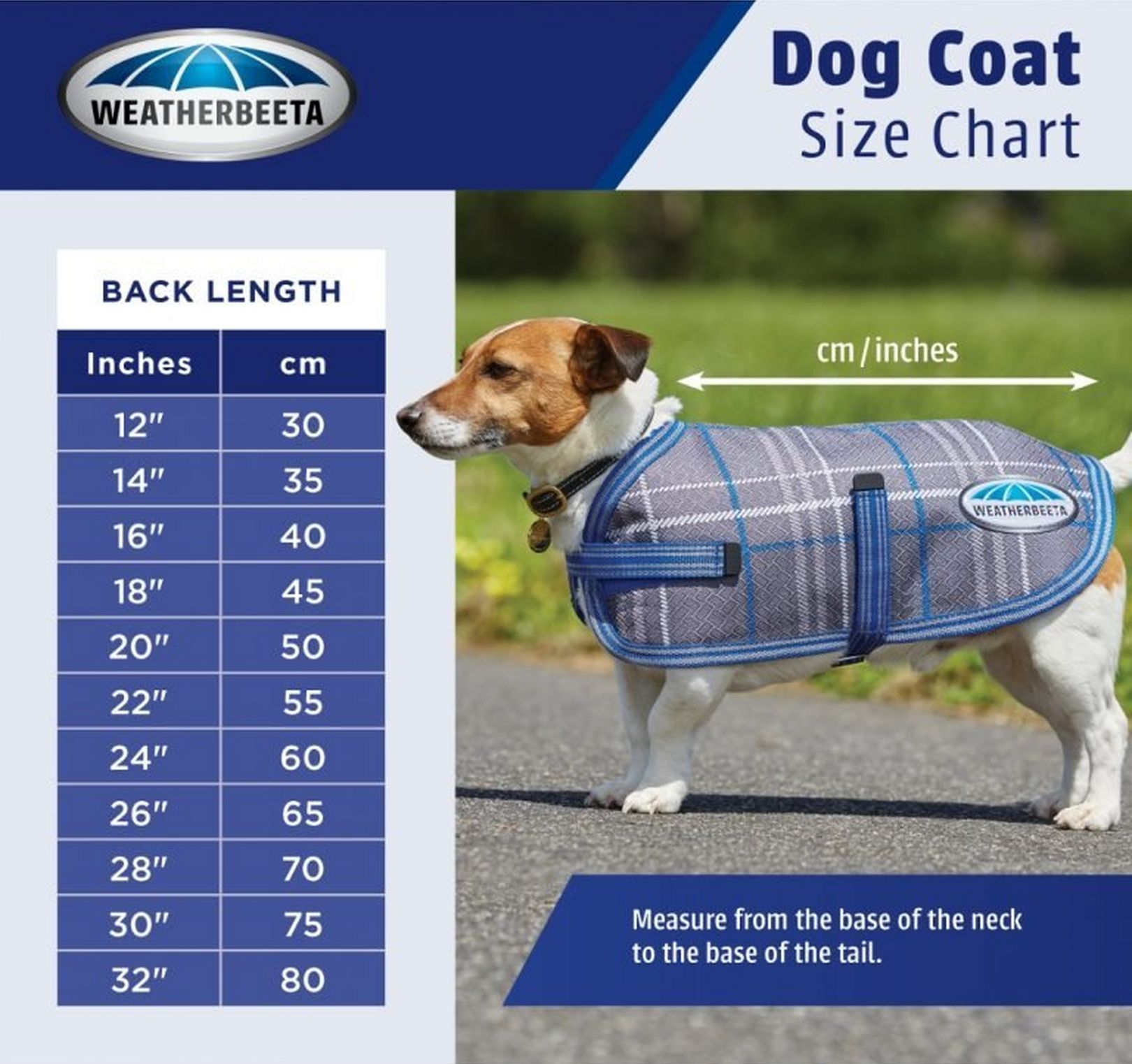 We hope that you have found our WeatherBeeta dog rug guide helpful. Will you be getting a WeatherBeeta rug for your dog? If you do, we'd love to see a picture.
If you have any questions please leave a comment or give our customer service team a call.